"A" Cell Incubator
Japanese

「A」細胞培養装置

Base

「A」細胞培養装置

Kana

「エー」さいぼうばいようそうち

Rōmaji

Ē Saibō Baiyō Sōchi

Translated

"A" Cell Culture Device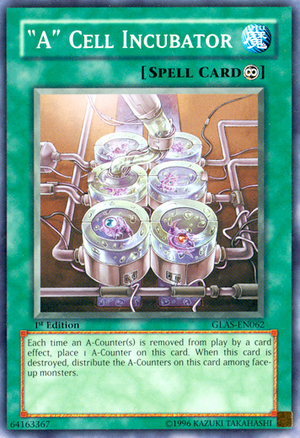 English sets
Worldwide
Search categories
Other languages
Language
Name
Lore
French

Incubateur de Cellules "A"

Chaque fois qu'un Compteur-A est retiré du jeu par l'effet d'une carte, placez 1 Compteur-A sur cette carte. Lorsque cette carte est détruite, distribuez les Compteurs-A de cette carte entre les monstres face recto.

German

"A"-Zellen-Inkubator

Jedes Mal, wenn eine A-Zählmarke durch einen Karteneffekt aus dem Spiel entfernt wird, lege 1 A-Zählmarke auf diese Karte. Wenn diese Karte zerstört wird, verteile die A-Zählmarken auf dieser Karte auf die offenen Monster.

Italian

Cella Incubatrice "A"

Ogni volta che un Segnalino-A viene rimosso dal gioco da un effetto di una carta, metti 1 Segnalino-A su questa carta. Quando questa carta è distrutta, distribuisci i Segnalini-A presenti su questa carta tra i mostri scoperti.

Spanish

Incubador de Celdas "A"

Cada vez que un "Contador A" es retirado del juego por el efecto de una carta, pon 1 "Contador A" en esta carta. Cuando esta carta es destruida, distribuye los "Contadores A" en esta carta entre monstruos boca arriba.

Japanese
「A」細胞培養装置

フィールド上のAカウンターが取り除かれる度に、このカードにAカウンターを1つ置く。フィールド上のこのカードが破壊された時、このカードに乗っていた全てのAカウンターを、フィールド上に表側表示で存在するモンスターに置く。

Ē Saibō Baiyō Sōchi
"A" Cell Culture Device

Each time an A-Counter(s) is removed from a card on the field, place 1 A-Counter on this card. If this card is destroyed: Distribute A-Counters among face-up monsters on the field, equal to the number of A-Counters this card had on the field.

Korean

"A" 세포 배양 장치

필드 위에서 A 카운터가 제거될 때마다 이 카드에 A 카운터를 1개 놓는다. 이 카드가 파괴되었을 때, 이 카드에 얹혀 있는 모든 A 카운터를 필드 위에 앞면 표시로 존재하는 몬스터에 놓는다.
Sets in other languages
French
German
Italian
Spanish
Japanese
Korean
In other media