It is with heavy hearts that we mourn the passing of our game's creator, Kazuki Takahashi.
-OZONE-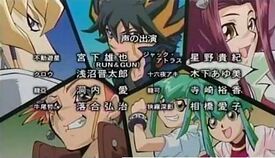 -OZONE- is the third Japanese ending theme of the Yu-Gi-Oh! 5D's anime, performed by vistlip. It debuted on July 1, 2009, replacing CROSS GAME and was later replaced by Close to you on April 7, 2010.
Recording credits
[
edit
]
Performed by: vistlip
Lyrics by: Satoshi (智)
Composed by: Tohya
Arranged by: vistlip
Record Label: Marvelous Entertainment(マーベラスエンターテイメント)
Lyrics (TV Size)
[
edit
]
天の川浮かぶ背の低い丘
見渡す景色は想像と違う
あの頃と比べ前に進めた?
答えはNOじゃない だけど足りない
意地悪な神が僕等試すんだ
空席を埋めて次のステージ向かおう
「どんな関係?」 なんて聞かれたら
友達以上かな...それも少し違うか
絆と云う言葉が相応しい
喧嘩し合いながら 分かち合いながら
「ねぇ今何処?」 「地球ん中」
宇宙飛行士じゃないから
オゾンより下なら問題無い
「わかってる、すぐ行く。」
朝まで騒ぎたいのでしょう
大切な居場所で
Ama no gawa ukabu Se no hikui oka
Miwatasu keshiki wa Souzou to chigau
Ano koro to kurabe Mae ni susumeta?
Kotae wa NO ja nai Dakedo tarinai
Ijiwaru na "Kami" ga Bokura tamesunda
Kuuseki wo umete Tsugi no suteeji e mukaou
"Donna kankei?" nante kikaretara
Tomodachi ijou ka na... Sore mo sukoshi chigau ka...
"Kizuna" to iu kotoba ga fusawashii
Kenkashiai nagara Wakachiai nagara
"Nee ima, doko?" "Chikyuun naka"
Uchuuhikoushi ja nai kara
Ozon (ozone) yori shita nara mondai nai
"Wakatteru, sugu iku"
Asa made sawagitai no deshou
Taisetsu na ibasho de

A short hill where the Milky Way appears,
the landscape I look out over is different from what I'd imagined,
Have we moved forward since those times?
The answer isn't NO but it's not enough,
A malicious "god" is testing us,
let's fill up the empty seat and head to the next stage
When asked "What kind of relationship do you have?"
I say "Maybe a little more than just friends"... but that's not quite right either... the word "bond" is more appropriate,
while fighting with each other, while breaking off relations with one another,
"Hey, where are you right now?" "Somewhere on Earth"
I'm not an astronaut
so if it's anywhere beneath the ozone, it's no problem!
"Got it, I'll be there soon"
Do I want to cause a disturbance until morning
in those important whereabouts?

Characters
[
edit
]
Duel Monsters
[
edit
]
The ending is slightly changed after episode 65. Character positions are moved and "Ancient Fairy Dragon" is in a different position.