Acrobat Monkey (character)
Acrobat Monkey
Corresponding card
Acrobat Monkey
English name

Japanese name
Japanese

アクロバットモンキー

Rōmaji
Akurobatto Monkī

Korean name
Hangul

애크러뱃 멍키

Other language names
Arabic

السّعدان البهلوان

French

Singe Acrobate

German

Affenakrobat

Italian

Scimmia Acrobatica

Portuguese

Macaco Acrobata

Spanish

Mono Acróbata

Decks
Spirit Caller
Acrobat Attack!
Anime debut
Yu-Gi-Oh! GX episode

132

132: "A New World Order"
Video game debut
Yu-Gi-Oh! GX Spirit Caller
Acrobat Monkey (character)
Acrobat Monkey is a character version of the card "Acrobat Monkey".
Appearances
[
edit
]
It appears briefly in one of the Duel Monsters Spirit World dimensions, attacking a group of Garuda the Wind Spirits that had been harassing weaker monsters.[1]
Spirit Caller
[
edit
]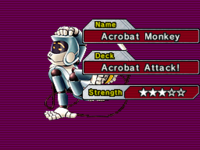 Acrobat Monkey appears as a Duel Monster Spirit that can be unlocked as a partner for the player by defeating it multiple times. It can be found at the north side of Duel Academy and at the Dried Well after defeating Kagemaru.
Acrobat Monkey makes the player more likely to run into other Duel Spirits that can be obtained as partners, with the likelihood improving further as the spirit is levelled up.
Acrobat Attack!
Japanese: アクロバット・アタック! · Rōmaji: Akurobatto Atakku!
References
[
edit
]