| | |
| --- | --- |
| | Help support Yugipedia by using our Chrome extension, which redirects links to the old Wikia/Fandom site to Yugipedia, ensuring you see the most up-to-date information. If you have any issues or find any bugs, be sure to let us know on Discord! |
Alexis Rhodes (manga)
Alexis Rhodes
Names
English
Japanese translated
Asuka Tenjouin

Japanese
Japanese

天上院明日香

Rōmaji
Tenjōin Asuka

Other languages
Arabic

ألكسِس رودز

French

Alexia Rhodes

Personal
Birth
May 5[1]
Height

1.7 m <br />5.577 ft <br />66.929 in <br />

170 cm[1]

Weight

116.845 lb <br />

53 kg[1]

Gender
Relatives
Atticus Rhodes (older brother)
School
Duel Academy
Dormitory
Obelisk Blue
Manga Deck
Ice Counter
Appearances
Manga debut
Yu-Gi-Oh! GX Chapter 1: "A New Hero!!"
Rhodes, Alexis
Alexis Rhodes, known as Asuka Tenjoin (天上院明日香, Tenjōin Asuka) in the Japanese version, is a character in the Yu-Gi-Oh! GX manga.
Personality
[
edit
]
Alexis' manga counterpart is similar to her anime counterpart in terms of ranking, strength and motivation. She is the object of Bastion Misawa's affections. She is made awkward by her brother, Atticus' lighthearted attitude, usually reacting with a facepalm and sighs heavily each time other characters are referring to his weird habits or characteristics. She is particularly embarrassed by people calling Atticus by his self-given nickname "Rhodie" ("Fubu-king" in the Japanese version).
Biography
[
edit
]
Alexis spotted Jaden Yuki by himself. She said it was unusual to see him alone and asked where Syrus Truesdale was. Jaden replied that Syrus was Dueling a trainee teacher, whom Alexis understood to be Mr. Ryuga. She told Jaden of his 45-game winning streak and the rumor that he was taking cards from the students he defeated. This enraged Jaden who became Ryuga's fiftieth opponent. Alexis watched the Duel and wondered if something was wrong when Jaden had trouble activating a Spell Card.[2]
Alexis had a lot of Duel reference material that she would sometimes lend to Jaden. One time he had her card catalog, which she needed immediately but could not find him, so they exchanged phone numbers to make things easier.[3]
Following Jaden's defeat of Chazz Princeton, Alexis went to the video room, where she was not surprised to find Bastion Misawa studying the Duel. She asked if he was as shocked as everyone else that Jaden won and asked how he analyzed Jaden. The aspect of Jaden's strategy that Bastion had the most difficulty with was Jaden's ability to draw the right card at the right time and surmised that Jaden may even be a genius. Alexis jokingly remarked "A careful analysis by Bastion Misawa the philosopher is concludes that... Jaden is a genius".[4]
As Alexis parted ways with Bastion, she received a phone call from Jaden, who was looking to borrow the Battle City DVD. Bastion, who had a crush on Alexis and did not have her number, roared in frustration when she left the room. She texted Jaden back later to inform him that she had lent the DVD to someone else.[5] Alexis managed to get a hold of the DVD and brought it to the Slifer Red dormitory, but could not find Jaden and his phone was switched off. She phoned Syrus, who said Jaden was Dueling Bastion in the grove behind the Slifer Red dormitory.[6]
Alexis went to watch the end of Jaden and Bastion's Duel, unaware that if Jaden won, Bastion would lend him the Duelist Kingdom DVD and if Bastion won, Jaden would give him Alexis phone number. She was puzzled by Syrus' vagueness when she asked him about the circumstances of the Duel and Syrus told her she was quite the enchantress. After Jaden won the Duel and demanded Bastion's DVD, Alexis assumed they were Dueling over the Battle City DVD and handed it to him. Jaden told her that Bastion had the Duelist Kingdom DVD and suggested that they exchange phone numbers, so that she could borrow it. After doing so, Bastion invited Alexis to come to his dormitory to get the DVD. When Jaden insisted he should be first to see the DVD, Bastion said "ladies first" and Syrus reiterated that Alexis was an enchantress.[7]
Despite her disinterest in the contest, Alexis was a nominee for Miss Duel Academy and became one of the five finalists. She did not join the other finalists on stage, until it was announced that she tied first with Seika Kohinata on 198 votes. At that point, she was dragged on stage and tripped by Seika as she was brought to the host. The host asked how she felt, but as she tried to voice her disinterest, she was interrupted as someone pointed out there was one student who had not voted, Jaden Yuki. Seika realized that he was a friend of Alexis and accused them of fixing the contest, but Alexis claimed that the contest meant noting to her. As Jaden was pressured to make the deciding decision, Alexis began to walk away, saying she would leave it up to them. However when it was proposed that Jaden Duel Seika to determine who got the deciding vote, Alexis refused to allow someone to act on her behalf. Seika did not think she could win against Alexis or Jaden, so she suggested that Alexis and Jaden Duel. Alexis accepted, under the condition that if she won, she could have her entry canceled and if Jaden won, he would vote for Seika, either outcome resulting in Seika's victory.[8] Although Alexis lost, she was considered to have put up a good battle and Seika deemed Alexis to be more deserving of the title. Alexis said the she wanted to be recognized as a Duelist, not just a girl. Jaden pointed out that the audience, who were cheering for her, recognized her as a Duelist and like anything at the academy, the decision should sway in favor of the stronger Duelist.[9]
While Alexis, Bastion, Jaden, Syrus and Alexis were discussing Atticus Rhodes and Zane Truesdale studying abroad, Jaden pointed out that Atticus had not entered a match, Alexis was not surprised and said her brother was a creature of whim. When Jaden asked why Syrus calls him "bro", when he has a real brother, Alexis and Bastion both expressed interest in hearing the answer too, but were interrupted by Vellian Crowler, who had mistakenly believed Syrus scored 0 in a test. He threatened to expel Syrus, unless he could defeat Jaden in a Duel. Alexis and Bastion figured Jaden could just let Syrus win, but Crowler said that due to his poor exam results, Jaden would have his Deck confiscated if he lost. When Syrus lost and Midori Hibiki pointed out that he had not actually scored a 0, Alexis danced with Jaden, Syrus and Bastion in celebration.[10][11]
Alexis received word that Atticus would be extending his time studying abroad, having appealed directly to the principal and would not be returning home with Zane. She suspected that it was because some girl in America had caught his attention.[12]
Alexis decided to take part in the Zane Truesdale homecoming tournament and decided that in the interest of advancing in the tournament, it would not be wise to face Jaden or Bastion in the preliminaries. When Syrus announced that he too would be participating, the four of them agreed to try and meet in the tournament playoffs.[13]
In the preliminaries, Alexis fought Reggie MacKenzie and lost. She later Dueled David Rabb in the finals; while she was frustrated by the loss, she saw it as an opportunity to motivate herself to become a better Duelist.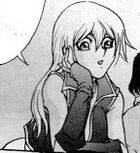 She and Bastion Misawa battle Jesse Anderson and Adrian Gecko in a Tag Duel. They manage to win, much to Adrian's annoyance. She is matched against Aster Phoenix in the singles matches, and loses to his "The Grand Jupiter". She witnesses Jaden and Chazz's Duel against Tragoedia and is present for Jaden's match against Koyo Hibiki years later.
Alexis plays an Ice Deck based on the distribution of Ice Counters through the usage of several cards. The placement of Ice Counters on monsters triggers the effects of various support cards, giving Alexis access to a myriad of effects ranging from the negation of card effects to immobilizing her opponent's monsters. Several of Alexis' cards also display a strong relation to ice or cold even if they don't rely on "Ice Counters", such as her "Ice Queen" and "Twin Pillars of Ice."
Image
Information
"Blizzard Princess" (「ブリザード・プリンセス」 Burizādo Purinsesu)

Attribute

 WATER

Level

 8 ★ ★ ★ ★ ★ ★ ★ ★

Types

 Spellcaster / Effect

ATK

 2800

DEF

 2100

"Cold Enchanter" (「コールド・エンチャンター」 Kōrudo Enchantā)

Attribute

 WATER

Level

 4 ★ ★ ★ ★

Types

 Aqua / Effect

ATK

 1600

DEF

 1200

"Crystal Girl" (「クリスタル・ガール」 Kurisutaru Gāru)

Attribute

 WATER

Level

 1 ★

Types

 Normal

ATK

 200

DEF

 100

"Cyber Valkyrie" | "Hail Cyber" (「ヘイル・サイバー」 Heiru Saibā)

Level

 4 ★ ★ ★ ★

Types

 Effect

ATK

 1300

DEF

 1500

"Frost Tiger" | "Cold Tiger" (「コールド・タイガー」 Kōrudo Taigā)

Level

 4 ★ ★ ★ ★

Types

 Normal

ATK

 1900

DEF

 ???

"Ice Doll" (「アイス・ドール」 Aisu Dōru)

Attribute

 WATER

Level

 2 ★ ★

Types

 Normal

ATK

 800

DEF

 1000

"Ice Master" | "Ice Blizzard Master" (「アイス・ブリザード・マスター」 Aisu Burizādo Masutā)

Attribute

 WATER

Level

 8 ★ ★ ★ ★ ★ ★ ★ ★

Types

 Spellcaster / Effect

ATK

 2500

DEF

 2000

"Ice Queen" (「氷の女王」 Kōri no Jo'ō)

Attribute

 WATER

Level

 8 ★ ★ ★ ★ ★ ★ ★ ★

Types

 Spellcaster / Effect

ATK

 2900

DEF

 2100

"Snowman" (「雪ダルマン」 Yukidaruman)

Attribute

 WATER

Level

 3 ★ ★ ★

Types

 Normal

ATK

 900

DEF

 1500

"Absolute Zero Barrier" | "Absolute Ice Wall" (「絶対氷壁」 Zettai Hyōheki)

Card type

 Spell Card

Property

 Field

"Crown of Command" | "Crown of the Absolute Monarch" (「絶対君主の冠」 Zettai Kunshu no Kanmuri)

Card type

 Spell Card

Property

 Equip

"Curtain of Hail" (「カーテン・オブ・ヘイル」 Kāten obu Heiru)

Card type

 Spell Card

Property

 Continuous

"Ice Doll Mirror" (「アイス・ドール・ミラー」 Aisu Dōru Mirā)

Card type

 Spell Card

Property

 Normal

"Instant Freeze" (「瞬間氷結」 Shunkan Hyōketsu)

Card type

 Spell Card

Property

 Quick-Play

"Soul Infusing Sculptor" (「魂をふきこむ彫刻家」 Tamashī o Fukikomu Chōkokuka)

Card type

 Spell Card

Property

 Normal

"Twin Pillars of Ice" | "Frigid Icicles" (「極寒の氷柱」 Gokkan no Hyōchū)

Card type

 Spell Card

Property

 Quick-Play

"Blizzard Wall" | "Blizzard Curtain" (「ブリザード・カーテン」 Burizādo Kāten)

Card type

 Trap Card

Property

 Normal

"Cold Fusion" | "Fusion Freezing" (「フュージョン・フリージング」 Fyūjon Furījingu)

Card type

 Trap Card

Property

 Normal

"Doble Passe" (「ドゥーブルパッセ」 Dūburupasse)

Card type

 Trap Card

Property

 Normal

"Ice Barrier" (「氷結界」 Hyōkekkai)

Card type

 Trap Card

Property

 Normal

"Ice Block" (「アイス・ブロック」 Aisu Burokku)

Card type

 Trap Card

Property

 Normal

"The Ice-Bound God" | "Freezing of God" (「神の氷結」 Kami no Hyōketsu)

Card type

 Trap Card

Property

 Normal

"Pillar Token"

Level

 1 ★

Types

 ??? / Token

ATK

 0

DEF

 0
References
[
edit
]