It is with heavy hearts that we mourn the passing of our game's creator, Kazuki Takahashi.
Alien Grey (Tag Force 1)
Japanese

エーリアン・グレイ

Rōmaji

Ērian Gurei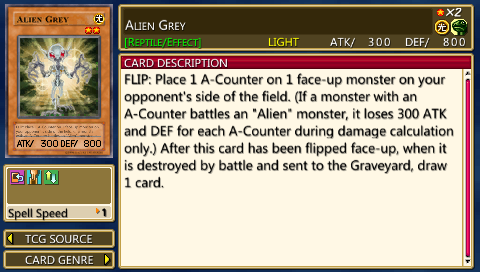 Attribute
LIGHT
Type
Reptile / Effect
Level
2
ATK / DEF
300 / 800
Rarity
Common
Internal number
6800
Password
62437709

FLIP: Place 1 A-Counter on 1 face-up monster on your opponent's side of the field. (If a monster with an A-Counter battles an "Alien" monster, it loses 300 ATK and DEF for each A-Counter during damage calculation only.) After this card has been flipped face-up, when it is destroyed by battle and sent to the Graveyard, draw 1 card.
Obtained by
"Alien Grey" is available in the following packs:
"Alien Grey" can be obtained from the card converter by inputting 12 cards.
Related cards
"Alien Grey" is part of the following genres:
"Alien Grey" is part of the following archetypes:
"Alien Grey" directly affects the following archetypes:
Deck Recipes
"Alien Grey" is in the following Decks:
| Character | Deck | Level | Qty |
| --- | --- | --- | --- |
| Jaime | First Contact | 8 | 3 |
| Shinonos | Alien Deck | 8 | 3 |
| Walter | Envoy from Another Planet | 3 | 3 |
Other languages
| | Name | Lore |
| --- | --- | --- |
| French | Alien Gris | FLIP: Placez 1 Compteur-A sur 1 monstre face recto sur le Terrain de votre adversaire. (Si un monstre avec un Compteur-A combat un monstre qui inclut "Alien" dans son nom de carte, diminuez son ATK et sa DEF de 300 points pour chaque Compteur-A, durant le calcul des dommages uniquement.) Après l'Invocation Flip de cette carte, lorsqu'elle est détruite à l'issue d'un combat et envoyée au Cimetière, piochez 1 carte de votre Deck. |
| German | Außerirdischer Grau | FLIPP: Lege 1 A-Zählmarke auf 1 offenes Monster auf der Spielfeldseite deines Gegners. (Falls ein Monster mit einer A-Zählmarke gegen ein Monster kämpft, dessen Kartenname "Außerirdische" enthält, verringere nur während der Schadensberechnung seine ATK und DEF um 300 Punkte für jede A-Zählmarke.) Nachdem diese Karte aufgedeckt wurde und wenn sie als Ergebnis eines Kampfes zerstört und auf den Friedhof gelegt wird, ziehe 1 Karte von deinem Deck. |
| Italian | Alieno Grigio | SCOPRI: Metti un Segnalino-A su un mostro scoperto sul Terreno del tuo avversario. (Se un mostro con un Segnalino-A combatte un mostro che include "Alieno" nel suo nome, diminuisci i suoi ATK e DEF di 300 punti per ogni Segnalino-A solo durante il calcolo dei danni.) Dopo che questa carta è stata scoperta, quando questa carta viene distrutta in seguito ad una battaglia e mandata al Cimitero, pesca 1 carta dal tuo Deck. |
| Spanish | Alienígena Gris | VOLTEO: Pon 1 Contador "A" en 1 monstruo boca arriba en el Campo de tu adversario. (Si un monstruo con Contadores "A" batalla contra un monstruo que incluya "Alienígena" en su nombre, disminuye su ATK y su DEF en 300 puntos por cada Contador "A", sólo durante el cálculo de daño.) Después de que esta carta haya sido volteada boca arriba, cuando es destruida como resultado de una batalla y mandada al Cementerio, roba 1 carta de tu Deck. |
Gallery
AlienGrey-GX02-FR-VG-info.png

AlienGrey-GX02-IT-VG-info.png

AlienGrey-GX02-SP-VG-info.png

AlienGrey-GX02-JP-VG-info.png