It is with heavy hearts that we mourn the passing of our game's creator, Kazuki Takahashi.
Ancient Gear Engineer
Japanese

古代の機械工兵

Base

古代の機械工兵

Kana

アンティーク・ギアエンジニア

Rōmaji

Antīku Giaenjinia

Translated

Antique Gear Engineer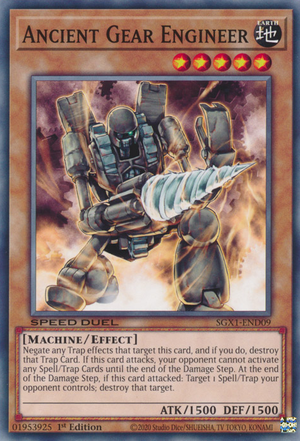 Card type
Monster
Attribute
EARTH
Types
Machine / Effect
Level
5
ATK / DEF
1500 / 1500
Password
01953925
Effect types

Status
English sets
Worldwide
Search categories
Other languages
Language
Name
Lore
French

Ingénieur Rouages Ancients

Annulez les effets de Piège qui ciblent cette carte, et si vous le faites, détruisez la Carte Piège. Si cette carte attaque, votre adversaire ne peut pas activer de Cartes Magie/Piège jusqu'à la fin de la Damage Step. À la fin de la Damage Step, si cette carte a attaqué : ciblez 1 Magie/Piège contrôlé par votre adversaire ; détruisez la cible.

German

Antiker Antriebsingenieur

Annulliere Falleneffekte, die diese Karte als Ziel wählen, und falls du dies tust, zerstöre die Fallenkarte. Falls diese Karte angreift, kann dein Gegner bis zum Ende des Damage Steps keine Zauber-/Fallenkarten aktivieren. Am Ende des Damage Steps, falls diese Karte angegriffen hat: Wähle 1 Zauber/Falle, den oder die dein Gegner kontrolliert; zerstöre das gewählte Ziel.

Italian

Ingegnere-Ingranaggio Antico

Annulla qualsiasi effetto di Trappola che sceglie questa carta come bersaglio e, se lo fai, distruggi quella Carta Trappola. Se questa carta attacca, il tuo avversario non può attivare nessuna Carta Magia/Trappola fino alla fine del Damage Step. Alla fine del Damage Step, se questa carta ha attaccato: scegli come bersaglio 1 Magia/Trappola controllata dal tuo avversario; distruggi quel bersaglio.

Portuguese

Engenheiro do Mecanismo Antigo

Negue quaisquer efeitos de Armadilha que escolham este card como alvo e, se isso acontecer, destrua o Card de Armadilha em questão. Se este card atacar, seu oponente não pode ativar quaisquer Cards de Magia/Armadilha até o final da Etapa de Dano. No final da Etapa de Dano, se este card atacou: escolha 1 Magia/Armadilha que seu oponente controla; destrua o alvo.

Spanish

Ingeniero de Mecanismo Antiguo

Niega cualquier efecto de Trampa que seleccione esta carta y, si lo haces, destruye esa Carta de Trampa. Si esta carta ataca, hasta el final del Damage Step tu adversario no puede activar Cartas Mágicas/de Trampa. Al final del Damage Step, si esta carta atacó: selecciona 1 Mágica/Trampa que controle tu adversario; destruye ese objetivo.

Japanese
古代の機械工兵

①:このカードがモンスターゾーンに存在する限り、このカードを対象とする罠カードの効果は無効化され破壊される。②:このカードが攻撃する場合、相手はダメージステップ終了時まで魔法・罠カードを発動できない。③:このカードが攻撃したダメージステップ終了時、相手フィールドの魔法・罠カード1枚を対象として発動する。その相手の魔法・罠カードを破壊する。

Antīku Giaenjinia
Antique Gear Engineer
Korean

앤틱 기어 엔지니어

①: 이 카드가 몬스터 존에 존재하는 한, 이 카드를 대상으로 하는 함정 카드의 효과는 무효화되어 파괴된다. ②: 이 카드가 공격할 경우, 상대는 데미지 스텝 종료시까지 마법 / 함정 카드를 발동할 수 없다. ③: 이 카드가 공격한 데미지 스텝 종료시, 상대 필드의 마법 / 함정 카드 1장을 대상으로 하고 발동한다. 그 상대의 마법 / 함정 카드를 파괴한다.
Sets in other languages
French
German
Italian
Portuguese
Spanish
Japanese
Korean
In other media