It is with heavy hearts that we mourn the passing of our game's creator, Kazuki Takahashi.
Ancient Gear Megaton Golem
Ancient Gear Megaton Golem
Japanese

古代の機械超巨人

Base

古代の機械超巨人

Kana

アンティーク・ギア・メガトン・ゴーレム

Rōmaji

Antīku Gia Megaton Gōremu

Translated

Antique Gear Megaton Golem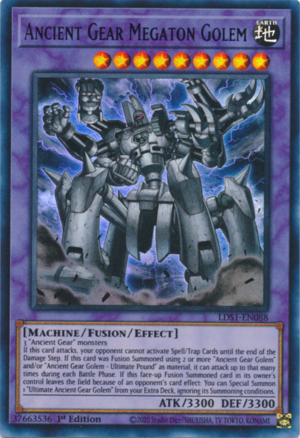 Card type
Monster
Attribute
EARTH
Types
Machine / Fusion / Effect
Level
9
ATK / DEF
3300 / 3300
Password
37663536
Effect types

Status
English sets
Worldwide
Search categories
Other languages
Language
Name
Lore
French

Golem Mégatonne Rouages Ancients

3 monstres "Rouages Ancients"
Si cette carte attaque, votre adversaire ne peut pas activer de Cartes Magie/Piège jusqu'à la fin de la Damage Step. Si cette carte a été Invoquée par Fusion en utilisant min. 2 "Golem Rouages Ancients" et/ou "Golem Rouages Ancients - Frappe Ultime" comme Matériel, elle peut attaquer max. autant de fois durant chaque Battle Phase. Si cette carte Invoquée par Fusion face recto contrôlée par son propriétaire quitte le Terrain à cause d'un effet de carte de l'adversaire : vous pouvez Invoquer Spécialement 1 "Golem Rouages Ancients Ultime" depuis votre Extra Deck, en ignorant ses conditions d'Invocation.

German

Antiker Antriebs-Megaton-Golem

3 "Antike/r/s Antrieb"-Monster
Falls diese Karte angreift, kann dein Gegner bis zum Ende des Damage Steps keine Zauber-/Fallenkarten aktivieren. Falls diese Karte als Fusionsbeschwörung beschworen wurde und dafür 2 oder mehr "Antiker Antriebsgolem" und/oder "Antiker Antriebsgolem - Ultimatives Pfund" als Material verwendet wurden, kann sie während jeder Battle Phase bis zu so viele Male angreifen. Falls diese offene als Fusionsbeschwörung beschworene Karte, die ihr Besitzer kontrolliert, das Spielfeld durch einen Karteneffekt eines Gegners verlässt: Du kannst 1 "Ultimativer Antiker Antriebsgolem" als Spezialbeschwörung von deinem Extra Deck beschwören, ungeachtet seiner Beschwörungsbedingungen.

Italian

Golem Megatonico-Ingranaggio Antico

3 mostri "Ingranaggio Antico"
Se questa carta attacca, il tuo avversario non può attivare Carte Magia/Trappola fino alla fine del Damage Step. Se questa carta è stata Evocata tramite Fusione utilizzando 2 o più "Golem-Ingranaggio Antico" e/o "Golem-Ingranaggio Antico - Picchiatore Finale" come materiale, essa può attaccare fino a quel numero di volte durante ogni Battle Phase. Se questa carta scoperta Evocata tramite Fusione sotto il controllo del suo proprietario lascia il Terreno a causa dell'effetto di una carta dell'avversario: puoi Evocare Specialmente 1 "Golem-Ingranaggio Antico Finale" dal tuo Extra Deck, ignorando le sue condizioni di Evocazione.

Portuguese

Golem Megaton do Mecanismo Antigo

3 monstros "Mecanismo Antigo"
Se este card atacar, seu oponente não pode ativar Cards de Magia/Armadilha até o final da Etapa de Dano. Se este card foi Invocado por Invocação-Fusão usando 2 ou mais "Golem do Mecanismo Antigo" e/ou "Golem do Mecanismo Antigo - Murro Definitivo" como matéria, ele pode atacar até esse número de vezes durante cada Fase de Batalha. Se este card com a face para cima Invocado por Invocação-Fusão e sob o controle do seu dono deixar o campo devido a um efeito de card do oponente: você pode Invocar por Invocação-Especial 1 "Golem do Mecanismo Antigo Definitivo" do seu Deck Adicional, ignorando suas condições de Invocação.

Spanish

Golem de Megatón de Mecanismo Antiguo

3 monstruos "Mecanismo Antiguo"
Si esta carta ataca, hasta el final del Damage Step tu adversario no puede activar Cartas Mágicas/de Trampa. Si esta carta fue Invocada por Fusión usando 2 o más "Golem de Mecanismo Antiguo" y/o "Golem de Mecanismo Antiguo - Golpe Definitivo" como material, ésta puede atacar hasta esa cantidad de veces durante cada Battle Phase. Si esta carta boca arriba Invocada por Fusión controlada por su propietario deja el Campo por el efecto de una carta del adversario: puedes Invocar de Modo Especial, desde tu Deck Extra, 1 "Golem de Mecanismo Antiguo Definitivo", ignorando sus condiciones de Invocación.

Japanese
古代の機械超巨人

「アンティーク・ギア」モンスター×3
①:このカードが攻撃する場合、相手はダメージステップ終了時まで魔法・罠カードを発動できない。②:「古代の機械巨人」「古代の機械巨人-アルティメット・パウンド」の中から合計2体以上を素材として融合召喚したこのカードは、その数まで1度のバトルフェイズ中に攻撃できる。③:融合召喚した表側表示のこのカードが相手の効果でフィールドから離れた場合に発動できる。EXデッキから「古代の機械究極巨人」1体を召喚条件を無視して特殊召喚する。

Antīku Gia Megaton Gōremu
Antique Gear Megaton Golem
Korean

앤틱 기어 메가톤 골렘

"앤틱 기어" 몬스터 × 3
① : 이 카드가 공격할 경우, 상대는 데미지 스텝 종료시까지 마법 / 함정 카드를 발동할 수 없다. ② : "앤틱 기어 골렘" "앤틱 기어 골렘-얼티미트 파운드" 중에서 합계 2장 이상을 소재로 하고 융합 소환한 이 카드는, 그 수까지, 1번의 배틀 페이즈 중에 공격할 수 있다. ③ : 융합 소환한 앞면 표시의 이 카드가 상대의 효과로 필드에서 벗어났을 경우에 발동할 수 있다. 엑스트라 덱에서 "앤틱 기어 얼티미트 골렘" 1장을 소환 조건을 무시하고 특수 소환한다.
Sets in other languages
French
German
Italian
Portuguese
Spanish
Japanese
Korean