| | |
| --- | --- |
| | Help support Yugipedia by using our Chrome extension, which redirects links to the old Wikia/Fandom site to Yugipedia, ensuring you see the most up-to-date information. Firefox users don't worry—a similar Firefox add-on will be out soon. If you have any issues or find any bugs, be sure to let us know on Discord! |
Atticus Rhodes (manga)
Atticus Rhodes
Names
Japanese translated
Fubuki Tenjoin
Nicknames

Fubuking (Japanese)
Rhodie (English)

Japanese
Japanese

天上院吹雪

Rōmaji
Tenjōin Fubuki

Personal
Birth
October 31[1]
Height

1.78 m <br />5.84 ft <br />70.079 in <br />

178 cm[1]

Weight

127.868 lb <br />

58 kg[1]

Gender
Relatives
Alexis Rhodes (younger sister)
School
Duel Academy
Dormitory
Obelisk Blue
Manga Deck
Sphere
Appearances
Manga debut
Yu-Gi-Oh! GX Chapter 24: "Alexis vs. David!!"
Rhodes, Atticus
Atticus Rhodes, known as Fubuki Tenjoin (天上院吹雪, Tenjōin Fubuki) in the Japanese version, is a character in the Yu-Gi-Oh! GX manga.
Biography
[
edit
]
Atticus has a reputation as a skilled Duelist; at Duel Academy, he and Zane Truesdale are referred to as the "Twin Gems" of the academy. He was originally the number one pupil the semester before his final year, but he felt that being first was "too much work". He is a star Duelist in the United States, where he is studying abroad at the American Duel Academy.
In the English version, Reggie MacKenzie refers to him as Rhodie; Atticus came up with this nickname himself, using it when he first introduced himself to Reggie. In the Japanese version, he goes by the moniker Fubu-king, a portmanteau of his Japanese name, Fubuki, and king.
He has previously defeated David Rabb, possibly during his time at the American Duel Academy, causing David to brutally defeat Alexis Rhodes in one turn during their Duel in the Academy Tournament finals. Atticus apparently developed an infatuation with Reggie MacKenzie while studying in America, and thus petitioned Chancellor Sheppard to allow him to stay abroad longer. However, he ended up returning earlier than he expected anyway, returning prior to Jaden's Tournament semi-final Duel against Chazz, as Reggie had ended up going to Duel Academy herself without informing Atticus. After having a conversation with Zane, he then decided to go look for her, but still watched the Duel on the television screens that are littered around the Academy's halls.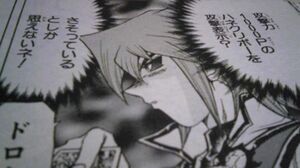 He is later confronted in the forest by Jim Crocodile Cook, who immediately challenged him to a Duel. Jim had been rivals with David Rabb and sought Atticus because the latter was able to defeat Rabb before he could. Despite Jim's use of the Legendary Planet "The Tyrant Neptune", Atticus won the Duel using his signature monster, "The Atmosphere".
He is later confronted by Aster Phoenix. Atticus, Zane and Aster used to compete in the Junior leagues together, but Aster was unable to defeat either of them at the time. Since then, Aster has become a professional Duelist, and he challenges Atticus, wanting revenge for his losses to Atticus when they were younger. Aster ultimately defeated him with his "Vison Heroes", though unknown to him, Tragoedia influenced Atticus and stopped him from activating his face-down card. Through this loss, Tragoedia is able to gain control of Atticus, and begins using him as an enforcer.
Tragoedia gives him the final card in the Legendary Planet series, "The Suppression Pluto". He uses this card against Jaden, and defeats him be using its effect. Afterwards, Tragoedia, through Atticus, takes Jaden's "Winged Kuriboh" and "Elemental Hero Terra Firma". Following this, Tragoedia stole energy from Atticus's body and took away "The Suppression Pluto", causing Atticus to fall into a coma from which he did not wake until Tragoedia was defeated.
Atticus plays a "Sphere" Deck, focused around swarming and equipping monsters on the opposing side of the field to gain an ATK boost, while sealing his opponent's ability to attack with cards such as "Air Sphere" and "Air Barrier".
Atticus was given "The Suppression Pluto" by Tragoedia when the latter possessed him after his loss to Aster Phoenix.[2][3]
Image
Information
"Air Sphere" (「エアースフィア」 Eā Sufia)

Level

 2 ★ ★

Types

 Effect

ATK

 400

DEF

 300

"Breeze Sphere" (「ブリーズ・スフィア」 Burīzu Sufia)

Level

 2 ★ ★

Types

 Effect

ATK

 700

DEF

 1000

"Synthesize Sphere" (「シンセサイズ・スフィア」 Shinsesaizu Sufia)

Level

 4 ★ ★ ★ ★

Types

 Effect

ATK

 1000

DEF

 1000

"The Atmosphere" (「The アトモスフィア」 Ji Atomosufia)

Attribute

 WIND

Level

 8 ★ ★ ★ ★ ★ ★ ★ ★

Types

 Winged Beast / Effect

ATK

 1000

DEF

 800

"The Suppression Pluto" (「The suppression PLUTO」 Za Sapuresshon Purūto)

Attribute

 DARK

Level

 8 ★ ★ ★ ★ ★ ★ ★ ★

Types

 Fiend / Effect

ATK

 2600

DEF

 2000

"Transform Sphere" (「トランスフォーム・スフィア」 Toransufōmu Sufia)

Attribute

 WIND

Level

 3 ★ ★ ★

Types

 Winged Beast / Effect

ATK

 100

DEF

 100

"Troposphere" (「トラファスフィア」 Torafasufia)

Attribute

 WIND

Level

 6 ★ ★ ★ ★ ★ ★

Types

 Winged Beast / Effect

ATK

 2400

DEF

 2000

"Virtual Sphere" (「バーチャル・スフィア」 Bācharu Sufia)

Level

 5 ★ ★ ★ ★ ★

Types

 Effect

ATK

 2200

DEF

 1800

"Excavation Work" (「発掘作業」 Hakkutsu Sagyō)

Card type

 Spell Card

Property

 Normal

"Monster Reborn" | "Resurrection of the Dead" (「死者蘇生」 Shisha Sosei)

Card type

 Spell Card

Property

 Normal

"Powerless Sphere" (「パワレスフィア」 Pawaresufia)

Card type

 Spell Card

Property

 Normal

"The Eye of Truth" (「真実の眼」 Shinjitsu no Me)

Card type

 Spell Card

Property

 Normal

"Air Barrier" (「大気障壁」 Taiki Shōheki)

Card type

 Trap Card

Property

 Normal

"Atmospheric Regeneration" (「大気再生」 Taiki Saisei)

Card type

 Trap Card

Property

 Normal

"Atmospheric Transference" (「大気伝達」 Taiki Dentatsu)

Card type

 Trap Card

Property

 Normal

"Unbroken Atmosphere" (「大気万世」 Taiki Bansei)

Card type

 Trap Card

Property

 Normal

"Wind Pressure Compensation" (「代償の風圧」 Daishō no Fūatsu)

Card type

 Trap Card

Property

 Continuous
References
[
edit
]