It is with heavy hearts that we mourn the passing of our game's creator, Kazuki Takahashi.
Baby Dragon (DDS)
DM1 / DM2 / DM3 / DM4 / DM5 / DM6 / DM7 / DM8
Japanese

ベビー・ドラゴン

Rōmaji

Bebī Doragon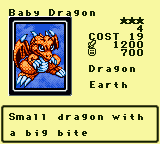 Obtained by
"Baby Dragon" can be obtained via random drop from the following characters. The chance of winning it is listed as a percentage and a probability out of 2048.
Other languages
| | Name | Lore |
| --- | --- | --- |
| French | Bébé Dragon | Petit dragon aux grandes dents |
| German | Baby-Drache | Kleiner Drache mit harmlosem Biss |
| Italian | Drago Bebè | Draghetto dal grande morso |
| Spanish | Dragón Bebéa | Pequeño dragón con gran bocado |
| Japanese | ベビー・ドラゴン | こどもドラゴンとあなどってはいけない うちにひめるちからは はかりしれない |
| Japanese translated | Baby Dragon | Much more than just a child, this dragon is gifted with untapped power. |
Gallery