| | |
| --- | --- |
| | Help support Yugipedia by using our Chrome extension, which redirects links to the old Wikia/Fandom site to Yugipedia, ensuring you see the most up-to-date information. If you have any issues or find any bugs, be sure to let us know on Discord! |
Bastion Misawa (manga)
Bastion Misawa
Names
English
Japanese translated
Daichi Misawa

Japanese
Japanese

三沢 大地

Rōmaji
Misawa Daichi

Other languages
Arabic

باستون ميساوا

French

Bastien Misawa

Spanish

Bastión Misawa

Personal
Birth
April 12[1]
Height

1.71 m <br />5.61 ft <br />67.323 in <br />

171 cm[1]

Weight

132.277 lb <br />

60 kg[1]

Gender
School
Duel Academy
Dormitory
Ra Yellow
Manga Deck
Yokai
Appearances
Manga debut
Yu-Gi-Oh! GX Chapter

001

1: "A New Hero!!"
Misawa, Bastion
Bastion Misawa, known as Daichi Misawa (三沢 大地, Misawa Daichi) in the Japanese version, is a character in the Yu-Gi-Oh! GX manga.
Biography
[
edit
]
Bastion Dueled against Chazz Princeton many times in tournaments and lost each time.
Bastion got the highest score in the Duel Academy entrance exam and was placed in Ra Yellow. The integrity of Chazz Princeton's direct placement in Obelisk Blue was question by other students, due to Bastion scoring higher than him.[2] However having faced Chazz many times before, Bastion respected his skill and believed that he deserved to be in Obelisk Blue.
Bastion took an interest in Jaden Yuki, who despite his Slifer Red ranking, managed to beat Vellian Crowler in a Duel during the entrance exam and had broken Chazz's winning streak, the latter of which was an honor Bastion had hoped to claim himself. While studying Jaden and Chazz's Duel in the video room, he was visited by Alexis Rhodes, who was not surprised to find him researching the Duel and asked if he was as surprised as everyone else that Jaden won. Bastion admitted that he knew it was possible and that he regretted not being the one to end Chazz's streak. He took at as his next goal to beat the person, who beat Chazz. With Bastion being the top player in Ra Yellow and head of his class, Alexis was interested in hearing Bastion's analysis of Jaden. Bastion considered him to be a jack-of-all trades and noted that most of his cards were "Elemental Hero"-related, but of scattered Types, but the tricky thing was his ability to draw the right card at the right time, allowing him to use the element of surprise. Bastion envied him and contemplated that he may be a genius. Alexis jokingly remarked "A careful analysis by Bastion Misawa the philosopher is concludes that... Jaden is a genius".[3]
As Alexis parted ways with Bastion, she received a phone call from Jaden, who was looking to borrow the Battle City DVD. Bastion, who had a crush on her and did not have her number, roared in frustration when she left the room. He spotted Jaden soon afterwards and asked how he knew Alexis' phone number. Jaden explained that Alexis sometimes lends him reference material and she once could not find him when she needed something immediately returned, so they exchanged phone numbers to make things easier. This further frustrated Bastion, since it was Jaden's callousness that led him to getting her number. Jaden then received a text from Alexis, which drove Bastion despair. He overheard that Jaden was looking to borrow Alexis' Battle City DVD, which she had currently lent to someone else. Since he had both the Battle City and Duelist Kingdom DVDs, Bastion offered to lend them, if Jaden could defeat him in a Duel. Jaden was annoyed at first, until Bastion asked if he was afraid. When Jaden asked what Bastion got for winning, without thinking Bastion shouted loudly, within earshot of other students, that Jaden would give him Alexis' contact info. As Jaden and Syrus Truesdale roared with laughter, Bastion grabbed them in headlocks and dragged them away to somewhere with less people.[4]
Bastion and Jaden went to the grove outside the Slifer Red dormitory to begin their Duel.[5] Jaden offered to give Bastion Alexis' contact information without Dueling, but Bastion asked where the fun was in that and that he would not accept having Jaden just give it to him. He mentioned that he was also interested in Dueling the person who beat Chazz and Jaden admitted that Bastion, as Ra Yellow's number one player, was also on his list.[6]
During the Duel, Bastion called a time out, when he learned that Syrus also had Alexis phone number. Following her call with Syrus, Alexis soon showed up, making Bastion anxious. Jaden ultimately won and Bastion considered that it may have been due to luck, but conceded that Jaden was a cut above him in tactics and deserving of the win.[7]
When Jaden asked Bastion for the DVD, Alexis assumed that they were Dueling over her Battle City DVD. Jaden told her that Bastion also had the Duelist Kingdom DVD. When she asked if she could borrow it, Jaden suggested that she and Bastion exchange phone numbers to make things easier. After doing so, Bastion went to his dormitory to get the DVD and invited Alexis to come, leaving Jaden to whimper about how he was supposed to get to see it first since he won.[8]
Bastion voted for Alexis in the Miss Duel Academy contest and was confident that she would make it to the finals and asked if Jaden voted too, reminding him that every vote counts. When Jaden decided to leave before the winner was announced, Bastion was surprised and told him he was missing the best part and believed Alexis was about to win. However Alexis tied first with Seika Kohinata and Jaden, being the only student who had not voted, was forced to Duel Alexis to determine how his vote was to be cast.[9] Bastion watched the Duel and cheered when Alexis was declared the winner.[10]
While Jaden and Syrus were reading about Syrus' brother, Zane Truesdale in the Duel Academy News, Bastion commented on how Zane and Atticus Rhodes where studying abroad and how nice that must be. Jaden asked why Syrus calls him "bro", when he has a real brother. Bastion and Alexis both expressed interest in hearing the answer too, but were interrupted by Vellian Crowler, who had mistakenly believed Syrus' scored 0 in a test. He threatened to expel Syrus, unless he could defeat Jaden in a Duel. Bastion figured in that case, Jaden could just let Syrus win, until Crowler said that due to his poor exam results, Jaden would have his Deck confiscated if he lost. When Syrus lost and Midori Hibiki pointed out that he had not actually scored a 0, Bastion danced with Jaden, Alexis and Syrus in celebration.[11][12]
Bastion expressed interest in participating in the Zane Truesdale homecoming tournament and Jaden offered to be his first opponent. Bastion declined, since he hoped to advance to the finals and thought it would be too risky to face Jaden in the preliminaries. However he still intended to face Chazz, regardless of how risky it may be. Alexis agreed with Bastion's aversion of facing Jaden at an early stage and said she would not like to face either of them. Bastion, Alexis, Jaden and Syrus then made an agreement to try and meet in the finals.[13]
In the preliminary stages of the tournament, Bastion sought out Chazz as an opponent. Chazz admitted to have been looking forward to them Dueling again, as much as Bastion had been. Bastion said that he had hoped to be the one to break Chazz's winning streak and Chazz asked if he was now looking down on him for losing to a Slifer Red student. However Bastion confessed that he had also lost to Jaden.[13] Bastion lost to Chazz, but won enough Duels to advance.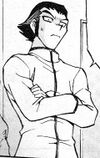 He wins against Reggie MacKenzie in the first round of the finals, although only because she held back in the last turn, and Duels Jaden. Despite how much he prepared, Jaden manages to defeat him. During the mini-tournament held between Duel Academy's students and the Overseas Champions, Bastion teams with Alexis to defeat Adrian Gecko and Jesse Anderson. Later, Bastion loses to James Crocodile Cook and suffers the effects of a Shadow Duel as a result. He is revived when Jaden and Chazz defeat Tragoedia, and witnesses Jaden's match against Koyo Hibiki years later.
Bastion plays a Yokai Deck, which relies on the Summoning of monsters from his Graveyard. The Yokai Monsters often have effects that activate in the Graveyard or when they are Special Summoned from the Graveyard. Bastion includes cards which send his own cards to the Graveyard such as "Card Destruction", "Spirits Rest" and "Foolish Burial", while reviving his monsters via cards such as "Vindictive Spirits", "Mezuki", "Night Parade of One Hundred Horrors" and "Ghostly Reinforcements". He also builds up enough monsters in his Graveyard to Special Summon his ace monster "Red Ogre" via "Enma's Judgment".
Image
Information
"Crow Tengu" (「カラス天狗」 Karasu Tengu)

Level

 4 ★ ★ ★ ★

Types

 Yokai / Effect

ATK

 1400

DEF

 1200

"Daidara-Bocchi" (「ダイダラボッチ」 Daidarabocchi)

Level

 10 ★ ★ ★ ★ ★ ★ ★ ★ ★ ★

Types

 Yokai / Effect

ATK

 2900

DEF

 2500

"Fire Wagon" (「火車」 Kasha)

Level

 8 ★ ★ ★ ★ ★ ★ ★ ★

Types

 Yokai / Effect

ATK

 ?

DEF

 1000

"Fox Fire" (「きつね火」 Kitsunebi)

Attribute

 FIRE

Level

 2 ★ ★

Types

 Pyro / Effect

ATK

 300

DEF

 200

"Gozuki" (「牛頭鬼」 Gozuki)

Level

 4 ★ ★ ★ ★

Types

 Yokai / Effect

ATK

 1700

DEF

 800

"Ittan Momen" (「一反木綿」 Ittan-Momen)

Level

 4 ★ ★ ★ ★

Types

 Yokai / Effect

ATK

 1200

DEF

 1500

"Long-Tailed Black Horse" (「尾長黒馬」 Onagakokuba)

Level

 4 ★ ★ ★ ★

Types

 Yokai / Effect

ATK

 1400

DEF

 800

"Mezuki" (「馬頭鬼」 Mezuki)

Level

 4 ★ ★ ★ ★

Types

 Yokai / Effect

ATK

 1700

DEF

 800

"Nine-Tailed Fox" (「九尾の狐」 Kyūbi no Kitsune)

Attribute

 FIRE

Level

 6 ★ ★ ★ ★ ★ ★

Types

 Yokai / Effect

ATK

 2200

DEF

 2000

"Nurikabe" (「ヌリカベ」 Nurikabe)

Level

 4 ★ ★ ★ ★

Types

 Yokai / Normal

ATK

 900

DEF

 2000

"Onmoraki" (「陰魔羅鬼」 Onmoraki)

Level

 4 ★ ★ ★ ★

Types

 Yokai / Effect

ATK

 1200

DEF

 1000

"Red Ogre" (「赤鬼」 Akaoni)

Level

 7 ★ ★ ★ ★ ★ ★ ★

Types

 Yokai / Effect

ATK

 2800

DEF

 2100

"Rigrass Leever" (「リグラス・リーパー」 Rigurasu Rīpā)

Attribute

 FIRE

Level

 3 ★ ★ ★

Types

 Plant / Normal

ATK

 1600

DEF

 100

"Shutendoji" (「酒呑童子」 Shutendōji)

Level

 4 ★ ★ ★ ★

Types

 Yokai / Effect

ATK

 1500

DEF

 800

"Goka, the Pyre of Malice" (「怨念の魂 業火」 Onnen no Tamashī Gōka)

Attribute

 FIRE

Level

 6 ★ ★ ★ ★ ★ ★

Types

 Yokai / Effect / Fusion

ATK

 2200

DEF

 1900

"Card Destruction" (「手札抹殺」 Tefuda Massatsu)

Card type

 Spell Card

"Foolish Burial" (「おろかな埋葬」 Orokana Maisō)

Card type

 Spell Card

Property

 Normal

"Gathering of Malice" (「怨念の集結」 Onnen no Shūketsu)

Card type

 Spell Card

Property

 Normal

"Graceful Charity" (「天使の施し」 Tenshi no Hodokoshi)

Card type

 Spell Card

"Mystical Space Typhoon" (「サイクロン」 Saikuron)

Card type

 Spell Card

Property

 Quick-Play

"Negate Attack" (「攻撃の無力化」 Kōgeki no Muryokuka)

Card type

 Spell Card

Property

 Normal

"Nobleman of Extermination" (「撲滅の使徒」 Bokumetsu no Shito)

Card type

 Spell Card

Property

 Normal

"Phantasmagoria" (「奇奇怪怪」 Kikikaikai)

Card type

 Spell Card

Property

 Continuous

"Reload" (「リロード」 Rirōdo)

Card type

 Spell Card

Property

 Quick-Play

"Saber of Malice" (「怨念の小太刀」 Onnen no Kodachi)

Card type

 Spell Card

Property

 Equip

"Smashing Ground" (「地砕き」 Jikudaki)

Card type

 Spell Card

Property

 Normal

"Spirits Rest" (「もののけの安息」 Mononoke no Ansoku)

Card type

 Spell Card

Property

 Normal

"Enma's Judgment" (「閻魔の裁き」 Enma no Sabaki)

Card type

 Trap Card

Property

 Counter

"Fate of the Living" (「生者の末路」 Seija no Matsuro)

Card type

 Trap Card

Property

 Continuous

"Fires of Shiranui" (「不知火の揺らめき」 Shiranui no Yurameki)

Card type

 Trap Card

Property

 Continuous

"Ghostly Reinforcements" (「妖魔の援軍」 Yōma no Engun)

Card type

 Trap Card

Property

 Normal

"Graveyard of Wandering Souls" (「魂のさまよう墓場」 Tamashī no Samayō Hakaba)

Card type

 Trap Card

Property

 Continuous

"Haunted Shrine" (「もののけの巣くう祠」 Mononoke no Sukū Hokora)

Card type

 Trap Card

Property

 Normal

"Leaf of the Transforming Tanuki" (「化け狸の葉っぱ」 Bakedanuki no Happa)

Card type

 Trap Card

Property

 Normal

"Narukami Waterfall" (「ナルカミの滝壺」 Narukami no Takitsubo)

Card type

 Trap Card

Property

 Continuous

"Night of One Hundred Horrors" (「百鬼夜行」 Hyakkiyakō)

Card type

 Trap Card

Property

 Normal

"Vindictive Spirits" (「怨霊の執念」 Onryō no Shūnen)

Card type

 Trap Card

Property

 Normal

"Fireball Token" (「火の玉トークン」 Hi no Tama Tōkun)

Level

 1 ★

Types

 Pyro / Token

ATK

 100

DEF

 100

"Fox Token" (「狐トークン」 Kitsune Tōkun)

Attribute

 FIRE

Level

 2 ★ ★

Types

 Zombie / Token

ATK

 500

DEF

 500
References
[
edit
]