It is with heavy hearts that we mourn the passing of our game's creator, Kazuki Takahashi.
Batteryman C (character)
Batteryman C is a character appearing in Yu-Gi-Oh! Ultimate Masters: World Championship 2006 and Yu-Gi-Oh! GX Spirit Caller, based on the card "Batteryman C"
Appearances
[
edit
]
World Champsionship 2006
[
edit
]
Batteryman C is a Level 2 Duel Opponent.
Spirit Caller
[
edit
]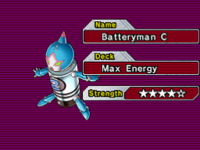 Batteryman C appears as a Duel Monster Spirit that can be unlocked as a partner for the player by defeating it multiple times. It can be found at the Power Plant after finishing the game's storyline.
Batteryman C's ability reduces the price of booster packs at the store. The prices are reduced to 144 DP at Level 1, 136 DP at Level 2, and 127 DP at Level 3.
World Champsionship 2006
[
edit
]
Full Charge Deck
Japanese: フルチャージデッキ · Rōmaji: Furuchāji Dekki · Translated: Full Charge Deck
Spirit Caller
[
edit
]
Max Energy
Japanese: MAXエナジーデッキ · Rōmaji: Makkusu Enajī Dekki · Translated: Max Energy Deck