Batteryman D (character)
Batteryman D is a character version of the card, "Batteryman D".
Appearances
[
edit
]
Spirit Caller
[
edit
]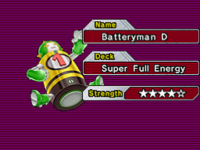 Batteryman D appears as a Duel Monster Spirit that can be unlocked as a partner for the player by defeating it multiple times. It can be found in the Power Plant after finishing the game's storyline.
Batteryman D's ability makes the player more likely to obtain higher-rarity cards from booster packs, with the likelihood becoming higher as the spirit is levelled up.
World Championship 2007
[
edit
]
Batteryman D is a Level 1 Limited Duelist that challenges the player to a duel in which all players begin with only 1000 Life Points.
Spirit Caller
[
edit
]
Super Full Energy
Japanese: 超満タン!デッキ · Rōmaji: Chō Mantan! Dekki · Translated: Super Fully Charged! Deck
World Championship 2007
[
edit
]
A Sudden Snap
Japanese: 風前の灯火 · Rōmaji: Fūzen no Tomoshibi · Translated: Precarious Situation