Bluebeard's Attack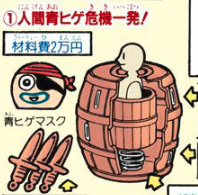 Bluebeard's Attack is a game in the Yu-Gi-Oh! manga. It is based on the real-world game Pop-up Pirate, known in Japan as Blackbeard in Danger (黒ひげ危機一発 Kurohige Kiki Ippatsu).
Appearances
[
edit
]

Yugi Mutou played this game once during lunch at school. It foreshadowed the Money and Knife Shadow Game that Dark Yugi was to play the next day.[1]
A life-sized version of Bluebeard's Attack was used in the Carnival Games attraction at the Domino High school festival.[2]
Bluebeard's Attack was sold at Kame Game. One of them was visible under the counter when Yugi invited his friends over to watch the Japanese National Duel Monsters Championship.[3]
References
[
edit
]