It is with heavy hearts that we mourn the passing of our game's creator, Kazuki Takahashi.
Bonz's followers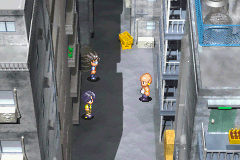 Bonz's followers, known as Kotsuzuka's followers (骨塚の取り巻き Kotsuzuka no torimaki) in the Japanese version, are three characters in Yu-Gi-Oh! The Sacred Cards.
After the Battle City tournament began, they appeared in the alley connecting the Clock Tower Square to the graveyard. The player needed to defeat one of them in order to Duel Bonz.
Bonz's followers' Deck is composed entirely of monsters with 600 or lower ATK and DEF.
The following cards can be won from Bonz's followers by the ante rule, provided the player does not wager a low-level ante card. The chance of winning a card is indicated by the "%" (chance out of 100) and "2048th" (chance out of 2048) columns.