It is with heavy hearts that we mourn the passing of our game's creator, Kazuki Takahashi.
Bujin Hirume
Japanese

武神-ヒルメ

Base

武神-ヒルメ

Kana

ぶじん-ヒルメ

Rōmaji

Bujin - Hirume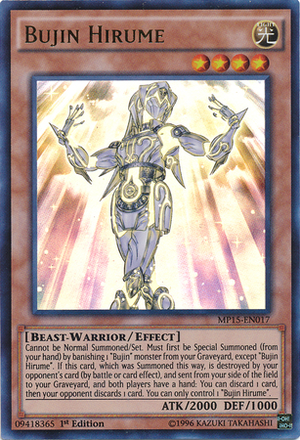 Card type
Monster
Attribute
LIGHT
Types
Beast-Warrior / Effect
Level
4
ATK / DEF
2000 / 1000
Password
09418365
Effect types

Status
English sets
Worldwide
Search categories
Other languages
Language
Name
Lore
French

Bujin Hirume

Ni Invocable Normalement ni Posable. Doit d'abord être Invoquée Spécialement (depuis votre main) en bannissant 1 monstre "Bujin" ("Bujin Hirume" exclu) depuis votre Cimetière. Si cette carte, qui a été Invoquée de cette façon, est détruite par une carte de votre adversaire (au combat ou par un effet de carte) et envoyée depuis votre Terrain à votre Cimetière, et que chaque joueur a une main : vous pouvez défausser 1 carte, puis votre adversaire défausse 1 carte. Vous ne pouvez contrôler qu'1 "Bujin Hirume".

German

Bujin Hirume

Kann nicht als Normalbeschwörung beschworen/gesetzt werden. Muss erst als Spezialbeschwörung (von deiner Hand) beschworen werden, indem du 1 "Bujin"-Monster von deinem Friedhof verbannst, außer "Bujin Hirume". Falls diese Karte, die auf diese Art beschworen wurde, durch eine Karte deines Gegners (entweder durch Kampf oder durch einen Karteneffekt) zerstört und von deiner Spielfeldseite auf deinen Friedhof gelegt wird und beide Spieler eine Hand haben: Du kannst 1 Karte abwerfen, dann wirft dein Gegner 1 Karte ab. Du kannst nur 1 "Bujin Hirume" kontrollieren.

Italian

Bujin Hirume

Non può essere Evocato Normalmente/Posizionato. Deve prima essere Evocato Specialmente (dalla tua mano) bandendo 1 mostro "Bujin" dal tuo Cimitero, eccetto "Bujin Hirume". Se questa carta, che è stata Evocata in questo modo, viene distrutta da una carta del tuo avversario (in battaglia o dall'effetto di una carta) e mandata dal tuo Terreno al tuo Cimitero, e entrambi i giocatori hanno carte in mano: puoi scartare 1 carta, poi il tuo avversario scarta 1 carta. Puoi controllare solo 1 "Bujin Hirume".

Portuguese

Bujin Hirume

Não pode ser Invocado por Invocação-Normal/Baixado. Você primeiro deve Invocá-lo por Invocação-Especial (da sua mão) ao banir 1 monstro "Bujin" do seu Cemitério, exceto "Bujin Hirume". Se este card, que foi Invocado desta forma, for destruído por um card do seu oponente (em batalha ou por efeito de card) e enviado do seu lado do campo para o Cemitério e os dois duelistas tiverem uma mão: você pode descartar 1 card e, depois, seu oponente descarta 1 card. Você só pode controlar 1 "Bujin Hirume".

Spanish

Bujin Hirume

No puede ser Invocado de Modo Normal/Colocado. Debe ser primero Invocado de Modo Especial (desde tu mano) desterrando 1 monstruo "Bujin" en tu Cementerio, excepto "Bujin Hirume". Si esta carta, Invocada de esta forma, es destruida por una carta de tu adversario (en batalla o por efecto de una carta), y mandada a tu Cementerio desde tu lado del Campo, y ambos jugadores tienen cartas en la mano: puedes descartar 1 carta, y después tu adversario descarta 1 carta. Sólo puedes controlar 1 "Bujin Hirume".

Japanese
武神-ヒルメ

このカードは通常召喚できない。「武神-ヒルメ」以外の自分の墓地の「武神」と名のついたモンスター1体をゲームから除外した場合に特殊召喚できる。また、この方法で特殊召喚したこのカードが相手によって破壊され墓地へ送られた場合に発動できる。自分は手札を1枚捨てる。その後、相手は手札を1枚選んで捨てる。「武神-ヒルメ」は自分フィールド上に1体しか表側表示で存在できない。

Bujin - Hirume
Korean

무사신-히루메

이 카드는 일반 소환 / 세트할 수 없다. "무사신-히루메" 이외의 자신의 묘지의 "무사신"이라는 이름이 붙은 몬스터 1장을 게임에서 제외했을 경우에 특수 소환할 수 있다. 또한, 이 방법으로 특수 소환한 이 카드가 상대에 의해서 파괴되어 묘지로 보내졌을 경우에 발동할 수 있다. 자신은 패를 1장 버린다. 그 후, 상대는 패를 1장 고르고 버린다. "무사신-히루메"는 자신 필드 위에 1장밖에 앞면 표시로 존재할 수 없다.
Sets in other languages
French
German
Italian
Portuguese
Spanish
Japanese
Korean
In other media