It is with heavy hearts that we mourn the passing of our game's creator, Kazuki Takahashi.
Bujingi Sinyou
Japanese

武神器-ツムガリ

Base

武神器-ツムガリ

Kana

ぶじんぎ-ツムガリ

Rōmaji

Bujingi - Tsumugari

Translated

Bujingi Tsumugari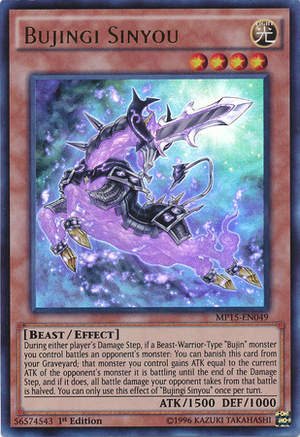 Card type
Monster
Attribute
LIGHT
Types
Beast / Effect
Level
4
ATK / DEF
1500 / 1000
Password
56574543
Effect types

Status
English sets
Worldwide
Search categories
Other languages
Language
Name
Lore
French

Bujingi Sinyou

Durant la Damage Step de chaque joueur, si un monstre "Bujin" de Type Bête-Guerrier que vous contrôlez combat un monstre de votre adversaire : vous pouvez bannir cette carte depuis votre Cimetière ; jusqu'à la fin de la Damage Step, le monstre que vous contrôlez gagne une ATK égale à l'ATK actuelle du monstre de votre adversaire qu'il combat, et s'il le fait, tous les dommages de combat reçus par votre adversaire de ce combat sont divisés par deux. Vous ne pouvez utiliser cet effet de "Bujingi Sinyou" qu'une fois par tour.

German

Bujingi Sinyou

Während des Damage Steps eines beliebigen Spielers, falls ein "Bujin"-Monster vom Typ Ungeheuer-Krieger, das du kontrollierst, gegen ein Monster deines Gegners kämpft: Du kannst diese Karte von deinem Friedhof verbannen; das Monster, das du kontrollierst, erhält bis zum Ende des Damage Steps ATK in Höhe der derzeitigen ATK des Monsters deines Gegners, gegen das es kämpft, und falls es das tut, wird der Kampfschaden halbiert, den dein Gegner aus dem Kampf erhält. Du kannst diesen Effekt von "Bujingi Sinyou" nur einmal pro Spielzug verwenden.

Italian

Bujingi Sinyou

Durante il Damage Step di qualsiasi giocatore, se un mostro "Bujin" di Tipo Guerriero-Bestia che controlli combatte con un mostro dell'avversario: puoi bandire questa carta dal tuo Cimitero; quel mostro che controlli guadagna ATK pari all'ATK attuale del mostro dell'avversario con cui sta combattendo fino alla fine del Damage Step e, se lo fa, tutto il danno da combattimento che il tuo avversario subisce da quella battaglia viene dimezzato. Puoi utilizzare questo effetto di "Bujingi Sinyou" una sola volta per turno.

Portuguese

Bujingi Sinyou

Durante a Etapa de Dano de qualquer duelista, se um monstro "Bujin" do Tipo Besta-Guerreira que você controla batalhar um monstro do oponente: você pode banir este card do seu Cemitério; até o final da Etapa de Dano, esse monstro que você controla ganha ATK igual ao ATK atual do monstro do oponente que ele estiver batalhando e, se isso acontecer, todo dano de batalha que seu oponente sofrer dessa batalha é diminuído pela metade. Você só pode usar este efeito de "Bujingi Sinyou" uma vez por turno.

Spanish

Bujingi Sinyou

Durante el Damage Step de cualquier jugador, si un monstruo "Bujin" de Tipo Guerrero-Bestia que controles batalla con un monstruo de tu adversario: puedes desterrar esta carta en tu Cementerio; hasta el final del Damage Step, ese monstruo que controlas gana ATK igual al ATK en este momento del monstruo de tu adversario con el que está batallando y, si lo hace, todo el daño de batalla que tu adversario recibe de esa batalla se divide a la mitad. Sólo puedes usar este efecto de "Bujingi Sinyou" una vez por turno.

Japanese
武神器-ツムガリ

「武神器-ツムガリ」の効果は1ターンに1度しか使用できない。①:自分の獣戦士族の「武神」モンスターが相手モンスターと戦闘を行うダメージステップ開始時からダメージ計算前までに、墓地のこのカードを除外して発動できる。その戦闘を行う自分のモンスターの攻撃力はダメージステップ終了時まで、戦闘を行う相手モンスターの攻撃力分アップし、その戦闘によって相手に与える戦闘ダメージは半分になる。

Bujingi - Tsumugari
Bujingi Tsumugari
Korean

무사신기-츠무가리

"무사신기-츠무가리"의 효과는 1턴에 1번밖에 사용할 수 없다. ① : 자신의 야수전사족 "무사신" 몬스터가 상대 몬스터와 전투를 실행하는 데미지 스텝 개시시부터 데미지 계산전까지, 묘지의 이 카드를 제외하고 발동할 수 있다. 그 전투를 실행하는 자신 몬스터의 공격력은 데미지 스텝 종료시까지, 전투를 실행하는 상대 몬스터의 공격력만큼 올리고, 그 전투에 의해서 상대에게 주는 전투 데미지는 절반이 된다.
Sets in other languages
French
German
Italian
Portuguese
Spanish
Japanese
Korean
In other media