It is with heavy hearts that we mourn the passing of our game's creator, Kazuki Takahashi.
Bujintervention
Japanese

武神決戦

Base

武神決戦

Kana

ぶじんけっせん

Rōmaji

Bujin Kessen

Translated

Bujin Decisive Battle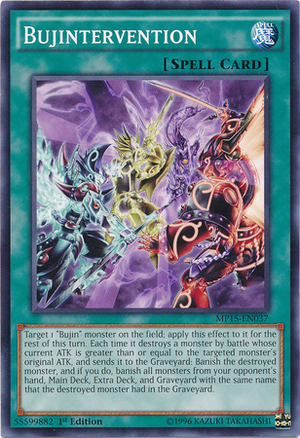 English sets
Worldwide
Search categories
Other languages
Language
Name
Lore
French

Bujintervention

Ciblez 1 monstre "Bujin" sur le Terrain ; le reste de ce tour, appliquez-lui cet effet. Chaque fois qu'il détruit un monstre au combat dont l'ATK actuelle est supérieur ou égale à l'ATK d'origine du monstre ciblé, et l'envoie au Cimetière : bannissez le monstre détruit, et si vous le faites, bannissez tous les monstres du même nom que le monstre détruit avait dans le Cimetière depuis la main, Main Deck, Extra Deck et Cimetière de votre adversaire.

German

Bujintervention

Wähle 1 "Bujin"-Monster auf dem Spielfeld; wende diesen Effekt für den Rest dieses Spielzugs darauf an. Jedes Mal, wenn es ein Monster, dessen derzeitige ATK größer oder gleich den Grund-ATK des gewählten Monsters sind, durch Kampf zerstört und auf den Friedhof legt: Verbanne das zerstörte Monster und falls du dies tust, verbanne alle Monster mit demselben Namen, den das zerstörte Monster im Friedhof hatte, von der Hand, dem Main Deck, dem Extra Deck und dem Friedhof deines Gegners.

Italian

Bujintervento

Scegli come bersaglio 1 mostro "Bujin" sul Terreno; applica questo effetto ad esso per il resto di questo turno. Ogni volta che esso distrugge in battaglia un mostro il cui ATK attuale è pari o superiore all'ATK originale del mostro scelto come bersaglio e lo manda al Cimitero: bandisci il mostro distrutto e, se lo fai, bandisci tutti i mostri dalla mano, Main Deck, Extra Deck e Cimitero del tuo avversario con lo stesso nome che il mostro distrutto aveva nel Cimitero.

Portuguese

Bujintervenção

Escolha 1 monstro "Bujin" no campo; aplique este efeito a ele pelo restante deste turno. Sempre que ele destruir um monstro em batalha, cujo ATK seja maior ou igual que o ATK original do monstro alvo, e enviá-lo para o Cemitério: bana o monstro destruído e, se isso acontecer, bana todos os monstros na mão, no Deck Principal e no Deck Adicional e Cemitério do oponente que tenham o mesmo nome que o monstro destruído tinha no Cemitério.

Spanish

Bujintervención

Selecciona 1 monstruo "Bujin" en el Campo; aplícale este efecto por el resto de este turno. Cada vez que éste destruye un monstruo en batalla cuyo ATK en ese momento sea mayor o igual que el ATK original del monstruo seleccionado y lo manda al Cementerio: destierra al monstruo destruido y, si lo haces, destierra todos los monstruos en la mano, Deck Principal, Deck Extra y Cementerio de tu adversario que tengan el mismo nombre que el monstruo destruido tenía en el Cementerio.

Japanese
武神決戦

フィールド上の「武神」と名のついたモンスター1体を選択して発動できる。このターン選択したモンスターが、そのモンスターの元々の攻撃力以上の攻撃力を持つモンスターを戦闘によって破壊した場合、破壊したそのモンスターを除外し、さらにその同名モンスターを相手の手札・デッキ・エクストラデッキ・墓地から全て除外する。

Bujin Kessen
Bujin Decisive Battle
Korean

무사신결전

필드 위의 "무사신" 이라는 이름이 붙은 몬스터 1장을 선택하고 발동할 수 있다. 이 턴 선택한 몬스터가, 그 몬스터의 원래 공격력 이상의 공격력을 가진 몬스터를 전투에 의해서 파괴했을 경우, 파괴한 그 몬스터를 제외하고, 그 같은 이름의 몬스터를 상대의 패 / 덱 / 엑스트라 덱 / 묘지에서 전부 제외한다.
Sets in other languages
French
German
Italian
Portuguese
Spanish
Japanese
Korean
In other media