It is with heavy hearts that we mourn the passing of our game's creator, Kazuki Takahashi.
Catapult Turtle (DDS)
DM1 / DM2 / DM3 / DM4 / DM5 / DM6 / DM7 / DM8
Japanese

カタパルト・タートル

Rōmaji

Kataparuto Tātoru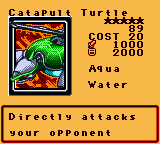 Obtained by
"Catapult Turtle" can be obtained via random drop from the following characters. The chance of winning it is listed as a percentage and a probability out of 2048.
Opponents' Decks
The following characters use "Catapult Turtle" in their Deck.
Other languages
| | Name | Lore |
| --- | --- | --- |
| Japanese | カタパルト・タートル | つかっていないカードを カタパルトで あいてにうちだし ちょくせつこうげき |
| Japanese translated | Catapult Turtle | If you are not using a card, use the catapult to fire it at your opponent for a direct attack. |
Gallery