It is with heavy hearts that we mourn the passing of our game's creator, Kazuki Takahashi.
Cocoon of Ultra Evolution
Cocoon of Ultra Evolution
Japanese

超進化の繭

Base

超進化の繭

Kana

ちょうしんかのまゆ

Rōmaji

Chōshinka no Mayu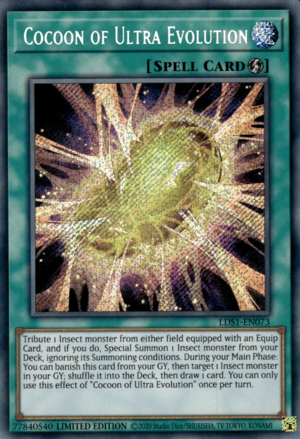 English sets
Worldwide
Search categories
Other languages
Language
Name
Lore
French

Cocon de l'Ultra Évolution

Sacrifiez 1 monstre Insecte depuis le Terrain équipé avec une Carte d'Équipement, et si vous le faites, Invoquez Spécialement 1 monstre Insecte depuis votre Deck, en ignorant ses conditions d'Invocation. Durant votre Main Phase : vous pouvez bannir cette carte depuis votre Cimetière, puis ciblez 1 monstre Insecte dans votre Cimetière ; mélangez-le dans le Deck, puis piochez 1 carte. Vous ne pouvez utiliser cet effet de "Cocon de l'Ultra Évolution" qu'une fois par tour.

German

Kokon der Ultra-Evolution

Biete 1 Insekt-Monster, das mit einer Ausrüstungskarte ausgerüstet ist, von einer beliebigen Spielfeldseite als Tribut an und falls du dies tust, beschwöre 1 Insekt-Monster als Spezialbeschwörung von deinem Deck, ungeachtet seiner Beschwörungsbedingungen. Während deiner Main Phase: Du kannst diese Karte von deinem Friedhof verbannen und dann 1 Insekt-Monster in deinem Friedhof wählen; mische es ins Deck, dann ziehe 1 Karte. Du kannst diesen Effekt von "Kokon der Ultra-Evolution" nur einmal pro Spielzug verwenden.

Italian

Bozzolo dell'Ultra Evoluzione

Offri come Tributo da qualsiasi Terreno 1 mostro Insetto equipaggiato con una Carta Equipaggiamento e, se lo fai, Evoca Specialmente 1 mostro Insetto dal tuo Deck, ignorando le sue condizioni di Evocazione. Durante la tua Main Phase: puoi bandire questa carta dal tuo Cimitero, poi scegliere come bersaglio 1 mostro Insetto nel tuo Cimitero; mischialo nel Deck, poi pesca 1 carta. Puoi utilizzare questo effetto di "Bozzolo dell'Ultra Evoluzione" una sola volta per turno.

Portuguese

Casulo de Ultra Evolução

Ofereça como Tributo 1 monstro Inseto de qualquer campo equipado com um Card de Equipamento e, se isso acontecer, Invoque por Invocação-Especial 1 monstro Inseto do seu Deck, ignorando suas condições de Invocação. Durante sua Fase Principal: você pode banir este card do seu Cemitério e, depois, escolha 1 monstro Inseto no seu Cemitério; embaralhe-o no Deck e, depois, compre 1 card. Você só pode usar este efeito de "Casulo de Ultra Evolução" uma vez por turno.

Spanish

Capullo Ultra Evolutivo

Sacrifica 1 monstruo Insecto equipado con una Carta de Equipo en cualquier Campo y, si lo haces, Invoca de Modo Especial, desde tu Deck, 1 monstruo Insecto, ignorando sus condiciones de Invocación. Durante tu Main Phase: puedes desterrar esta carta en tu Cementerio, y después seleccionar 1 monstruo Insecto en tu Cementerio; barájalo al Deck, después roba 1 carta. Sólo puedes usar este efecto de "Capullo Ultra Evolutivo" una vez por turno.

Japanese
超進化の繭

このカード名の②の効果は1ターンに1度しか使用できない。①:装備カードを装備した自分・相手フィールドの昆虫族モンスター1体をリリースし、デッキから昆虫族モンスター1体を召喚条件を無視して特殊召喚する。②:自分メインフェイズに墓地のこのカードを除外し、自分の墓地の昆虫族モンスター1体を対象として発動できる。そのモンスターをデッキに加えてシャッフルする。その後、自分はデッキから1枚ドローする。

Chōshinka no Mayu
Korean

초진화의 고치

이 카드명의 ②의 효과는 1턴에 1번밖에 사용할 수 없다. ①: 장착 카드를 장착한 자신 / 상대 필드의 곤충족 몬스터 1장을 릴리스하고, 덱에서 곤충족 몬스터 1장을 소환 조건을 무시하여 특수 소환한다. ②: 자신 메인 페이즈에 묘지의 이 카드를 제외하고, 자신 묘지의 곤충족 몬스터 1장을 대상으로 하여 발동할 수 있다. 그 몬스터를 덱에 넣고 셔플한다. 그 후, 자신은 덱에서 1장 드로우한다.
Sets in other languages
French
German
Italian
Portuguese
Spanish
Japanese
Korean
In other media