It is with heavy hearts that we mourn the passing of our game's creator, Kazuki Takahashi.
Foucault's Cannon
Japanese

フーコーの魔砲石

Base

フーコーの魔砲石

Kana

フーコーのまほうせき

Rōmaji

Fūkō no Mahōseki

Translated

Foucault's Magical Stone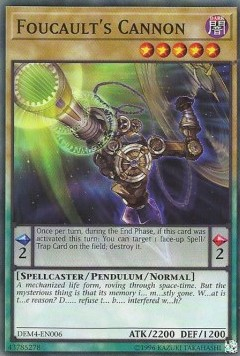 English sets
Worldwide
Europe
Search categories
Other languages
Language
Name
Lore
French

Canon de Foucault

Effet Pendule

Une fois par tour, durant la End Phase, si cette carte a été activée ce tour : vous pouvez cibler 1 Carte Magie/Piège face recto sur le Terrain ; détruisez-la.

Effet de Monstre

Une forme de vie mécanisée, errant à travers l'espace-temps. Étrangement, elle semble avoir presque perdu tou... sa mémoi... P...ur que...lle raison ? Refu... elle d'interf... avec ?

German

Foucaults Kanone

Pendeleffekt

Während der End Phase, falls diese Karte in diesem Spielzug aktiviert wurde: Du kannst 1 offene Zauber-/Fallenkarte auf dem Spielfeld wählen; zerstöre sie.

Monstereffekt

Eine mechanisierte Lebensform, die durch die Raumzeit streift. Aber das Merkwürdigste ist, dass ihre Erinnerungen f...st v...lig ver...unden sind. Wo...an li...t das? Wei...rt sie s...ch, mani...iert zu we...en?

Italian

Cannone di Foucault

Effetto Pendulum

Durante la End Phase, se questa carta è stata attivata in questo turno: puoi scegliere come bersaglio 1 Carta Magia/Trappola scoperta sul Terreno; distruggila.

Effetto Mostro

Una forma di vita meccanica, che vaga nello spazio e nel tempo. Ma la cosa misteriosa è che la sua memoria è q...asi persa. Q...al è l... ragione? S... rifiuta d... inte...agire?

Portuguese

Canhão de Foucault

Efeito de Pêndulo

Durante a Fase Final, se este card foi ativado neste turno: você pode escolher 1 Card de Magia/Armadilha com face para cima no campo; destrua-o.

Efeito de Monstro

Uma forma de vida mecanizada que vaga pelo espaço-tempo. Mas o mais misterioso é que a sua memória é... pratic... perd... Q... o motivo...? El... não acei... interf...?

Spanish

El Cañón de Foucault

Efecto de Péndulo

Una vez por turno, durante la End Phase, si esta carta fue activada este turno: puedes seleccionar 1 Carta Mágica/de Trampa boca arriba en el Campo; destrúyela.

Efecto de Monstruo

Una forma de vida mecanizada, que se desplaza por el espacio-tiempo. Pero lo más misterioso es que su memoria ha cas... desapare... ¿C...al será l... razón? ¿S... nieg... a q...e interfie...con e...a?

Japanese
フーコーの魔砲石

P効果

①:このカードを発動したターンのエンドフェイズに、フィールドの表側表示の魔法・罠カード1枚を対象として発動できる。そのカードを破壊する。

モンスターの効果

夢幻の空間を彷徨う機械仕掛けの生命体、だったはずである。一番の謎は、過去の記録が殆ど残ってい・・事だ。
その理由・・・なのか、・・・・・干渉・・・て拒・・・ている・・?
・・・消去・・・

Fūkō no Mahōseki
Foucault's Magical Stone

A life form in the form of a mechanical device, that was supposed to be drifting in the space of dreams. The biggest mystery, is that almost noth...emains of its past memories.
The reason...or not,......interfere...refus...ing?
...Delete...

Korean

후코의 마포석

펜듈럼 효과

①: 이 카드를 발동한 턴의 엔드 페이즈에, 필드의 앞면 표시의 마법 / 함정 카드 1장을 대상으로 하고 발동할 수 있다. 그 카드를 파괴한다.

몬스터의 효과

몽환의 공간을 방황하는 기계 장치의 생명체였을 것이다. 최고의 수수께끼는 과거의 기록이 거의 남아 있지 않다..는 것이다.
그 이유...인지...간섭...거부일까...?...삭제...
Sets in other languages
French
German
Italian
Portuguese
Spanish
Japanese
Japanese Asian
Korean
In other media