It is with heavy hearts that we mourn the passing of our game's creator, Kazuki Takahashi.
Surprise Chain
Japanese

サプライズ・チェーン

Rōmaji

Sapuraizu Chēn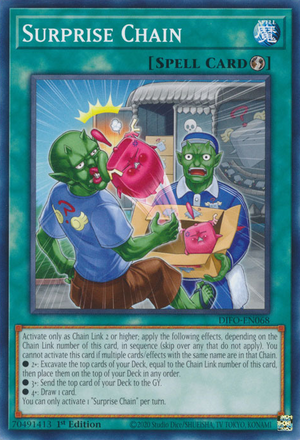 Card type
Spell
Property
Quick-Play
Password
70491413
Effect types

Status

Activate only as Chain Link 2 or higher; apply the following effects, depending on the Chain Link number of this card, in sequence (skip over any that do not apply). You cannot activate this card if multiple cards/effects with the same name are in that Chain.
● 2+: Excavate the top cards of your Deck, equal to the Chain Link number of this card, then place them on the top of your Deck in any order.
● 3+: Send the top card of your Deck to the GY.
● 4+: Draw 1 card.
You can only activate 1 "Surprise Chain" per turn.
English sets
Worldwide
Search categories
Other languages
Language
Name
Lore
French

Chaîne de Surprise

Activable uniquement en min. Maillon 2 de la Chaîne ; appliquez les effets suivants, selon le nombre du Maillon de la Chaîne de cette carte, dans l'ordre (ignorez ceux qui ne s'appliquent pas). Vous ne pouvez pas activer cette carte si plusieurs cartes/effets de même nom sont dans cette Chaîne.
● 2+ : Dévoilez un nombre de cartes du dessus de votre Deck, égal au nombre du Maillon de la Chaîne de cette carte, puis placez-les au-dessus de votre Deck dans l'ordre de votre choix.
● 3+ : Envoyez la carte du dessus de votre Deck au Cimetière.
● 4+ : Piochez 1 carte.
Vous ne pouvez activer qu'1 "Chaîne de Surprise" par tour.

German

Überraschungskette

Aktiviere diese Karte nur als Kettenglied 2 oder höher; führe nacheinander die folgenden Effekte aus, abhängig von der Kettengliednummer dieser Karte (überspringe alle, die nicht möglich sind). Du kannst diese Karte nicht aktivieren, falls mehrere Karten/Effekte mit demselben Namen in jener Kette sind.
● 2+: Grabe die obersten Karten deines Decks in Höhe der Kettengliednummer dieser Karte aus, dann lege sie in beliebiger Reihenfolge auf dein Deck.
● 3+: Lege die oberste Karte deines Decks auf den Friedhof.
● 4+: Ziehe 1 Karte.
Du kannst nur 1 "Überraschungskette" pro Spielzug aktivieren.

Italian

Catena di Sorprese

Attiva solo come Anello della Catena 2 o superiore; applica i seguenti effetti, a seconda del numero dell'Anello della Catena di questa carta, in ordine (salta quelli che non si applicano). Non puoi attivare questa carta se più carte/effetti con lo stesso nome sono in quella Catena.
● 2+: Dissotterra carte dalla cima del tuo Deck, pari al numero dell'Anello della Catena di questa carta, poi mettile in cima al tuo Deck in qualsiasi ordine.
● 3+: Manda la prima carta del tuo Deck al Cimitero.
● 4+: Pesca 1 carta.
Puoi attivare solo 1 "Catena di Sorprese" per turno.

Portuguese

Cadeia Surpresa

Ative apenas como Elo de Corrente 2 ou mais; aplique os seguintes efeitos, em sequência, dependendo do número do Elo de Corrente deste card (pule qualquer um que não se aplique). Você não pode ativar este card se múltiplos cards/efeitos com o mesmo nome estiverem nessa Corrente.
● 2+: Escave os cards do topo do seu Deck, igual ao número do Elo de Corrente deste card e, depois, coloque-os no topo do seu Deck em qualquer ordem.
● 3+: Envie o card do topo do seu Deck para o Cemitério.
● 4+: Compre 1 card.
Você só pode ativar 1 "Cadeia Surpresa" por turno.

Spanish

Cadena Sorpresa

Activa esta carta sólo como Eslabón de Cadena 2 o mayor; aplica los siguientes efectos, dependiendo del número de Eslabón de Cadena de esta carta, en secuencia (sáltate cualquiera que no se aplique). No puedes activar esta carta si múltiples cartas/efectos con el mismo nombre están en esa Cadena.
● 2+: Excava las cartas de la parte superior de tu Deck, igual al número de Eslabón de Cadena de esta carta, y después ponlas en la parte superior de tu Deck en cualquier orden.
● 3+: Manda al Cementerio la carta de la parte superior de tu Deck.
● 4+: Roba 1 carta.
Sólo puedes activar 1 "Cadena Sorpresa" por turno.

Japanese

サプライズ・チェーン

このカード名のカードは1ターンに1枚しか発動できない。①:同一チェーン上で複数回同名カードの効果が発動していない場合、そのチェーン2以降に発動できる。このカードの発動時に積まれているチェーンの数によって以下の効果を適用する。
●2つ以上:このカードの発動時に積まれているチェーンの数だけ自分のデッキの上からカードをめくり、好きな順番でデッキの上に戻す。
●3つ以上:自分のデッキの上からカードを1枚墓地へ送る。
●4つ以上:自分はデッキから1枚ドローする。

Sapuraizu Chēn
Korean

서프라이즈 체인

이 카드명의 카드는 1턴에 1장밖에 발동할 수 없다. ①: 동일한 체인 위에 여러 번 같은 이름의 카드 효과가 발동하고 있지 않을 경우, 그 체인 2 이후에 발동할 수 있다. 이 카드의 발동시에 쌓여 있는 체인의 수에 따라 이하의 효과를 적용한다. ●2개 이상: 이 카드의 발동시에 쌓여 있는 체인의 수만큼 자신의 덱 위에서 카드를 넘기고, 좋아하는 순서대로 덱 위로 되돌린다. ●3개 이상: 자신의 덱 위에서 카드를 1장 묘지로 보낸다. ●4개 이상: 자신은 덱에서 1장 드로우한다.

Seopeuraijeu Chein
Sets in other languages
French
German
Italian
Portuguese
Spanish
Japanese
Korean