It is with heavy hearts that we mourn the passing of our game's creator, Kazuki Takahashi.
Darts of Fortune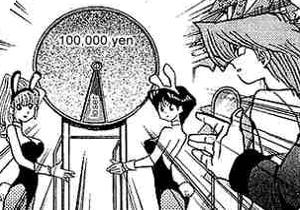 Darts of Fortune is the first stage in The Get the Million Game. It has a prize of ¥100,000.[1]
The two bunnies on the show spin a wheel, which is divided into two sections. The larger section is labeled "¥100,000". The smaller section is labelled "lose". The player is to throw a dart at the wheel while it spins. If the dart lands on the larger section, the player wins ¥100,000 and advances to the next stage.[1]
When Jonouchi was on The Get the Million Game, his dart landed just outside the "lose" section.[1]
References
[
edit
]