Deck Lockdown
Japanese

デッキロック

Rōmaji

Dekkirokku

Translated

Decklock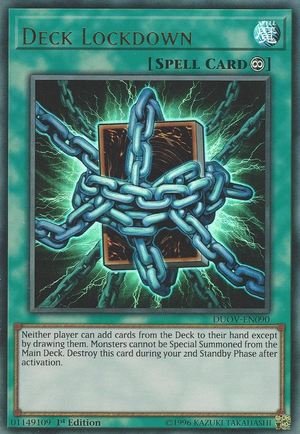 English sets
Worldwide
Search categories
Other languages
Language
Name
Lore
French

Verrouillage de Deck

Aucun joueur ne peut ajouter de cartes depuis le Deck à sa main, sauf en les piochant. Les monstres ne peuvent pas être Invoqués Spécialement depuis le Main Deck. Durant votre 2e Standby Phase après activation, détruisez cette carte.

German

Deckblockade

Kein Spieler kann seiner Hand Karten vom Deck hinzufügen, außer indem er sie zieht. Monster können nicht als Spezialbeschwörung vom Main Deck beschworen werden. Zerstöre diese Karte während deiner 2. Standby Phase nach ihrer Aktivierung.

Italian

Blocca Deck

Nessun giocatore può aggiungere carte dal Deck alla sua mano eccetto pescandole. I mostri non possono essere Evocati Specialmente dal Main Deck. Distruggi questa carta durante la tua 2ª Standby Phase dopo l'attivazione.

Portuguese

Restrição do Deck

Nenhum duelista pode adicionar cards do Deck à sua mão exceto comprando-os. Monstros não podem ser Invocados por Invocação-Especial do Deck Principal. Destrua este card durante sua 2ª Fase de Apoio depois da ativação.

Spanish

Restricción del Deck

Ningún jugador puede añadir a su mano cartas en el Deck excepto robando. No se pueden Invocar monstruos de Modo Especial desde el Deck Principal. Destruye esta carta durante tu 2da. Standby Phase después de la activación.

Japanese

デッキロック

このカードがフィールド上に存在する限り、お互いにドロー以外の方法でデッキからカードを手札に加える事はできず、デッキからの特殊召喚もできない。発動後2回目の自分のスタンバイフェイズ時にこのカードを破壊する。

Dekkirokku
Decklock

Neither player can add cards from the Deck to the hand except by drawing them. Monsters cannot be Special Summoned from the Main Deck. Destroy this card during your 2nd Standby Phase after activation.

Korean

덱 로크

이 카드가 필드위에 존재하는 한, 서로 드로우 이외의 방법으로 덱에서 카드를 패에 넣을 수 없으며, 덱에서의 특수 소환도 할 수 없다. 발동 후 2번째 자신의 스텐바이 페이즈시 이 카드를 파괴한다.
Sets in other languages
French
German
Italian
Portuguese
Spanish
Japanese
Korean