It is with heavy hearts that we mourn the passing of our game's creator, Kazuki Takahashi.
Deskbot 006
Japanese

ブンボーグ006

Base

ブンボーグ006

Kana

ブンボーグゼロゼロシックス

Rōmaji

Bunbōgu Zero Zero Shikkusu

Translated

Bunborg 006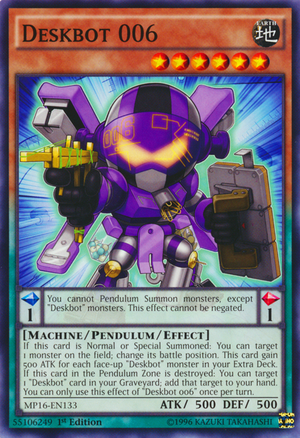 English sets
Worldwide
Search categories
Other languages
Language
Name
Lore
French

Robobureau 006

Effet Pendule

Vous ne pouvez pas Invoquer par Pendulation de monstres (monstres "Robobureau" exclus). Cet effet ne peut pas être annulé.

Effet de Monstre

Si cette carte est Invoquée Normalement ou Spécialement : vous pouvez cibler 1 monstre sur le Terrain ; changez sa position de combat. Cette carte gagne 500 ATK pour chaque monstre "Robobureau" face recto dans votre Extra Deck. Si cette carte dans la Zone Pendule est détruite : vous pouvez cibler 1 carte "Robobureau" dans votre Cimetière ; ajoutez la cible à votre main. Vous ne pouvez utiliser cet effet de "Robobureau 006" qu'une fois par tour.

German

Büroboter 006

Pendeleffekt

Du kannst keine Monster als Pendelbeschwörung beschwören, außer "Büroboter"-Monstern. Dieser Effekt kann nicht annulliert werden.

Monstereffekt

Falls diese Karte als Normal- oder Spezialbeschwörung beschworen wird: Du kannst 1 Monster auf dem Spielfeld wählen; ändere seine Kampfposition. Diese Karte erhält 500 ATK für jedes offene "Büroboter"-Monster in deinem Extra Deck. Falls diese Karte in der Pendelzone zerstört wird: Du kannst 1 "Büroboter"-Karte in deinem Friedhof wählen; füge das gewählte Ziel deiner Hand hinzu. Du kannst diesen Effekt von "Büroboter 006" nur einmal pro Spielzug verwenden.

Italian

Deskbot 006

Effetto Pendulum

Non puoi Evocare Pendulum mostri, eccetto mostri "Deskbot". Questo effetto non può essere annullato.

Effetto Mostro

Se questa carta viene Evocata Normalmente o Specialmente: puoi scegliere come bersaglio 1 mostro sul Terreno; cambia la sua posizione. Questa carta guadagna 500 ATK per ogni mostro "Deskbot" scoperto nel tuo Extra Deck. Se questa carta nella Zona Pendulum viene distrutta: puoi scegliere come bersaglio 1 carta "Deskbot" nel tuo Cimitero; aggiungi quel bersaglio alla tua mano. Puoi utilizzare questo effetto di "Deskbot 006" una sola volta per turno.

Portuguese

Robô-secretário 006

Efeito de Pêndulo

Você não pode Invocar monstros por Invocação-Pêndulo, exceto monstros "Robô-secretário". Este efeito não pode ser negado.

Efeito de Monstro

Se este card for Invocado por Invocação-Normal ou Especial: você pode escolher 1 monstro no campo; mude sua posição de batalha. Este card ganha 500 de ATK para cada monstro "Robô-secretário" com a face para cima no seu Deck Adicional. Se este card na Zona de Pêndulo for destruído: você pode escolher 1 card "Robô-secretário" no seu Cemitério; adicione o alvo à sua mão. Você só pode usar este efeito de "Robô-secretário 006" uma vez por turno.

Spanish

Escritoriobot 006

Efecto de Péndulo

No puedes Invocar monstruos por Péndulo, excepto a monstruos "Escritoriobot". Este efecto no puede ser negado.

Efecto de Monstruo

Si esta carta es Invocada de Modo Normal o Especial: puedes seleccionar 1 monstruo en el Campo; cambia su posición de batalla. Esta carta gana 500 ATK por cada monstruo "Escritoriobot" boca arriba en tu Deck Extra. Si esta carta en la Zona del Péndulo es destruida: puedes seleccionar 1 monstruo "Escritoriobot" en tu Cementerio; añade ese objetivo a tu mano. Sólo puedes usar este efecto de "Escritoriobot 006" una vez por turno.

Japanese
ブンボーグ006

P効果

①:自分は「ブンボーグ」モンスターしかP召喚できない。この効果は無効化されない。

モンスターの効果

「ブンボーグ006」の③のモンスター効果は1ターンに1度しか使用できない。①:このカードが召喚・特殊召喚に成功した場合、フィールドのモンスター1体を対象として発動できる。そのモンスターの表示形式を変更する。②:このカードの攻撃力は、自分のエクストラデッキの表側表示の「ブンボーグ」モンスターの数×500アップする。③:このカードがPゾーンで破壊された場合、自分の墓地の「ブンボーグ」カード1枚を対象として発動できる。そのカードを手札に加える。

Bunbōgu Zero Zero Shikkusu
Bunborg 006
Korean
분보그006

펜듈럼 효과

①: 자신은 "분보그" 몬스터밖에 펜듈럼 소환할 수 없다. 이 효과는 무효화되지 않는다.

몬스터의 효과

"분보그006(제로제로식스)"의 ③의 몬스터 효과는 1턴에 1번밖에 사용할 수 없다. ①: 이 카드가 일반 소환 / 특수 소환에 성공했을 경우, 필드의 몬스터 1장을 대상으로 하고 발동할 수 있다. 그 몬스터의 표시 형식을 변경한다. ②: 이 카드의 공격력은, 자신의 엑스트라 덱의 앞면 표시의 "분보그" 몬스터의 수 × 500 올린다. ③: 이 카드가 펜듈럼 존에서 파괴되었을 경우, 자신 묘지의 "분보그" 카드 1장을 대상으로 하고 발동할 수 있다. 그 카드를 패에 넣는다.
Sets in other languages
French
German
Italian
Portuguese
Spanish
Japanese
Korean
In other media