Duel-cycle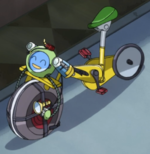 Yuga Ohdo's Duel Bicycle, known as the Duel Bicycle in the Japanese version, is one of his "Roads", which he uses to travel to and from school.
Overview
[
edit
]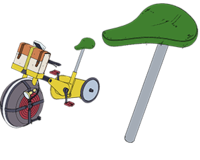 The Duel-cycle is an electric bicycle that can be attached to Yuga's Duel Disk, allowing Yuga to pedal in order to power it.[1] Yuga later modified the Duel-cycle to allow Kaizo to connect to it and take control of it, including a transforming "Robot Mode" that reconfigures the bike into a crude humanoid form. However, this consumes a significant amount of power from the Duel-cycle.[2]
After Yuga disappeared into space following his final Duel with Otes, Romin Kassidy inherited the Duel-cycle. Two years after the series when Yuga finally returned, Romin, Luke and Gavin all rode the Duel-cycle to the beach to meet with Yuga.[3]
References
[
edit
]