It is with heavy hearts that we mourn the passing of our game's creator, Kazuki Takahashi.
Dystopia the Despondent
Japanese

絶望神アンチホープ

Base

絶望神アンチホープ

Kana

ぜつぼうしんアンチホープ

Rōmaji

Zetsubōshin Anchihōpu

Translated

Anti-Hope, God of Despair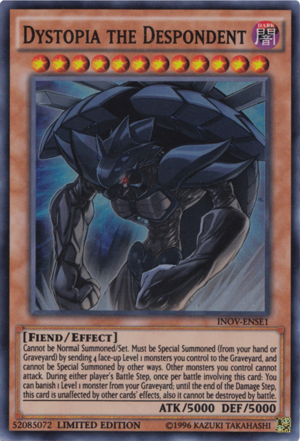 Card type
Monster
Attribute
DARK
Types
Fiend / Effect
Level
12
ATK / DEF
5000 / 5000
Password
52085072
Effect types

Status
English sets
Worldwide
North America
Search categories
Other languages
Language
Name
Lore
French

Dystopie le Déprimé

Ni Invocable Normalement ni Posable Normalement. Uniquement Invocable Spécialement (depuis votre main ou Cimetière) en envoyant 4 monstres de Niveau 1 face recto que vous contrôlez au Cimetière, et non Invocable Spécialement autrement. Les autres monstres que vous contrôlez ne peuvent pas attaquer. Durant la Battle Step de chaque joueur, une fois par combat impliquant cette carte : vous pouvez bannir 1 monstre de Niveau 1 depuis votre Cimetière ; jusqu'à la fin de la Damage Step, cette carte n'est pas affectée par les effets d'autres cartes, et aussi, elle ne peut pas être détruite au combat.

German

Dystopia der Mutlose

Kann nicht als Normalbeschwörung beschworen/gesetzt werden. Muss als Spezialbeschwörung (von deiner Hand oder deinem Friedhof) beschworen werden, indem du 4 offene Monster der Stufe 1, die du kontrollierst, auf den Friedhof legst, und kann nicht auf andere Art als Spezialbeschwörung beschworen werden. Andere Monster, die du kontrollierst, können nicht angreifen. Während des Battle Steps eines beliebigen Spielers, einmal pro Kampf, an dem diese Karte beteiligt ist: Du kannst 1 Monster der Stufe 1 von deinem Friedhof verbannen; bis zum Ende des Damage Steps bleibt diese Karte von den Effekten anderer Karten unberührt, zusätzlich kann sie nicht durch Kampf zerstört werden.

Italian

Distopia lo Scoraggiato

Non può essere Evocato Normalmente/Posizionato. Deve essere Evocato Specialmente (dalla tua mano o Cimitero) mandando al Cimitero 4 mostri di Livello 1 scoperti che controlli, e non può essere Evocato Specialmente in altri modi. Gli altri mostri che controlli non possono attaccare. Durante il Battle Step di qualsiasi giocatore, una volta per battaglia che coinvolge questa carta: puoi bandire 1 mostro di Livello 1 dal tuo Cimitero; fino alla fine del Damage Step, questa carta è immune agli effetti delle altre carte, inoltre essa non può essere distrutta in battaglia.

Portuguese

Distopia, o Desesperado

Não pode ser Invocado por Invocação-Normal/Baixado. Deve ser Invocado por Invocação-Especial (da sua mão ou do Cemitério) ao enviar 4 monstros de Nível 1 com a face para cima que você controla para o Cemitério e não pode ser Invocado por Invocação-Especial de nenhuma outra forma. Outros monstros que você controla não podem atacar. Durante a Etapa de Batalha de qualquer duelista, uma vez por batalha envolvendo este card: você pode banir 1 monstro de Nível 1 do seu Cemitério; até o final da Etapa de Dano, este card não é afetado por outros efeitos de card e, além disso, ele não pode ser destruído em batalha.

Spanish

Distopía el Abatido

No puede ser Invocado de Modo Normal/Colocado. Debe ser Invocado de Modo Especial (desde tu mano o Cementerio) mandando al Cementerio 4 monstruos de Nivel 1 boca arriba que controles, y no puede ser Invocado de Modo Especial de otra forma. Los otros monstruos que controles no pueden atacar. Durante el Battle Step de cualquier jugador, una vez por batalla que involucre esta carta: puedes desterrar 1 monstruo de Nivel 1 en tu Cementerio; hasta el final del Damage Step, esta carta no es afectada por los efectos de otras cartas, y además no puede ser destruida en batalla.

Japanese
絶望神アンチホープ

このカードは通常召喚できない。自分フィールドの表側表示のレベル1モンスター4体を墓地へ送った場合のみ手札・墓地から特殊召喚できる。①:このカードがモンスターゾーンに存在する限り、他の自分のモンスターは攻撃できない。②:このカードが戦闘を行うバトルステップ中に1度、自分の墓地のレベル1モンスター1体を除外して発動できる。このカードはそのダメージステップ終了時まで、他のカードの効果を受けず、戦闘では破壊されない。

Zetsubōshin Anchihōpu
Anti-Hope, God of Despair
Korean

절망신 안티호프

이 카드는 통상 소환할 수 없다. 자신 필드 앞면 표시의 레벨 1 몬스터 4정을 묘지로 보냈을 경우에만 패 / 요지에서 특수 소환할 수 있다. ①: 이 카드가 몬스터 존에 존재하는 한. 다른 자신의 몬스터는 공격할 수 없다. ②: 이 카드가 전투를 실행하는 배틀 스텝 중에 1번, 자신 묘지의 레벨 1 몬스터 1장을 제외하고 발동할 수 있다. 이 카드는 그 데미지 스텝 종료시까지, 다른 카드의 효과를 받지 않으며, 전투로는 파괴되지 않는다.
Sets in other languages
French
German
Italian
Portuguese
Spanish
Japanese
Korean
In other media