| | |
| --- | --- |
| | Help support Yugipedia by using our Chrome extension, which redirects links to the old Wikia/Fandom site to Yugipedia, ensuring you see the most up-to-date information. If you have any issues or find any bugs, be sure to let us know on Discord! |
Earth Dwellers
Earth Dwellers
Names
English

Japanese
Japanese

地をなすものたち

Rōmaji
Chi o Nasumono-tachi

Set information
Medium
Video game
Type
Booster Pack
Number of cards
55
Cover card
Megarock Dragon
Appearances
Video games

Earth Dwellers

Earth Dwellers, known as Those Who Form The Earth in the Japanese version, is a Booster Pack in Yu-Gi-Oh! GX Tag Force. It is available from the beginning of the game.
During Part 1, it can only be purchased on Saturdays.
Each pack costs 100 DP and contains 5 cards.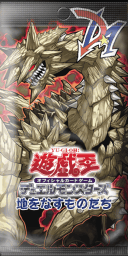 Description
[
edit
]
Looks like an Earth Attribute pack.


Dorothy
地属性のパックらしいよ


トメ
You wanna gather Earth Attribute cards?
Then this pack is calling your name!


Sadie
地属性を集めるためのパックで~す


セイコ
It's a pack for collecting Earth Attribute cards~


Seiko
| # | Name | Card type | Property | Attribute | Type | Level | ATK | DEF | Rarity |
| --- | --- | --- | --- | --- | --- | --- | --- | --- | --- |
| | Guardian Sphinx | Monster | | EARTH | Rock | 5 | 1700 | 2400 | Ultra |
| 6,324 | Megarock Dragon | Monster | | EARTH | Rock | 7 | ? | ? | Ultra |
| 6,427 | Tyranno Infinity | Monster | | EARTH | Dinosaur | 4 | ? | 0 | Ultra |
| 4,754 | Stone Statue of the Aztecs | Monster | | EARTH | Rock | 4 | 300 | 2000 | Super |
| | Giant Rat | Monster | | EARTH | Beast | 4 | 1400 | 1450 | Super |
| 5,318 | Marauding Captain | Monster | | EARTH | Warrior | 3 | 1200 | 400 | Super |
| 5,831 | Gigantes | Monster | | EARTH | Rock | 4 | 1900 | 1300 | Super |
| 6,329 | Master Monk | Monster | | EARTH | Rock | 5 | 1900 | 1000 | Super |
| | Doom Dozer | Monster | | EARTH | Insect | 8 | 2800 | 2600 | Super |
| 6,776 | Black Stego | Monster | | EARTH | Dinosaur | 4 | 1200 | 2000 | Super |
| 6,777 | Ultimate Tyranno | Monster | | EARTH | Dinosaur | 8 | 3000 | 2200 | Super |
| 4,533 | Milus Radiant | Monster | | EARTH | Beast | 1 | 300 | 250 | Rare |
| | Gemini Elf | Monster | | EARTH | Spellcaster | 4 | 1900 | 900 | Rare |
| | Goblin Attack Force | Monster | | EARTH | Warrior | 4 | 2300 | 0 | Rare |
| 5,254 | The Rock Spirit | Monster | | EARTH | Rock | 4 | 1700 | 1000 | Rare |
| | Gilasaurus | Monster | | EARTH | Dinosaur | 3 | 1400 | 400 | Rare |
| 5,943 | Maximum Six | Monster | | EARTH | Warrior | 6 | 1900 | 1600 | Rare |
| 5,961 | Legendary Jujitsu Master | Monster | | EARTH | Rock | 3 | 1300 | 1800 | Rare |
| 6,117 | Howling Insect | Monster | | EARTH | Insect | 3 | 1200 | 1300 | Rare |
| 6,121 | The Trojan Horse | Monster | | EARTH | Beast | 4 | 1600 | 1200 | Rare |
| 6,235 | Insect Knight | Monster | | EARTH | Insect | 4 | 1900 | 1500 | Rare |
| | Golem Sentry | Monster | | EARTH | Rock | 4 | 800 | 1800 | Rare |
| 6,321 | Hieracosphinx | Monster | | EARTH | Rock | 6 | 2400 | 1200 | Rare |
| | Criosphinx | Monster | | EARTH | Rock | 6 | 1200 | 2400 | Rare |
| | Gilford the Legend | Monster | | EARTH | Warrior | 8 | 2600 | 2000 | Rare |
| 6,640 | Exxod, Master of The Guard | Monster | | EARTH | Rock | 8 | 0 | 4000 | Rare |
| 6,699 | Avalanching Aussa | Monster | | EARTH | Spellcaster | 4 | 800 | 1500 | Rare |
| 4,084 | Axe Raider | Monster | | EARTH | Warrior | 4 | 1700 | 1150 | Common |
| 4,330 | Invigoration | Spell | Equip | | | | | | Common |
| 5,429 | Cobraman Sakuzy | Monster | | EARTH | Reptile | 3 | 800 | 1400 | Common |
| | Neo Bug | Monster | | EARTH | Insect | 4 | 1800 | 1700 | Common |
| | Disc Fighter | Monster | | EARTH | Warrior | 4 | 1000 | 1000 | Common |
| 6,029 | Legacy Hunter | Monster | | EARTH | Warrior | 4 | 1000 | 1500 | Common |
| | Ghost Knight of Jackal | Monster | | EARTH | Beast-Warrior | 5 | 1700 | 1600 | Common |
| 6,123 | Enraged Muka Muka | Monster | | EARTH | Rock | 5 | 1200 | 600 | Common |
| 6,160 | Blockman | Monster | | EARTH | Rock | 4 | 1000 | 1500 | Common |
| 6,234 | Chu-Ske the Mouse Fighter | Monster | | EARTH | Beast | 3 | 1200 | 0 | Common |
| | Granmarg the Rock Monarch | Monster | | EARTH | Rock | 6 | 2400 | 1000 | Common |
| 6,318 | Millennium Scorpion | Monster | | EARTH | Insect | 5 | 2000 | 1800 | Common |
| 6,320 | Lost Guardian | Monster | | EARTH | Rock | 4 | 100 | ? | Common |
| | Grave Ohja | Monster | | EARTH | Rock | 4 | 1600 | 1500 | Common |
| 6,327 | Mine Golem | Monster | | EARTH | Rock | 3 | 1000 | 1900 | Common |
| | Monk Fighter | Monster | | EARTH | Rock | 3 | 1300 | 1000 | Common |
| | Guardian Statue | Monster | | EARTH | Rock | 4 | 800 | 1400 | Common |
| 6,349 | Kaminote Blow | Spell | Normal | | | | | | Common |
| 6,352 | Legendary Black Belt | Spell | Equip | | | | | | Common |
| 6,358 | Minefield Eruption | Trap | Normal | | | | | | Common |
| 6,362 | Rock Bombardment | Trap | Normal | | | | | | Common |
| 6,413 | Jerry Beans Man | Monster | | EARTH | Plant | 3 | 1750 | 0 | Common |
| 6,596 | Parasitic Ticky | Monster | | EARTH | Insect | 1 | ? | ? | Common |
| | Gokipon | Monster | | EARTH | Insect | 2 | 800 | 800 | Common |
| 6,610 | Sand Moth | Monster | | EARTH | Rock | 4 | 1000 | 2000 | Common |
| | Great Spirit | Monster | | EARTH | Rock | 4 | 500 | 1500 | Common |
| 6,797 | Miracle Jurassic Egg | Monster | | EARTH | Dinosaur | 4 | 0 | 2000 | Common |
| 6,799 | Babycerasaurus | Monster | | EARTH | Dinosaur | 2 | 500 | 500 | Common |