It is with heavy hearts that we mourn the passing of our game's creator, Kazuki Takahashi.
Element Magician (Tag Force 1)
Japanese

エレメント・マジシャン

Rōmaji

Eremento Majishan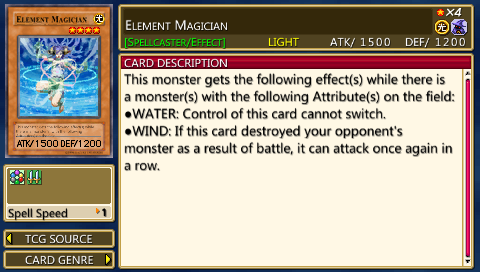 Attribute
LIGHT
Type
Spellcaster / Effect
Level
4
ATK / DEF
1500 / 1200
Rarity
Common
Internal number
6182
Password
65260293

This monster gets the following effect(s) while there is a monster(s) with the following Attribute(s) on the field:
● WATER: Control of this card cannot switch.
● WIND: If this card destroyed your opponent's monster by battle, it can attack once again in a row.
Obtained by
"Element Magician" is available in the following packs:
Related cards
"Element Magician" is part of the following genres:
"Element Magician" directly affects the following Attributes:
Other languages
Name
Lore
French
Magicien Élémentaire
Ce monstre acquiert le (ou les) effet(s) suivant(s) tant qu'il y a un monstre ou plus avec l'attribut suivant sur le Terrain :
● EAU : Le contrôleur de cette carte ne peut pas changer.
● VENT : Si cette carte détruit un monstre de votre adversaire à l'issue d'un combat, cette carte peut attaquer à nouveau immédiatement après.
German
Elementarmagier
Dieses Monster bekommt die folgenden Effekte, während sich Monster mit den folgenden Eigenschaften auf dem Spielfeld befinden:
● WASSER: Die Kontrolle über diese Karte kann nicht geändert werden.
● WIND: Wenn diese Karte ein Monster deines Gegners als Ergebnis eines Kampfes zerstört, kann es sofort noch einmal angreifen.
Italian
Mago Elementale
Questo mostro guadagna i seguenti effetti finché ci sono uno o più mostri coi seguenti Attributi sul Terreno.
●ACQUA: Il controllo di questa carta non può essere cambiato.
●VENTO: Se questa carta distrugge un mostro del tuo avversario in battaglia, questa carta può attaccare nuovamente subito dopo.
Spanish
Maga Elemental
Este monstruo consigue los siguientes efectos mientras hay monstruos con el siguiente Atributo en el Campo.
●AGUA: El control de esta carta no puede cambiar.
●VIENTO: Si esta carta destruye el monstruo de tu adversario como resultado de una batalla, esta carta puede atacar una vez más inmediatamente después.
Gallery
ElementMagician-GX02-FR-VG-info.png

ElementMagician-GX02-IT-VG-info.png

ElementMagician-GX02-SP-VG-info.png

ElementMagician-GX02-JP-VG-info.png