| | |
| --- | --- |
| | Help support Yugipedia by using our Chrome extension, which redirects links to the old Wikia/Fandom site to Yugipedia, ensuring you see the most up-to-date information. If you have any issues or find any bugs, be sure to let us know on Discord! |
Evolving Numbers
Evolving Numbers
Japanese

進化するNo.

進化するNo.

(base)

しんかするナンバーズ

(ruby)

Shinka suru Nanbāzu

(romanized)
Evolving Numbers (translated)

Sets
TCG Sets
OCG Sets
Korea-Only
Manga appearances
My Numbers evolve in response to whatever crisis I face!! That's why they're unstoppable! Even I don't know the extent of their power!!
Evolving "Numbers" (進化するNo. Shinka suru Nanbāzu) are a group of "Number" cards used in the Yu-Gi-Oh! ZEXAL manga by Kyoji Yagumo, Kaito Tenjo, Haruto Tenjo, Ryoga Kamishiro, Yuma Tsukumo and Astral. Evolving "Numbers" have the unique trait of remaining blank until they are 'molded' by their user. The original members of this series possesses a Rank from 4 to 12, and with the exception of "No. 21: Frozen Lady Justice" and "No. 28: Titanic Moth", they are all DARK-Attribute. Each original member of this series is based on a capital vice in the Christian Catholic religion; in reference to this, many possess a number that is divisible by seven. The Evolving "Numbers" are part of the Emperor's Key "Numbers" (except for "No. S0: Hope ZEXAL").
Aside from "No. S0: Hope ZEXAL", the Evolving "Numbers" are part of the original 100 "Number" cards, but they are unique. Each of them carries the power of E'Rah, and they remain in a blank state until the user faces a threat, as the manga portrays. So, these "Numbers" are not based on the owner's desires, but rather they can be molded by their user in whatever way. Due to this ability, Kyoji Yagumo describes them as the ultimate Numbers with limitless possibilities: when an Evolving "Number" awakens, it takes a form designed to counter a particular menace in the most efficient way. For example, "No. 21: Frozen Lady Justice" was created with an effect that destroys all Defense Position monsters, a strategy that directly opposes "Diamond Crab King"'s high DEF stats. "No. 35: Ravenous Tarantula" and "No. 84: Pain Gainer" were instead modelled by Kyoji during his Battle Royal Duel against Yuma Tsukumo, Shark and Kaito Tenjo. This resulted in two powerful "Numbers" with effects based on gaining ATK/DEF equal to half the difference between the two player's LP. Since that was a 3 VS 1 Duel, Kyoji begun with 12000 LP and his opponents with 4000 each, meaning his two monsters would have always had a minimum of 4000 ATK/DEF. On top of that, "Ravenous Tarantula" and "Pain Gainer" kept damaging Kyoji's opponents, further increasing their ATK and DEF.
Rank-Up is Kyoji's main strategy to Xyz Summon his Evolving "Numbers": his Deck includes cards like "Rank-Up Spider Web", "Sacrifice Level-Up" and "Revenge Prison" to constantly upgrade his monsters.
Additionally, two Evolving "Numbers" were given by Kyoji to Haruto and Kaito respectively. They demonstrated the same ability in molding their "Numbers" when they needed to use them, like Yagumo.
Despite their incredible power, they have a dark influence on their owners, as they originally belonged to the Goddess of Despair E'Rah. Everyone who has picked them up so far has been possessed to some degree by E'Rah's dark miasma. As each of them represents a capital sin, these "Numbers" are the manifestation of darkness.
The Evolving "Numbers" can be molded from a blank state, but the inverted process is also possible: Kyoji was shown turning three of his Evolving "Numbers" blank again, passing them to Yuma, Shark and Kaito. Like the molding power, this ability is unique to the Evolving "Numbers". The monsters that were eventually created from these blank cards were freed from E'Rah's darkness thanks to the three protagonists' bonds. With the defeat of the Goddess of Despair at the hand of Yuma and Astral, all Evolving "Numbers" were purified and came into Astral's possessions.
History
[
edit
]
Six months prior to the Numbers War, the dark miasma of E'Rah enveloped Kyoji Yagumo, gifting him with "No. 70: Deadly Sin" and 8 blank "Numbers", convincing him to end the world. Kyoji's first sin was killing his brother's murderer with his new powers.[1]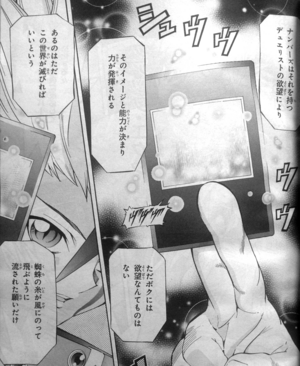 During his Duel with Mr. Heartland, Yagumo first Summoned "Deadly Sin".[2] He later used his "Rank-Up Spider Web" to Xyz Summon "No. 14 Greedy Sarameya" by using "Deadly Sin" as material. Heartland was shocked as he saw there were no "Number" cards in Yagumo's Deck. Eventually, near the end of the Duel, Kyoji revealed his hidden power: he said that all "Numbers" take forms that fit the desires of the Duelists who hold them. However Kyoji's only desire was to see the world destroyed– a desire he called "a wish as insubstantial as a single spider's web drifting on the wind." Thus all of Kyoji's "Numbers" remained blank as long as he held them, only taking form when Summoned in a Duel. His "Numbers" evolved to fit whatever situation Kyoji found himself in– he always has whatever card he needed in a Duel. He then transformed the blank card into "No. 21: Frozen Lady Justice", which he used to defeat Heartland.[3]
Kyoji later took Haruto Tenjo with him and lurked Kaito to Duel him. However, it turned out Kaito was not Dueling Kyoji, but his own brother instead. Haruto molded the "Number" Kyoji gave him into "No.28 Titanic Moth". Not wanting to defeat his brother, Kaito surrendered to Kyoji.[4]
With Kaito working for him, Kyoji gathered Yuma Tsukumo, Kaito Tenjo, Shark and himself in the Heartland New Tower to finish the Numbers War as they were the only remaining "Numbers" Hunters. He arranged a double Duel with Yuma and Kaito in the Red Stadium while he faced Shark in the Blue Stadium.[5] Kaito used the blank card he was given by Kyoji against Yuma, creating "No. 95: Galaxy Eyes Dark Matter Dragon" and was possessed by the same dark miasma as Kyoji, but ultimately, he was defeated by Yuma and Astral's "No. S39: Utopia the Lightning. On the other side, although Shark quickly Summoned "Bahamut Shark" and "No. 47: Nightmare Shark" on his first turn, Kyoji molded a new Deadly "Numbers" Sins, "No. 23: Lancelot, Ghost Knight of the Underworld", which easily took out both monsters and halved Shark's Life Points in the process.[6]
Kyoji then explained to Shark about the history involving him and his brother. Meanwhile, Luna found Haruto stuck in Kyoji's device, in the monument of the tower. She asked everyone to stop the Duels, since the device was collecting "Numbers" energy to open the gate to another world; however, Kyoji explains that the device is also keeping Haruto alive, so should it stop, Haruto would die,[7] forcing Kaito and Yumo to continue their Duel. Yuma's friends were eventually able to deliver Haruto from the device with Orbital keeping his body alive using his systems, convincing Kaito to stop the Duel; however, Kyoji used a dark miasma to take control over him and force him to continue fighting Yuma. Following Yuma's victory, Luna urged Shark to stop his Duel with Kyoji as to not cause the device to open a portal to Astral World, with Shark retorting that he needs to destroy Lancelot because of his Duelist pride. Ryoga succeeds with this part, but fell right into Kyoji's trap, who activated the effect of "Soul Arena" to Special Summon all his Deadly Sins "Numbers" to the field, giving the device the energy necessary to tear open a dimensional portal, stating openly he wants this world to be destroyed.
Kyoji, Yuma, Kaito and Shark were all transported to the Ocean of Otherworlds, where they witnessed Earth and Astral world dragged by a black hole to their annihilation. Fortunately, Astral had regained most of his powers, using them to create a giant boulder that sealed the black hole, telling Kyoji the only way to remove said boulder was to defeat him in a Duel. He told the others he didn't want to implicate them in Astral World's fight, with Kaito and Shark retorting they had a personal score to settle with him (realizing he never intended to keep his promise of saving Haruto and for the sake of the orphan children who believed in him respectively), as well as to save their own world, prompting them and Yuma to join forces with Astral in a four way Duel against Kyoji, who just before the Duel, was engulfed by a dark aura, saying he was the one chosen by the Dark God.
In the Battle Royal Duel, Kyoji managed to Summon his last Evolving "Numbers", once again through Rank-Up: "No. 35: Ravenous Tarantula", "No. 84: Pain Gainer" and finally "No. 77: The Seven Sins", pushing the protagonists into a corner. Although the three still managed to turn around the battle, Kyoji survived the final attack, as the darkness possessing him finally faced the heroes personally in its true form, E'Rah.
While trapped inside E'Rah, Kyoji thought back to when Ryoga protected him and during his time at the orphanage with him. Kyoji remarked that Ryoga cared more about the children then he ever could and wished that things could go back to the way they were before. Using his remaining strength, Kyoji managed to take three of his Evolving Numbers ("70", "28" and "77") and send them to Ryoga, Kaito and Yuma, respectively, while turning the cards blank.[8]
Shark molded his new blank "Number" into "No. 37: Hope Woven Dragon Spider Shark", but, despite this, he was defeated by E'Rah, his cards passing to Yuma and Kaito.[9]
Kaito molded his new blank "Number" into "No. 38: Hope Harbinger Dragon Titanic Galaxy", but he too was defeated by E'Rah, his cards passing to Yuma.[10]
Finally, Yuma united himself with Astral via Xyz Change ZEXAL, and used his "Utopia the LIghtning" along with Shark's "Spider Shark" and Kaito's "Titanic Galaxy" to perform a Shining Xyz Evolution and Summon "No. S0: Hope ZEXAL", which defeated E'Rah once and for all.[11]
After E'Rah's defeat, all Evolving "Numbers" came into Astral's possession.[12]
Members
[
edit
]
Original
[
edit
]
9 Evolving "Numbers" exist: 7 represent a capital vice each, while the other two can be viewed as the original and final sins. They are listed from the least to the most serious vice, according to theology. Current owners are in bold.
Re-molded
[
edit
]
While trapped inside E'Rah's, Kyoji managed to turn three of his Evolving "Numbers" ("70", "28" and "77") blank again and send them to Yuma, Ryoga and Kaito. Each of them created his own purified "Number" by molding the blank card he received from Kyoji.
Explanation
[
edit
]
Here are possible explanations behind the chosen sins for the original Evolving "Numbers":
"Number 35: Ravenous Tarantula" (gluttony): It gains more ATK depending on the difference between both players' LP, while it keeps to 'ravenously' increase that value via effect damage, always wanting more power.
"Number 14: Greedy Sarameya" (greed): After having destroyed a monster in battle, it still wipes out every monster with equal or less ATK than itself, always craving for more destruction and power.
References
[
edit
]