| | |
| --- | --- |
| | Help support Yugipedia by using our Chrome extension, which redirects links to the old Wikia/Fandom site to Yugipedia, ensuring you see the most up-to-date information. Firefox users don't worry—a similar Firefox add-on will be out soon. If you have any issues or find any bugs, be sure to let us know on Discord! |
Faust
Faust
Names
English

Japanese
Japanese

ファウスト

Rōmaji

Asō

Personal
Gender
Organization
Knights of Hanoi
Anime Deck
Motor Worm
Appearances
Anime debut
Yu-Gi-Oh! VRAINS episode 22: "The Deleted"
Voice actors
Japanese
Faust
Aso (麻生, Asō) is a character appearing in the Yu-Gi-Oh! VRAINS anime. In LINK VRAINS, he goes by the alias Faust (ファウスト Fausuto) and he is one of the Commanders of the Knights of Hanoi. He previously aided Kiyoshi Kogami during the Hanoi Project.
Appearance
[
edit
]
Aso is a tall man with hazel eyes and navy hair, with lighter blue highlights at the temples, in addition to a thin mustache and thicker beard. He wears a brown trench coat over a charcoal shirt with a black tie, charcoal pants, and smooth olive shoes. When he was younger, his hair was blunter and he only had a goatee, and he wore a labcoat over an olive shirt while he was at work, and a navy blue jacket over a white shirt and a black tie while he and Clarissa spent time with Ryoken.
In LINK VRAINS, his Avatar Faust retains his appearance outside of LINK VRAINS, but he wears an steel eyepiece over his left eye like Baira and Dr. Genome do, with three gold lines along the top, a gold line surrounding the lens almost completely and one below that, a red lens, and a jade stripe running down his nose. He wears a white trenchcoat with a bronze lining in a similar shape to that of Varis over a white undershirt like Specter's with a black line running down the chest, flared white pants, and calf-length white boots belted at the cuffs. When he uses his Skill, the yellow lines on his eyepiece and the lines on his coat light up.
Biography
[
edit
]
History
[
edit
]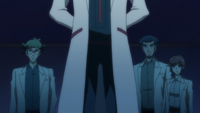 Aso aided Kiyoshi Kogami with the Hanoi Project, alongside Clarissa Turner and Dr. Genome.[2] He and Clarissa showed themselves to be uncomfortable with the experiments that they put the children that they kidnapped through, and he noted that he would regret it for the rest of his life. Aso and Clarissa acted as older sibling figures to Kogami's son, Ryoken.[3] After Kogami's death, the three helped Ryoken form the Knights of Hanoi to avenge Kogami's death and prevent the Ignis from destroying humans.[3] They aided him in attacking the Cyberse five years before the events of the series.
Tower of Hanoi
[
edit
]
As the Knights of Hanoi began their full-scale attack on LINK VRAINS, Faust and Baira joined Varis on a rooftop as Varis lamented the naivety of the lesser, glory-seeking members of the Knights who did not know their true purpose. Faust agreed, and Baira reassured Varis that Dr. Genome was making his move and that they'd provided him with the Deleted virus.[1] Faust and Baira later assisted their fellow Knights against SOL Technologies' A.I. Duelist army, defeating them all in seconds.[4]
After defeating the A.I., Baira and Faust returned to the Knights' control room. They noted that the defeat that SOL Technologies had suffered would keep them quiet for a while. Baira asked if Faust was really okay with helping Varis commit an historical cyber-crime despite treating him like a little brother, and discussed their plan to lure Playmaker out with the Deleted virus in order to capture his Ignis and find the Cyberse before Dr. Kogami's plan came to fruition.[3]
Baira was later defeated by Blue Angel and purged by Varis as Genome had been, leaving Faust as the lone Commander of the Knights of Hanoi.[5] Aso continued to monitor the Knights' attacks on other Duelists. One Duelist, The Brave Battler, claimed to be a friend of Playmaker's, and defeated a Knight of Hanoi using "Cyberse Wizard". Aso learned that The Brave Battler was Naoki Shima, and he found him outside Den City High School and knocked him out, taking him to a warehouse in the harbor and forcibly logging him into LINK VRAINS.[6]
As Faust interrogated The Brave Battler, challenging him to a Speed Duel, Playmaker arrived, and assured The Brave Battler that he'd face Faust. As he reclaimed "Cyberse Wizard" from The Brave Battler, he noted that Faust was the final Deleted mastermind and accused him of sending the card data to The Brave Battler to lure Playmaker out. Faust denied responsibility, and Playmaker's Ignis, Ai, claimed it wasn't important, and they only had to defeat Faust. Faust declared that his mission was to retrieve Ignis, and activated a Data Gale to allow them to Speed Duel and prevent Playmaker logging out. Faust started the Speed Duel by bringing out "Motor Worm Spreader Queen" and setting up his "Wormhole Defense" and "Motor Worm Token" combo to boost the ATK of "Spreader Queen". Playmaker countered with "Decode Talker" and "Cyberse Wizard", attacking "Spreader Queen". Faust protected his queen from "Decode Talker" by destroying the "Motor Worm Token" instead, but the ATK of "Spreader Queen" fell low enough for "Cyberse Wizard" to destroy. Despite losing LP, Faust revived "Spreader Queen", then used "Egg Clutch" to turn "Cyberse Wizard" into an Insect monster. On his next turn, he played "Motor Worm Gate" to allow his queen to attack directly if Playmaker only controlled Insect monsters. Ai pointed out they still had the Cyberse "Decode Talker", which his queen destroyed. Faust then activated his Skill, "Double Bite", allowing "Spreader Queen" to attack once more and finish Playmaker off.
Playmaker barely survived by halving the damage with "Urgent Link", and attempted to trigger its effect to Link Summon during Faust's turn, but Faust's "Wormhole Defense" prevented the Insect tokens from being used as Link Material. Faust declared he would obtain the Ignis on his next turn, but Playmaker used "Cybersal Cyclone" to banish "Decode Talker" to destroy "Spreader Queen". Faust prevented "Spreader Queen's" destruction by destroying a "Motor Worm Token" instead, but Playmaker's move had allowed him to destroy "Wormhole Defense". Faust declared that he still wouldn't lose, though Playmaker made him doubt his words when he went into the black Data Gale to use "Storm Access", retrieving and Link Summoning "Powercode Talker". Playmaker used the effects of "Powercode Talker" to negate "Spreader Queen's" effects and double its own ATK. As Playmaker prepared to attack, Faust tried to warn him of the Ignis being a threat, but Ai told Playmaker to ignore Faust, and "Powercode Talker" destroyed "Motor Worm Spreader Queen", defeating Faust. Before vanishing, Faust tried to warn Playmaker that he may have just doomed humanity's future. As with the other Commanders, Faust was purged, not being logged into LINK VRAINS and remaining unconscious.[7]
Lost Ignis
[
edit
]
After Playmaker defeated Varis in their second Master Duel, Aso was freed from his coma. Three months after the Tower of Hanoi incident, Faust, Varis, Specter, and Dr. Genome logged into the Knights of Hanoi's control room to discuss recent events; the Cyberse had been destroyed while they were building the Tower of Hanoi and the Ignis had been scattered. Varis noted that the FIRE Ignis had joined forces with his Origin, Takeru Homura. Faust suggested attacking Yusaku and Takeru in the real world, but Varis ordered him not to, wishing to confine their battle to the network. They decided to observe events before making their move, and Aso then aided Ryoken, Specter, and Genome in breaking Clarissa out of the high-security prison that she'd been imprisoned in.[8]
Fasut and his fellow Knights aided Varis in rescuing Playmaker from Lightning and Windy; Faust and the other Knights attacking and destroying Windy's fabricated Cyberse. Faust defeated an Echo with "Motor Worm Spreader Queen".[9][10] After defeating the Echoes, Faust, Baira and Genome entered Windy's palace to find Varis on 100 LP, though Faust noted that 100 LP was plenty as it wasn't zero. Specter and Soulburner arrived and Lightning attempted to capture them, though the FIRE Ignis, "Flame" blocked Lightning's efforts and freed Playmaker and Ai. Varis then defeated Windy, and ordered the Commanders to erase him. Faust and the other Commanders unleashed a virus that impaled Windy on spikes, but Lightning rescued him. Bohman and Haru then arrived, and Lightning revealed Jin Kolter.[11]
Aso plays a "Motor Worm" Deck. His strategy focuses on disrupting the opponent's strategies by changing their monsters to Insect-Types. While his opponent's monsters are Insects, he can utilize his Continuous Spells to minimize his opponent's ability to utilize their monsters, while providing himself benefits.
References
[
edit
]