Fire Fortress atop Liang Peak
Fire Fortress atop Liang Peak
Japanese

炎傑の梁山閣

Base

炎傑の梁山閣

Kana

えんけつのりょうざんかく

Rōmaji

Enketsu no Ryōzankaku

Translated

Mount Liang Tower of the Flame Heroes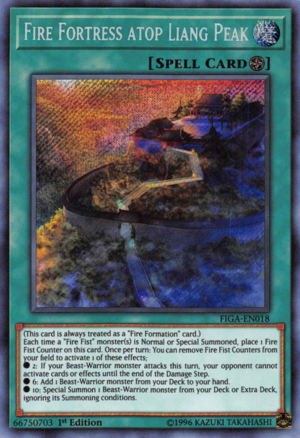 English sets
Worldwide
Search categories
Other languages
Language
Name
Lore
French

Forteresse de Feu sur Liang Peak

(Cette carte est toujours traitée comme une carte "Formation Feu".)
Chaque fois qu'un ou plusieurs monstres "Poing de Feu" sont Invoqués Normalement ou Spécialement, placez 1 Compteur Poing de Feu sur cette carte. Une fois par tour : vous pouvez retirer des Compteurs Poing de Feu depuis votre Terrain pour activer 1 de ces effets.
● 2 : Si votre monstre Bête-Guerrier attaque ce tour, votre adversaire ne peut activer ni de cartes ni d'effets jusqu'à la fin de la Damage Step.
● 6 : Ajoutez 1 monstre Bête-Guerrier depuis votre Deck à votre main.
● 10 : Invoquez Spécialement 1 monstre Bête-Guerrier depuis votre Deck ou Extra Deck, en ignorant ses conditions d'Invocation.

German

Feuerfestung auf dem Gipfel Liang

(Diese Karte wird immer als "Feuerformation"-Karte behandelt.)
Jedes Mal, wenn ein oder mehr "Feuerfaust"-Monster als Normal- oder Spezialbeschwörung beschworen werden, lege 1 Feuerfaust-Zählmarke auf diese Karte. Einmal pro Spielzug: Du kannst Feuerfaust-Zählmarken von deiner Spielfeldseite entfernen, um 1 dieser Effekte zu aktivieren;
● 2: Falls dein Ungeheuer-Krieger-Monster in diesem Spielzug angreift, kann dein Gegner bis zum Ende des Damage Steps weder Karten noch Effekte aktivieren.
● 6: Füge deiner Hand 1 Ungeheuer-Krieger-Monster von deinem Deck hinzu.
● 10: Beschwöre 1 Ungeheuer-Krieger-Monster als Spezialbeschwörung von deinem Deck oder Extra Deck, ungeachtet seiner Beschwörungsbedingungen.

Italian

Fortezza di Fuoco sul Picco Liang

(Questa carta viene sempre considerata come una carta "Formazione di Fuoco".)
Ogni volta che uno o più mostri "Pugno di Fuoco" vengono Evocati Normalmente o Specialmente, metti 1 Segnalino Pugno di Fuoco su questa carta. Una volta per turno: puoi rimuovere Segnalini Pugno di Fuoco dal tuo Terreno per attivare 1 di questi effetti;
● 2: Se un tuo mostro Guerriero-Bestia attacca in questo turno, il tuo avversario non può attivare carte o effetti fino alla fine del Damage Step.
● 6: Aggiungi 1 mostro Guerriero-Bestia dal tuo Deck alla tua mano.
● 10: Evoca Specialmente 1 mostro Guerriero-Bestia dal tuo Deck o Extra Deck, ignorando le sue condizioni di Evocazione.

Portuguese

Fortaleza de Fogo sobre os Picos Liang

(Este card deve ser sempre considerado como um card "Formação de Fogo".)
Sempre que um ou mais monstros "Punho de Fogo" forem Invocados por Invocação-Normal ou Especial, coloque 1 Marcador de Punho de Fogo neste card. Uma vez por turno: você pode remover Marcadores de Punho de Fogo do seu campo para ativar 1 desses efeitos;
● 2: Se um monstro Besta-Guerreira seu atacar neste turno, seu oponente não pode ativar cards ou efeitos até o final da Etapa de Dano.
● 6: Adicione 1 monstro Besta-Guerreira do seu Deck à sua mão.
● 10: Invoque por Invocação-Especial 1 monstro Besta-Guerreira do seu Deck ou Deck Adicional, ignorando suas condições de Invocação.

Spanish

Fortaleza de Fuego en la Cima Liang

(Esta carta se trata siempre como una carta "Formación de Fuego").
Cada vez que uno o más monstruos "Puño de Fuego" son Invocados de Modo Normal o Especial, pon 1 Contador Puño de Fuego en esta carta. Una vez por turno: puedes retirar de tu Campo Contadores Puño de Fuego para activar 1 de estos efectos;
● 2: Si tu monstruo Guerrero-Bestia ataca este turno, tu adversario no puede activar cartas o efectos hasta el final del Damage Step.
● 6: Añade a tu mano 1 monstruo Guerrero-Bestia en tu Deck.
● 10: Invoca de Modo Especial 1 monstruo Guerrero-Bestia en tu Deck o Deck Extra, ignorando sus condiciones de Invocación.

Japanese
炎傑の梁山閣

このカード名はルール上「炎舞」カードとしても扱う。①:「炎星」モンスターが召喚・特殊召喚される度にこのカードに炎星カウンターを1つ置く。②:1ターンに1度、自分フィールドの炎星カウンターを以下の数だけ取り除き、その効果を発動できる。●2:このターン、自分の獣戦士族モンスターが攻撃する場合、相手はダメージステップ終了時までカードの効果を発動できない。●6:デッキから獣戦士族モンスター1体を手札に加える。●10:デッキ・EXデッキから獣戦士族モンスター1体を召喚条件を無視して特殊召喚する。

Enketsu no Ryōzankaku
Mount Liang Tower of the Flame Heroes
Korean

염걸의 양산각

이 카드명은 룰상 "염무" 카드로도 취급한다. ①: "염성" 몬스터가 일반 소환 / 특수 소환할 때마다 이 카드에 염성 카운터를 1개 놓는다. ②: 1턴에 1번, 자신 필드의 염성 카운터를 이하의 수만큼 제거하고, 그 효과를 발동할 수 있다. ●2 : 이 턴에, 자신의 야수전사족 몬스터가 공격할 경우, 상대는 데미지 스텝 종료시까지 카드의 효과를 발동할 수 없다. ●6: 덱에서 야수전사족 몬스터 1장을 패에 넣는다. ●10: 덱 / 엑스트라 덱에서 야수전사족 몬스터 1장을 소환 조건을 무시하고 특수 소환한다.
Sets in other languages
French
German
Italian
Portuguese
Spanish
Japanese
Korean