| | |
| --- | --- |
| | Help support Yugipedia by using our Chrome extension, which redirects links to the old Wikia/Fandom site to Yugipedia, ensuring you see the most up-to-date information. If you have any issues or find any bugs, be sure to let us know on Discord! |
Fire Prison
Japanese

天火の牢獄

Base

天火の牢獄

Kana

てんぴのろうごく

Rōmaji

Tenpi no Rōgoku

Translated

Skyfire Prison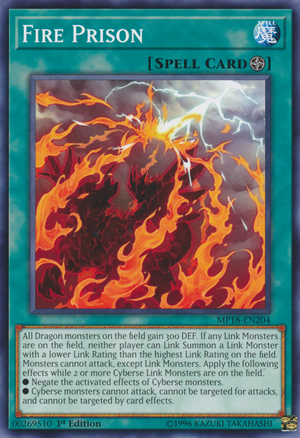 English sets
Worldwide
Search categories
Other languages
Language
Name
Card text
French

Prison de Feu

Tous les monstres Dragon sur le Terrain gagnent 300 DEF. S'il y a des Monstres Lien sur le Terrain, aucun joueur ne peut Invoquer par Lien de Monstres Lien avec une Classification Lien inférieure à la plus haute Classification Lien sur le Terrain. Les monstres (Monstres Lien exclus) ne peuvent pas attaquer. Appliquez les effets suivants tant que min. 2 Monstres Lien Cyberse sont sur le Terrain.
● Annulez les effets activés de monstres Cyberse.
● Les monstres Cyberse ne peuvent ni attaquer, ni être ciblés avec une attaque, ni être ciblés par des effets de carte.

German

Feuergefängnis

Alle Drache-Monster auf dem Spielfeld erhalten 300 DEF. Falls Linkmonster auf dem Spielfeld liegen, kann kein Spieler ein Linkmonster mit einer niedrigeren Linkzahl als die höchste Linkzahl auf dem Spielfeld als Linkbeschwörung beschwören. Monster können nicht angreifen, außer Linkmonstern. Wende die folgenden Effekte an, solange 2 oder mehr Cyberse-Linkmonster auf dem Spielfeld liegen.
● Annulliere die aktivierten Effekte von Cyberse-Monstern.
● Cyberse-Monster können nicht angreifen, können nicht als Ziel für Angriffe gewählt werden und können nicht als Ziel für Karteneffekte gewählt werden.

Italian

Prigione di Fuoco

Tutti i mostri Drago sul Terreno guadagnano 300 DEF. Se sul Terreno c'è un qualsiasi Mostro Link, nessun giocatore può Evocare Link un Mostro Link con una Classificazione Link inferiore alla Classificazione Link più alta sul Terreno. I mostri non possono attaccare, eccetto i Mostri Link. Applica i seguenti effetti mentre sul Terreno ci sono 2 o più Mostri Link Cyberso.
● Annulla gli effetti attivati dei mostri Cyberso.
● I mostri Cyberso non possono attaccare, non possono essere scelti come bersaglio per gli attacchi e non possono essere scelti come bersaglio con gli effetti delle carte.

Portuguese

Prisão de Fogo

Todos os monstros Dragão no campo ganham 300 de DEF. Se qualquer Monstro Link estiver no campo, nenhum duelista pode Invocar por Invocação-Link um Monstro Link com um Valor Link menor que o maior Valor Link no campo. Monstros, exceto Monstros Link, não podem atacar. Aplique os seguintes efeitos enquanto 2 ou mais Monstros Link Ciberso estiverem no campo.
● Negue os efeitos ativados de monstros Ciberso.
● Monstros Ciberso não podem atacar, não podem ser escolhidos como alvo de ataques e não podem ser escolhidos como alvo de efeitos de card.

Spanish

Prisión de Fuego

Todos los monstruos Dragón en el Campo ganan 300 DEF. Si hay Monstruos de Enlace en el Campo, ningún jugador puede Invocar por Enlace a un Monstruo de Enlace con un Rating de Enlace menor que el Rating de Enlace más alto del Campo. Los monstruos no pueden atacar, excepto los Monstruos de Enlace. Aplica los siguientes efectos mientras 2 o más Monstruos de Enlace Ciberso estén en el Campo.
● Niega los efectos activados de monstruos Ciberso.
● Los monstruos Ciberso no pueden atacar, no pueden ser seleccionados para ataques, y no pueden ser seleccionados por efectos de cartas.

Japanese
天火の牢獄

①:フィールドのドラゴン族モンスターの守備力は300アップする。②:お互いに、フィールドのリンクモンスターよりリンクマーカーの数が少ないリンクモンスターをリンク召喚できず、リンクモンスター以外のモンスターは攻撃できない。③:フィールドにサイバース族リンクモンスターが2体以上存在する場合、以下の効果を適用する。●サイバース族モンスターが発動した効果は無効化される。●フィールドのサイバース族モンスターは攻撃できず、攻撃対象にならず、効果の対象にもならない。

Tenpi no Rōgoku
Skyfire Prison

All Dragon monsters on the field gain 300 DEF. If any Link Monsters are on the field, neither player can Link Summon a Link Monster with a lower Link Rating than the highest Link Rating on the field. Monsters cannot attack, except Link Monsters. Apply the following effects while 2 or more Cyberse Link Monsters are on the field.
● Negate the activated effects of Cyberse monsters.
● Cyberse monsters on the field cannot attack, cannot be targeted for attacks, and cannot be targeted by card effects.

Korean

천화의 감옥

① : 필드의 드래곤족 몬스터의 수비력은 300 올린다. ② : 서로, 필드의 링크 몬스터보다 링크 마커의 수가 적은 링크 몬스터를 링크 소환할 수 없으며, 링크 몬스터 이외의 몬스터는 공격할 수 없다. ③ : 필드에 사이버스족 링크 몬스터가 2장 이상 존재할 경우, 이하의 효과를 적용한다. ● 사이버스족 몬스터가 발동한 효과는 무효화된다. ● 필드의 사이버스족 몬스터는 공격할 수 없으며, 공격 대상으로 할 수 없고, 효과의 대상도 되지 않는다.
Sets in other languages
French
German
Italian
Portuguese
Spanish
Japanese
Korean
In other media