It is with heavy hearts that we mourn the passing of our game's creator, Kazuki Takahashi.
Fluffal Octopus
Japanese

ファーニマル・オクト

Rōmaji

Fānimaru Okuto

Translated

Furnimal Octo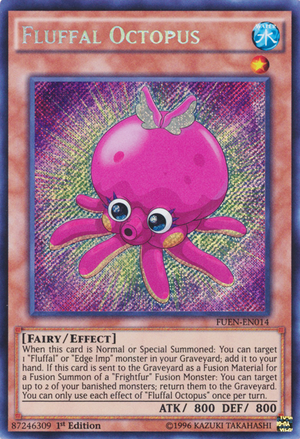 English sets
Worldwide
Search categories
Other languages
Language
Name
Lore
French

Pieuvre Peluchimal

Lorsque cette carte est Invoquée Normalement ou Spécialement : vous pouvez cibler 1 monstre "Peluchimal" ou "Lutin Tranchant" dans votre Cimetière ; ajoutez-le à votre main. Si cette carte est envoyée au Cimetière comme Matériel de Fusion pour l'Invocation Fusion d'un Monstre de Fusion "Frourreur" : vous pouvez cibler max. 2 de vos monstres bannis ; renvoyez-les au Cimetière. Vous ne pouvez utiliser chaque effet de "Pieuvre Peluchimal" qu'une fois par tour.

German

Kuscheltier Oktopus

Wenn diese Karte als Normal- oder Spezialbeschwörung beschworen wird: Du kannst 1 "Kuscheltier"- oder "enkobold"-Monster in deinem Friedhof wählen; füge es deiner Hand hinzu. Falls diese Karte als Fusionsmaterial für eine Fusionsbeschwörung eines "Schreckenspelz"-Fusionsmonsters auf den Friedhof gelegt wird: Du kannst bis zu 2 deiner verbannten Monster wählen; lege sie auf den Friedhof zurück. Du kannst jeden Effekt von "Kuscheltier Oktopus" nur einmal pro Spielzug verwenden.

Italian

Piovra Fluffal

Quando questa carta viene Evocata Normalmente o Specialmente: puoi scegliere come bersaglio 1 mostro "Fluffal" o "Imp Filo" nel tuo Cimitero; aggiungilo alla tua mano. Se questa carta viene mandata al Cimitero come Materiale da Fusione per una Evocazione tramite Fusione di un Mostro Fusione "Pellicciaspavento": puoi scegliere come bersaglio fino a 2 dei tuoi mostri banditi; falli ritornare nel Cimitero. Puoi utilizzare ogni effetto di "Piovra Fluffal" una sola volta per turno.

Portuguese

Fofanimal Octópode

Quando este card for Invocado por Invocação-Normal ou Especial: você pode escolher 1 monstro "Fofanimal" ou "Diabrete de" no seu Cemitério; adicione-o à sua mão. Se este card for enviado para o Cemitério como uma Matéria de Fusão para uma Invocação-Fusão de um Monstro de Fusão "Peladura": você pode escolher até 2 dos seus monstros banidos; devolva-os para o Cemitério. Você só pode usar cada efeito de "Fofanimal Octópode" uma vez por turno.

Spanish

Pulpo Peluchanimal

Cuando esta carta es Invocada de Modo Normal o Especial: puedes seleccionar 1 monstruo "Peluchanimal" o "Diablillo de" en tu Cementerio; añádelo a tu mano. Si esta carta es mandada al Cementerio como Material de Fusión para una Invocación por Fusión de un Monstruo de Fusión "Atemorizante": puedes seleccionar hasta 2 de tus monstruos desterrados; devuélvelos al Cementerio. Sólo puedes usar cada efecto de "Pulpo Peluchanimal" una vez por turno.

Japanese

ファーニマル・オクト

「ファーニマル・オクト」の①②の効果はそれぞれ1ターンに1度しか使用できない。①:このカードが召喚・特殊召喚に成功した時、自分の墓地の、「ファーニマル」モンスターまたは「エッジインプ」モンスター1体を対象として発動できる。そのモンスターを手札に加える。②:このカードが「デストーイ」融合モンスターの融合召喚の素材となって墓地へ送られた場合、除外されている自分のモンスターを2体まで対象として発動できる。そのモンスターを墓地に戻す。

Fānimaru Okuto
Furnimal Octo
Korean

퍼니멀 옥토

"퍼니멀 옥토"의 ①②의 효과는 각각 1턴에 1번밖에 사용할 수 없다. ①: 이 카드가 일반 소환 / 특수 소환에 성공했을 때, 자신 묘지의, "퍼니멀" 몬스터 또는 "에지임프" 몬스터 1장을 대상으로 하고 발동할 수 있다. 그 몬스터를 패에 넣는다. ②: 이 카드가 "데스완구" 융합 몬스터의 융합 소환의 소재가 되어 묘지로 보내졌을 경우, 제외되어 있는 자신의 몬스터를 2장까지 대상으로 하고 발동할 수 있다. 그 몬스터를 묘지로 되돌린다.
Sets in other languages
French
German
Italian
Portuguese
Spanish
Japanese
Korean
In other media