It is with heavy hearts that we mourn the passing of our game's creator, Kazuki Takahashi.
Fox Fire (Tag Force 1)
Japanese

きつね火

Base

きつね火

Kana

きつねび

Rōmaji

Kitsunebi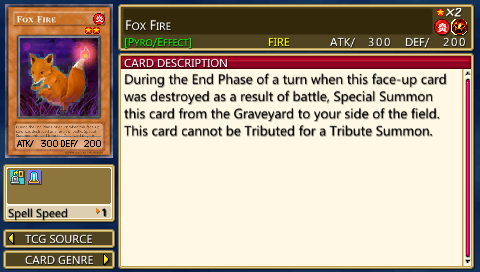 Attribute
FIRE
Type
Pyro / Effect
Level
2
ATK / DEF
300 / 200
Rarity
Rare
Internal number
6198
Password
88753985

During the End Phase of a turn when this face-up card attacked or was attacked and was destroyed by battle, Special Summon this card from the Graveyard. This card cannot be Tributed for a Tribute Summon.
Obtained by
"Fox Fire" is available in the following packs:
Related cards
"Fox Fire" is part of the following genres:
Deck Recipes
"Fox Fire" is in the following Decks:
| Character | Deck | Level | Qty |
| --- | --- | --- | --- |
| Colin | Idol Deck 1 | 3 | 1 |
Other languages
| | Name | Lore |
| --- | --- | --- |
| French | Renard Feu | Durant la End Phase du tour où cette carte face recto a été détruite à l'issue du combat, faites l'Invocation Spéciale de cette carte depuis le Cimetière sur votre Terrain. Cette carte ne peut pas être sacrifiée pour faire une Invocation Sacrifice. |
| German | Fuchsfeuer | Während der End Phase des Spielzugs, in dem diese offene Karte als Ergebnis eines Kampfes zerstört wurde, beschwöre diese Karte als Spezialbeschwörung aus dem Friedhof auf deiner Spielfeldseite. Diese Karte kann nicht als Tribut für eine Tributbeschwörung angeboten werden. |
| Italian | Volpe di Fuoco | Durante la End Phase del turno in cui questa carta scoperta viene distrutta in battaglia, Evoca tramite Evocazione Speciale questa carta dal Cimitero. Questa carta non può essere offerta come Tributo per un'Evocazione tramite Tributo. |
| Spanish | Zorro de Fuego | Durante la End Phase de un turno cuando esta carta boca arriba fue destruida como resultado de una batalla, Invoca mediante una Invocación Especial esta carta del Cementerio a tu Campo. Esta carta no puede ser ofrecida como Sacrificio para una Invocación de Sacrificio. |
Gallery
FoxFire-GX02-FR-VG-info.png

FoxFire-GX02-IT-VG-info.png

FoxFire-GX02-SP-VG-info.png

FoxFire-GX02-JP-VG-info.png