It is with heavy hearts that we mourn the passing of our game's creator, Kazuki Takahashi.
Frightfur March
Japanese

デストーイ・マーチ

Rōmaji

Desutōi Māchi

Translated

Death-Toy March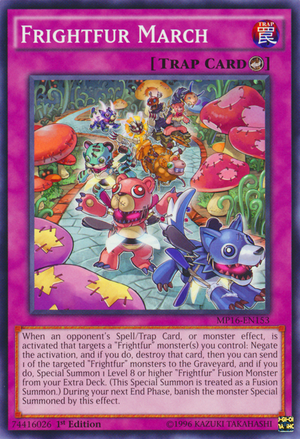 English sets
Worldwide
Search categories
Other languages
Language
Name
Lore
French

Marche Frourreur

Lorsqu'une Carte Magie/Piège ou effet de monstre de votre adversaire qui cible un ou plusieurs monstres "Frourreur" que vous contrôlez est activé : annulez l'activation, et si vous le faites, détruisez la carte, puis vous pouvez envoyer 1 de vos monstres "Frourreur" ciblés au Cimetière, et si vous le faites, Invoquez Spécialement 1 Monstre de Fusion "Frourreur" de min. Niveau 8 depuis votre Extra Deck. (Cette Invocation Spéciale est traitée comme une Invocation Fusion.) Durant votre prochaine End Phase, bannissez le monstre Invoqué Spécialement par cet effet.

German

Schreckenspelz-Parade

Wenn eine Zauber-/Fallenkarte oder ein Monstereffekt deines Gegners aktiviert wird, die oder der ein oder mehr "Schreckenspelz"-Monster, die du kontrollierst, als Ziel wählt: Annulliere die Aktivierung und falls du dies tust, zerstöre die Karte, dann kannst du 1 der gewählten "Schreckenspelz"-Monster auf den Friedhof legen und falls du dies tust, beschwöre 1 "Schreckenspelz"-Fusionsmonster der Stufe 8 oder höher als Spezialbeschwörung von deinem Extra Deck. (Diese Spezialbeschwörung wird als Fusionsbeschwörung behandelt.) Während deiner nächsten End Phase, verbanne das durch diesen Effekt als Spezialbeschwörung beschworene Monster.

Italian

Marcia Pellicciaspavento

Quando viene attivata una Carta Magia/Trappola o l'effetto di un mostro dell'avversario che sceglie come bersaglio uno o più mostri "Pellicciaspavento" che controlli: annulla l'attivazione e, se lo fai, distruggi quella carta, poi puoi mandare 1 dei mostri "Pellicciaspavento" scelti come bersaglio al Cimitero e, se lo fai, Evoca Specialmente 1 Mostro Fusione "Pellicciaspavento" di Livello 8 o superiore dal tuo Extra Deck. (Questa Evocazione Speciale viene considerata un'Evocazione tramite Fusione.) Durante la tua prossima End Phase, bandisci il mostro Evocato Specialmente da questo effetto.

Portuguese

Marcha Peladura

Quando um Card de Magia/Armadilha ou efeito de monstro do oponente for ativado que escolha como alvo um ou mais monstros "Peladura" que você controla; negue a ativação e, se isso acontecer, destrua esse card e, depois, você pode enviar 1 dos monstros "Peladura" escolhidos como alvo para o Cemitério e, se isso acontecer, Invoque por Invocação-Especial 1 Monstro de Fusão "Peladura" de Nível 8 ou mais do seu Deck Adicional. (Esta Invocação-Especial é considerada como uma Invocação-Fusão.) Durante sua próxima Fase Final, bana o monstro Invocado por Invocação-Especial por este efeito.

Spanish

Marcha Atemorizante

Cuando es activada un Carta Mágica/de Trampa de tu adversario, o un efecto de monstruo de tu adversario, que selecciona uno o más monstruos "Atemorizante" que controles: niega la activación y, si lo haces, destruye esa carta, y después puedes mandar al Cementerio 1 de los monstruos "Atemorizante" seleccionados y, si lo haces, Invocar de Modo Especial, desde tu Deck Extra, 1 Monstruo de Fusión "Atemorizante" de Nivel 8 o mayor. (Esta Invocación Especial se trata como una Invocación por Fusión). Durante tu próxima End Phase, destierra al monstruo Invocado de Modo Especial por este efecto.

Japanese

デストーイ・マーチ

①:自分フィールドの「デストーイ」モンスターを対象とするモンスターの効果・魔法・罠カードを相手が発動した時に発動できる。その発動を無効にし破壊する。その後、以下の効果を適用できる。●対象となった「デストーイ」モンスター1体を墓地へ送り、レベル8以上の「デストーイ」融合モンスター1体を融合召喚扱いとしてエクストラデッキから特殊召喚する。この効果で特殊召喚したモンスターは、次の自分エンドフェイズに除外される。

Desutōi Māchi
Death-Toy March
Korean

데스완구 마치

① : 자신 필드의 "데스완구" 몬스터를 대상으로 하는 몬스터의 효과 / 마법 / 함정 카드를 상대가 발동했을 때에 발동할 수 있다. 그 발동을 무효로 하고 파괴한다. 그 후, 이하의 효과를 적용할 수 있다. ● 대상이 된 "데스완구" 몬스터 1장을 묘지로 보내고, 레벨 8 이상의 "데스완구" 융합 몬스터 1장을 융합 소환 취급으로 하여 엑스트라 덱에서 특수 소환한다. 이 효과로 특수 소환한 몬스터는, 다음 자신 엔드 페이즈에 제외된다.
Sets in other languages
French
German
Italian
Portuguese
Spanish
Japanese
Korean
In other media