It is with heavy hearts that we mourn the passing of our game's creator, Kazuki Takahashi.
Guardian Baou (World Championship 2006)
Japanese

ガーディアン・バオウ

Rōmaji

Gādian Baō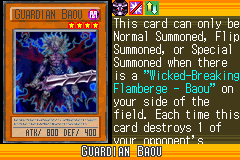 Attribute
DARK
Type
Fiend / Effect
Level
4
ATK / DEF
800 / 400
Number
1318
Internal number
5709
Password
73544866
Cost
3120 DP

This card can only be Normal Summoned, Flip Summoned, or Special Summoned when there is a "Wicked-Breaking Flamberge - Baou" on your side of the field. Each time this card destroys 1 of your opponent's monsters and sends it to the Graveyard as a result of battle, increase the ATK of this card by 1000 points. Also, the effects of an Effect Monster that this card destroys as a result of battle are negated.
Sets
Related cards
"Guardian Baou" is part of the following genres:
Gallery