Hishakaku
Hishakaku is a Number Hunter in the Yu-Gi-Oh! ZEXAL manga and a subordinate of Kyoji Yagumo. He has a large appreciation for Shogi, and even uses Duel Monsters cards whose both design and effects are based on the board game.
Appearance
[
edit
]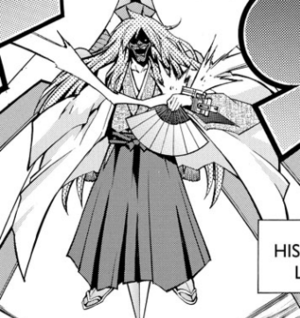 Hishakaku has a very long spiked hair, thin dark eyebrows and three crystal-like marks on his forehead. He wears traditional Japanese clothes, and always holds a fan, which he uses as a D-Pad. He also wears a mouth-like mask covering his nose and mouth.
Etymology
[
edit
]
"Hisha" is the Japanese "rook" piece of Shogi, while "Kaku" is "bishop", reflecting Hishakaku's appreciation for Shogi.
Hishakaku uses a "Line Monster" Deck, whose effects are based on a card's position on the field. All of his card's names, designs and effects are based on Shogi, and use terms of the game instead of terms of Duel Monsters. Check the cards' Trivia pages for more information.
Image
Information

"Line Monster K Horse" (「ラインモンスター Kホース」 Rain Monsutā Kei Hōsu)

Attribute

 EARTH

Level

 3 ★ ★ ★

Types

 Beast-Warrior / Effect

ATK

 800

DEF

 400

"Line Monster Spear Wheel" (「ラインモンスター スピア・ホイール」 Rain Monsutā Supia Hoīru)

Attribute

 EARTH

Level

 3 ★ ★ ★

Types

 Beast-Warrior / Normal

ATK

 500

DEF

 500

"No. 72: Line Monster Chariot Hisha" (「No.72 ラインモンスター チャリオッツ・飛車」 Nanbāzu Nanajūni Rain Monsutā Chariottsu Hisha)

Attribute

 EARTH

Rank

 6 ☆ ☆ ☆ ☆ ☆ ☆

Types

 Beast-Warrior / Xyz / Effect

ATK

 2500

DEF

 1200

"Battery Unit Charge" (「ユニット・バッテリー・チャージ」 Yunitto Batterī Chāji)

Card type

 Spell Card

Property

 Normal

"Line World" (「ラインワールド」 Rain Wārudo)

Card type

 Spell Card

Property

 Field

"Line World Revival" (「ラインワールド・リバイバル」 Rain Wārudo Ribaibaru)

Card type

 Spell Card

Property

 Normal

"Negate Attack" (「攻撃の無力化」 Kōgeki no Muryokuka)

Card type

 Spell Card

Property

 Normal

"Quick Star: Level 3" (「クイックスター・レベル3」 Kuikku Sutā Reberu San)

Card type

 Spell Card

Property

 Normal

"Line Promotion" (「ライン・プロモーション」 Rain Puromōshon)

Card type

 Trap Card

Property

 Continuous