It is with heavy hearts that we mourn the passing of our game's creator, Kazuki Takahashi.
Jirai Gumo (ROD)
DM2 / DM3 / DM4 / DM5 / DM6 / DM7 / DM8
Japanese

地雷蜘蛛

Rōmaji

Jiraigumo

Translated

Landmine Spider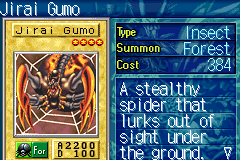 Obtained by
"Jirai Gumo" can be purchased in the shop.
When the player wins a Duel, a number of cards are added to the shop. Each has an intended probability of 24/30,000 of being this card. But due to a bias in the random number generation, it is actually a probability of 48/65,536.
When the player enters this card's password (94773007), it appears in the shop.
"Jirai Gumo" can be obtained via ante from the following pools. The chance of winning it is listed as a percentage and a probability out of 2048. This list might be incomplete until all opponents have been documented on this site.
Gallery
In other media