It is with heavy hearts that we mourn the passing of our game's creator, Kazuki Takahashi.
Judgment of Anubis
Japanese

アヌビスの裁き

Base

アヌビスの裁き

Kana

アヌビスのさばき

Rōmaji

Anubisu no Sabaki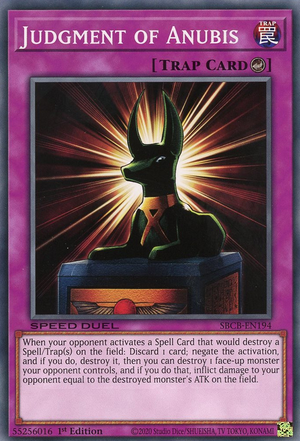 English sets
Worldwide
North America
Search categories
Other languages
Language
Name
Lore
French

Jugement d'Anubis

Lorsque votre adversaire active une Carte Magie qui va détruire une ou plusieurs Magies/Pièges sur le Terrain : défaussez 1 carte ; annulez l'activation, et si vous le faites, détruisez-la, puis vous pouvez détruire 1 monstre face recto contrôlé par votre adversaire, et si vous faites ça, infligez des dommages à votre adversaire égaux à l'ATK du monstre détruit sur le Terrain.

German

Abrechnung von Anubis

Wenn dein Gegner eine Zauberkarte aktiviert, die eine/n oder mehr Zauber/Fallen auf dem Spielfeld zerstören würde: Wirf 1 Karte ab; annulliere die Aktivierung und falls du dies tust, zerstöre sie, dann kannst du 1 offenes Monster zerstören, das dein Gegner kontrolliert, und falls du das tust, füge deinem Gegner Schaden in Höhe der ATK des zerstörten Monsters auf dem Spielfeld zu.

Italian

Giudizio di Anubi

Quando il tuo avversario attiva una Carta Magia che sta per distruggere una o più Magie/Trappole sul Terreno: scarta 1 carta; annulla l'attivazione e, se lo fai, distruggila, poi puoi distruggere 1 mostro scoperto controllato dal tuo avversario e, se fai quello, infliggi al tuo avversario danno pari all'ATK sul Terreno del mostro distrutto.

Portuguese

Julgamento de Anúbis

Quando seu oponente ativar um Card de Magia que destruiria um ou mais Cards de Magia/Armadilha no campo: descarte 1 card; negue a ativação e, se isso acontecer, destrua-o e, depois, você pode destruir 1 monstro com a face para cima que seu oponente controla e, se isso também acontecer, cause dano ao seu oponente igual ao ATK que o monstro destruído tinha no campo.

Spanish

Juicio de Anubis

Cuando tu adversario activa una Carta Mágica que fuera a destruir una o más Mágicas/Trampas en el Campo: descarta 1 carta; niega la activación y, si lo haces, destruye la carta, y después puedes destruir 1 monstruo boca arriba que controle tu adversario y, si haces eso, inflige daño a tu adversario igual al ATK en el Campo del monstruo destruido.

Japanese
アヌビスの裁き

手札を1枚捨てる。相手がコントロールする「フィールド上の魔法・罠カードを破壊する」効果を持つ魔法カードの発動と効果を無効にし破壊する。その後、相手フィールド上の表側表示モンスター1体を破壊し、そのモンスターの攻撃力分のダメージを相手プレイヤーに与える事ができる。

Anubisu no Sabaki
Korean

아누비스의 심판

패를 1장 버린다. 상대가 컨트롤하는 "필드 위의 마법/함정 카드를 파괴한다" 효과를 가진 마법 카드의 발동과 효과를 무효로 하여 파괴한다. 그 후, 상대 필드 위의 앞면 표시 몬스터 1장을 파괴하여, 그 몬스터의 공격력만큼의 데미지를 상대 플레이어에게 줄 수 있다.
Sets in other languages
French
German
Italian
Portuguese
Spanish
Japanese
Korean
Asian-English
In other media
Video games
Lores and sets