| | |
| --- | --- |
| | Help support Yugipedia by using our Chrome extension, which redirects links to the old Wikia/Fandom site to Yugipedia, ensuring you see the most up-to-date information. If you have any issues or find any bugs, be sure to let us know on Discord! |
Koyo Hibiki
Koyo Hibiki
English name

Japanese name
Japanese

響紅葉

Rōmaji
Hibiki Kōyō

Birth
November 4[1]
Age
26[1]
Height

1.97 m <br />6.463 ft <br />77.559 in <br />

197 cm[1]

Weight

130.073 lb <br />

59 kg[1]

Gender
Relatives
Midori Hibiki (older sister)
Occupation
Professional Duelist
Manga Deck
Elemental Hero
Manga debut
Yu-Gi-Oh! GX Chapter 9: "Best Friends!!"
Hibiki, Koyo
Koyo Hibiki (響紅葉, Hibiki Kōyō) is the younger brother of Midori and a three-time Duel Monsters world champion. Koyo was a great Pro League Duelist who used "Elemental Heroes" and is the former owner of the "Elemental Hero" Deck used by Jaden in the series, as well as the owner of "Winged Kuriboh".
Biography
[
edit
]
In his youth, Koyo was given the "Winged Kuriboh" card as a prize for winning a tournament by Maximillion J. Pegasus. Before the series proper, Koyo was able to rise to the position of World Champion. However after losing a Shadow Game to a mysterious Duelist, he found that every time he drew a card while Dueling seriously, the Deck of his heart would be depleted, at which point he would die. The Duel was erased from his memory. Koyo suffered from this and was sent to the hospital where he met a young Jaden who had broken his leg while playing baseball. He taught Jaden all he knew about Dueling and to always have fun Dueling no matter what.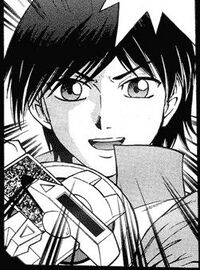 With Jaden's encouragement, Koyo left the hospital for the local tournament and quickly rose to the semi-finals. After the Duel, he was approached by Chazz, who received an autograph from him, and in the process, Koyo's "Winged Kuriboh" altered Chazz's "Light and Darkness Dragon" card. Before he could continue the tournament, Koyo fell faint, and he was returned to hospital without Jaden seeing him Duel. With his health failing, he decided to give up Pro-Dueling and made Jaden his final opponent. Though both Duelists used their powerful "Elemental Heroes," the effect of "Winged Kuriboh" allowed Koyo to beat Jaden in the end, by a blow from "Elemental Hero Terra Firma". After defeating Jaden, he gave him his Deck and his lucky red jacket. However, he found that in this he had drawn the last card, completing the curse and falling into a permanent coma, presumably kept alive by Winged Kuriboh.
He is revived after Jaden and Chazz defeated Tragoedia, and faced Jaden in a Duel once more upon the conclusion of the manga.
Etymology
[
edit
]
Koyo's full name means "autumn colors", but can also be translated to "autumn sounds".
Koyo plays an nature-based "Elemental Hero" Deck. Before the start of the manga, Koyo gave Jaden his Deck, including the one-of-a-kind "Elemental Hero Terra Firma" card.
The list given here are only the cards he was actually seen using. Jaden has used many other cards that could be assumed to have formerly been his, but it's also clarified that Jaden modified the Deck since receiving it. In addition, Koyo allowed Jaden to keep "Winged Kuriboh" when he gave the rest of the Deck back.
Image
Information
"Elemental Hero Heat" | "Elemental HERO The Heat" (「E・HERO ザ・ヒート」 Erementaru Hīrō Za Hīto)

Attribute

 FIRE

Level

 4 ★ ★ ★ ★

Types

 Pyro / Normal

ATK

 1600

DEF

 1200

"Elemental Hero Lady Heat" | "Elemental HERO Lady of Fire" (「E・HERO レディ・オブ・ファイア」 Erementaru Hīrō Redi Obu Faia)

Attribute

 FIRE

Level

 4 ★ ★ ★ ★

Types

 Pyro / Normal

ATK

 1300

DEF

 1000

"Elemental Hero Ocean" (「E・HERO オーシャン」 Erementaru Hīrō Ōshan)

Attribute

 WATER

Level

 4 ★ ★ ★ ★

Types

 Warrior / Effect

ATK

 1500

DEF

 1200

"Elemental Hero Stratos" | "Elemental HERO Airman" (「E・HERO エアーマン」 Erementaru Hīrō Eāman)

Attribute

 WIND

Level

 4 ★ ★ ★ ★

Types

 Warrior / Effect

ATK

 1800

DEF

 300

"Elemental Hero Voltic" | "Elemental HERO Voltech" (「E・HERO ボルテック」 Erementaru Hīrō Borutekku)

Attribute

 LIGHT

Level

 4 ★ ★ ★ ★

Types

 Thunder / Effect

ATK

 1000

DEF

 1500

"Elemental Hero Woodsman" | "Elemental Hero Forestman" (「E・HERO フォレストマン」 Erementaru Hīrō Foresutoman)

Attribute

 EARTH

Level

 4 ★ ★ ★ ★

Types

 Warrior / Normal

ATK

 1000

DEF

 2000

"Winged Kuriboh" (「ハネクリボー」 Hane Kuribō)

Attribute

 LIGHT

Level

 1 ★

Types

 Fairy / Effect

ATK

 300

DEF

 200

"Elemental Hero Absolute Zero" (「E・HERO アブソルートZero」 Erementaru Hīrō Abusorūto Zero)

Attribute

 WATER

Level

 8 ★ ★ ★ ★ ★ ★ ★ ★

Types

 Warrior / Fusion

ATK

 2500

DEF

 2000

"Elemental Hero Core" (「E・HERO Core」 Erementaru Hīrō Koa)

Attribute

 EARTH

Level

 9 ★ ★ ★ ★ ★ ★ ★ ★ ★

Types

 Warrior / Fusion

ATK

 2700

DEF

 2200

"Elemental Hero Gaia" (「E・HERO ガイア」 Erementaru Hīrō Gaia)

Attribute

 EARTH

Level

 6 ★ ★ ★ ★ ★ ★

Types

 Warrior / Fusion

ATK

 2200

DEF

 2600

"Elemental Hero Inferno" | "Elemental HERO Flame Blast" (「E・HERO フレイム・ブラスト」 Erementaru Hīrō Fureimu Burasuto)

Attribute

 FIRE

Level

 8 ★ ★ ★ ★ ★ ★ ★ ★

Types

 Pyro / Fusion

ATK

 2300

DEF

 1600

"Elemental Hero Terra Firma" | "Elemental HERO The Earth" (「E・HERO ジ・アース」 Erementaru Hīrō Ji Āsu)

Attribute

 EARTH

Level

 8 ★ ★ ★ ★ ★ ★ ★ ★

Types

 Warrior / Fusion

ATK

 2500

DEF

 2000

"A Hero Arrives" | "Hero Arrive" (「ヒーローアライブ」 Hīrō Araibu)

Card type

 Spell Card

Property

 Normal

"Hero Pressure" (「ヒーロープレッシャー」 Hīrō Puresshā)

Card type

 Spell Card

Property

 Normal

"Miracle Fusion" (「ミラクル・フュージョン」 Mirakuru Fyūjon)

Card type

 Spell Card

Property

 Normal

"Mystical Space Typhoon" | "Cyclone" (「サイクロン」 Saikuron)

Card type

 Spell Card

Property

 Quick-Play

"Nobleman of Extermination" | "Apostle of Extermination" (「撲滅の使徒」 Bokumetsu no Shito)

Card type

 Spell Card

Property

 Normal

"Parallel World Fusion" (「平行世界融合」 Parareru Wārudo Fyūjon)

Card type

 Spell Card

Property

 Normal

"Polymerization" | "Fusion" (「融合」 Yūgō)

Card type

 Spell Card

Property

 Normal

"Pot of Greed" (「強欲な壺」 Gōyoku na Tsubo)

Card type

 Spell Card

"Residual Reflection" (「残留思念」 Zanryūshinen)

Card type

 Spell Card

Property

 Quick-Play

"Voltic Spear" | "Voltech Spear" (「ボルテック・スピア」 Borutekku Supia)

Card type

 Spell Card

Property

 Equip

"Element Counter" (「エレメント・カウンター」 Eremento Kauntā)

Card type

 Trap Card

Property

 Normal

"Element Fusion" (「元素融合 エレメント・フュージョン」 Genso Yūgō - Eremento Fyūjon)

Card type

 Trap Card

Property

 Normal

"Hero Barrier" (「ヒーローバリア」 Hīrō Baria)

Card type

 Trap Card

Property

 Normal

"Hero Signal" (「ヒーロー・シグナル」 Hīrō Shigunaru)

Card type

 Trap Card

Property

 Normal

"Higher Dimension Guard" (「高位次元ガード」 Kōi Jigen Gādo)

Card type

 Trap Card

Property

 Normal

"Terra Firma Gravity" | "Earth Gravity" (「アース・グラビティ」 Āsu Gurabiti)

Card type

 Trap Card

Property

 Normal
References
[
edit
]