It is with heavy hearts that we mourn the passing of our game's creator, Kazuki Takahashi.
List of Secret Rare cards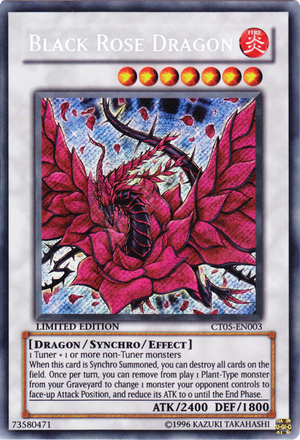 This is a list of Secret Rare cards. Currently, the list only covers Booster Packs and Reprint sets.
Japanese Booster Packs have not featured Secret Rare cards at all since the end of Series 3 with Pharaoh's Inheritance, and most previous Japanese Booster Packs did not feature them either. For this reason, and because these early Japanese sets were combined to make individual Booster Packs for other regions (e.g. the Korean and TCG versions of Metal Raiders were made by combining the Japanese sets Metal Raiders and Revival of Black Demons Dragon), Japanese Booster Packs and Reprint sets are listed in separate sections from other regions in this list; these are differentiated where necessary by the addition of the tag "(Japanese)" in the section header.
In the TCG, two Secret Rare cards were featured in each set from the TCG's introduction through Ancient Sanctuary, with the first Secret Rare card at the beginning of the set with the Set Card Number "000", and the second one at the end of the set. Secret Rare cards were removed from Booster Packs starting with Soul of the Duelist, and were not reintroduced until Strike of Neos; many fans believe this was done because of rampant counterfeiting of the Secret Rares or pack scaling.
Booster Packs
[
edit
]
Japanese
Japanese
Japanese
Japanese
Japanese (PS)
Japanese (CA)
Japanese (SM)
Japanese (PH)
Japanese (301)
Japanese (303)
Japanese (304)
Japanese (305)
Japanese (306)
Japanese (307)
Japanese (308)
Japanese (309)
Korean (LOB-K)
English—North America (LOB)
English—Worldwide (LOB-EN)
English—Europe (LOB-E)
English—Australia (LOB-A)
French-Canadian (LDD-C)
French (LDD-F)
German (LOB-G)
Italian (LDD-I)
Portuguese (LDB-P)
Spanish (LDD-S)
Korean (MRD-K)
English—North America (MRD)
English—Worldwide (MRD-EN)
English—Europe (MRD-E)
French (MRD-F)
German (MRD-G)
Italian (PMT-I)
Portuguese (PMT-P)
Spanish (PMT-S)
Korean (SRL-K)
English—North America (MRL)
English—Worldwide (SRL-EN)
English—Europe (MRL-E)
French (MDM-F)
German (SRL-G)
Italian (SDM-I)
Spanish (SDH-S)
Korean (PSV-K)
English—North America (PSV)
English—Worldwide (PSV-EN)
English—Europe (PSV-E)
French (SDP-F)
German (PSV-G)
Italian (SDF-I)
Korean (LON-KR)
Asian-English (LON)
English—North America (LON)
English—Worldwide (LON-EN)
English—Europe (LON-E)
French (LDC-F)
German (LON-G)
Italian (LDI-I)
Korean (LOD-KR)
Asian-English (LOD)
English—North America (LOD)
English—Worldwide (LOD-EN)
Korean (PGD-KR)
Asian-English (PGD)
English—North America (PGD)
Korean (MFC-KR)
Asian-English (MFC)
English—North America (MFC)
Korean (DCR-KR)
Asian-English (DCR-AE)
English—North America (DCR)
English—Worldwide (DCR-EN)
French (DCR-FR)
German (DCR-DE)
Italian (DCR-IT)
Korean (IOC-KR)
Asian-English (IOC-AE)
English—North America (IOC)
English—Worldwide (IOC-EN)
French (IOC-FR)
German (IOC-DE)
Italian (IOC-IT)
Spanish (IOC-SP)
Korean (AST-KR)
Asian-English (AST-AE)
English—Worldwide (AST)
French (AST-FR)
German (AST-DE)
Italian (AST-IT)
Portuguese (AST-PT)
Spanish (AST-SP)
English (STON-EN)
French (STON-FR)
German (STON-DE)
Italian (STON-IT)
Spanish (STON-SP)
English (FOTB-EN)
French (FOTB-FR)
German (FOTB-DE)
Italian (FOTB-IT)
Spanish (FOTB-SP)
English (TAEV-EN)
French (TAEV-FR)
German (TAEV-DE)
Italian (TAEV-IT)
Spanish (TAEV-SP)
English (GLAS-EN)
French (GLAS-FR)
German (GLAS-DE)
Italian (GLAS-IT)
Spanish (GLAS-SP)
English (PTDN-EN)
French (PTDN-FR)
German (PTDN-DE)
Italian (PTDN-IT)
Spanish (PTDN-SP)
English (LODT-EN)
French (LODT-FR)
German (LODT-DE)
Italian (LODT-IT)
Spanish (LODT-SP)
Reprint sets
[
edit
]
Japanese (LB)
Japanese (PG)
Japanese (ME)
Japanese (BC)
Japanese (EE04-JP)
Korean (HGP4-KR)
English (DR04-EN)
English (RP01-EN)
French (RP01-FR)
German (RP01-DE)
Italian (RP01-IT)
English (RP02-EN)
French (RP02-FR)
German (RP02-DE)
Italian (RP02-IT)
Spanish (RP02-SP)
English (DLG1-EN)
Japanese (BE01-JP)
Japanese (BE02-JP)
English (LCGX-EN)