It is with heavy hearts that we mourn the passing of our game's creator, Kazuki Takahashi.
Lunalight Wolf
Japanese

月光狼

Base

月光狼

Kana

ムーンライト・ウルフ

Rōmaji

Mūnraito Urufu

Translated

Moonlight Wolf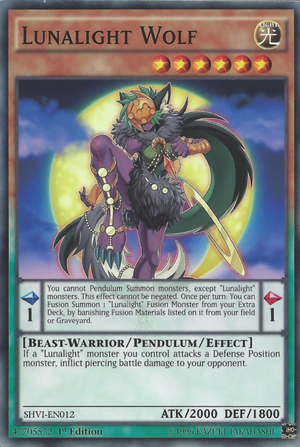 English sets
Worldwide
Search categories
Other languages
Language
Name
Lore
French

Loup de Clair de Lune

Effet Pendule

Vous ne pouvez pas Invoquer par Pendulation de monstres (monstres "Clair de Lune" exclus). Cet effet ne peut pas être annulé. Une fois par tour : vous pouvez Invoquer par Fusion 1 Monstre de Fusion "Clair de Lune" depuis votre Extra Deck, en bannissant des Matériels de Fusion listés sur celui-ci depuis votre Terrain ou Cimetière.

Effet de Monstre

Si un monstre "Clair de Lune" que vous contrôlez ("Dragon Clair de Lune Rose Noire" exclu) attaque un monstre en Position de Défense, infligez des dommages de combat perçants à votre adversaire.

German

Lunalicht Wolf

Pendeleffekt

Du kannst keine Monster als Pendelbeschwörung beschwören, außer "Lunalicht"-Monstern. Dieser Effekt kann nicht annulliert werden. Einmal pro Spielzug: Du kannst 1 "Lunalicht"-Fusionsmonster als Fusionsbeschwörung von deinem Extra Deck beschwören, indem du das auf ihm aufgeführte Fusionsmaterial von deiner Spielfeldseite oder deinem Friedhof verbannst.

Monstereffekt

Falls ein "Lunalicht"-Monster, das du kontrollierst, ein Monster in Verteidigungsposition angreift, füge deinem Gegner durchschlagenden Kampfschaden zu.

Italian

Lupo della Lucelunare

Effetto Pendulum

Non puoi Evocare Pendulum mostri, eccetto mostri "Lucelunare". Questo effetto non può essere annullato. Una volta per turno: puoi Evocare tramite Fusione 1 Mostro Fusione "Lucelunare" dal tuo Extra Deck, bandendo i Materiali da Fusione indicati su di esso dal tuo Terreno o Cimitero.

Effetto Mostro

Se un mostro "Lucelunare" che controlli attacca un mostro in Posizione di Difesa, infliggi danno da combattimento perforante al tuo avversario.

Portuguese

Loba Luzlunar

Efeito de Pêndulo

Você não pode Invocar monstros por Invocação-Pêndulo, exceto monstros "Luzlunar". Este efeito não pode ser negado. Uma vez por turno: você pode Invocar por Invocação-Fusão 1 Monstro de Fusão "Luzlunar" do seu Deck Adicional, ao banir as Matérias de Fusão listadas nele do seu campo ou Cemitério.

Efeito de Monstro

Se um monstro "Luzlunar" que você controla atacar um monstro em Posição de Defesa, cause dano de batalha perfurante ao seu oponente.

Spanish

Loba de la Lunaluz

Efecto de Péndulo

No puedes Invocar monstruos por Péndulo, excepto monstruos "Lunaluz". Este efecto no puede ser negado. Una vez por turno: puedes Invocar por Fusión, desde tu Deck Extra, 1 Monstruo de Fusión "Lunaluz", desterrando de tu Campo o Cementerio los Materiales de Fusión listados en él.

Efecto de Monstruo

Si un monstruo "Lunaluz" que controles ataca a un monstruo en Posición de Defensa, inflige daño de batalla de penetración a tu adversario.

Japanese
月光狼

P効果

①:自分は「ムーンライト」モンスターしかP召喚できない。この効果は無効化されない。②:1ターンに1度、自分メインフェイズに発動できる。自分のフィールド・墓地から、「ムーンライト」融合モンスターカードによって決められた融合素材モンスターを除外し、その融合モンスター1体をエクストラデッキから融合召喚する。

モンスターの効果

①:このカードがモンスターゾーンに存在する限り、自分の「ムーンライト」モンスターが守備表示モンスターを攻撃した場合、その守備力を攻撃力が超えた分だけ相手に戦闘ダメージを与える。

Mūnraito Urufu
Moonlight Wolf
Korean

문라이트 울프

펜듈럼 효과

①: 자신은 "문라이트" 몬스터밖에 펜듈럼 소환할 수 없다. 이 효과는 무효화되지 않는다. ②: 1턴에 1번, 자신 메인 페이즈에 발동할 수 있다. 자신의 필드 / 묘지에서, "문라이트" 융합 몬스터 카드에 기재된 융합 소재 몬스터를 제외하고, 그 융합 몬스터 1장을 엑스트라 덱에서 융합 소환한다.

몬스터의 효과

①: 이 카드가 몬스터 존에 존재하는 한, 자신의 "문라이트" 몬스터가 수비 표시 몬스터를 공격했을 경우, 그 수비력을 공격력이 넘은 만큼만 상대에게 전투 데미지를 준다.
Sets in other languages
French
German
Italian
Portuguese
Spanish
Japanese
Korean
In other media