It is with heavy hearts that we mourn the passing of our game's creator, Kazuki Takahashi.
Magical Dimension (Tag Force 1)
Japanese

ディメンション・マジック

Rōmaji

Dimenshon Majikku

Translated

Dimension Magic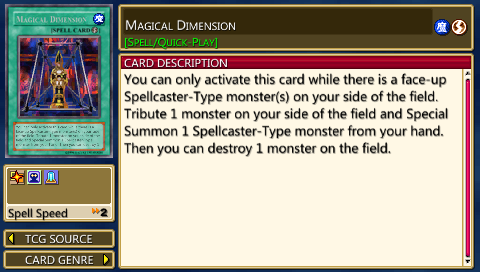 Card type
Spell
Property
Quick-Play
Rarity
Super Rare
Internal number
5752
Password
28553439

You can only activate this card while there is a face-up Spellcaster-Type monster(s) on your side of the field. Tribute 1 monster on your side of the field and Special Summon 1 Spellcaster-Type monster from your hand. Then you can destroy 1 monster on the field.
Obtained by
"Magical Dimension" is available in the following packs:
Related cards
"Magical Dimension" is part of the following genres:
"Magical Dimension" directly affects the following Types:
Deck Recipes
"Magical Dimension" is in the following Decks:
Other languages
| | Name | Lore |
| --- | --- | --- |
| French | Dimension Magique | Vous ne pouvez activer cette carte que tant qu'il y a au moins un monstre de Type Magicien face recto sur votre Terrain. Sacrifiez un monstre sur votre Terrain et faites l'Invocation Spéciale d'un monstre de Type Magicien depuis votre main. Puis, vous pouvez détruire 1 monstre sur le Terrain. |
| German | Magieartige Dimension | Du kannst diese Karte nur aktivieren, solange sich Monster vom Typ Hexer auf deiner Spielfeldseite befinden. Biete 1 Monster auf deiner Spielfeldseite als Tribut an und beschwöre 1 Monster vom Typ Hexer als Spezialbeschwörung von deiner Hand. Dann kannst du 1 Monster auf dem Spielfeld zerstören. |
| Italian | Dimensione Magica | Puoi attivare questa carta solo mentre hai un mostro di Tipo Incantatore sul tuo Terreno. Offri 1 mostro sul tuo Terreno come Tributo e Evoca tramite Evocazione Speciale 1 mostro di Tipo Incantatore dalla tua mano. Quindi puoi distruggere 1 mostro sul Terreno. |
| Spanish | Dimensión Mágica | Sólo puedes activar esta carta cuando haya un monstruo de Tipo Lanzador de Conjuros boca arriba en tu Campo. Sacrifica 1 monstruo de tu Campo e Invoca mediante una Invocación Especial 1 monstruo de Tipo Lanzador de Conjuros de tu mano. Luego puedes destruir 1 monstruo en el Campo. |
Gallery
MagicalDimension-GX02-FR-VG-info.png

MagicalDimension-GX02-IT-VG-info.png

MagicalDimension-GX02-SP-VG-info.png

MagicalDimension-GX02-JP-VG-info.png