It is with heavy hearts that we mourn the passing of our game's creator, Kazuki Takahashi.
Majespecter Tempest
Japanese

マジェスペクター・テンペスト

Rōmaji

Majesupekutā Tenpesuto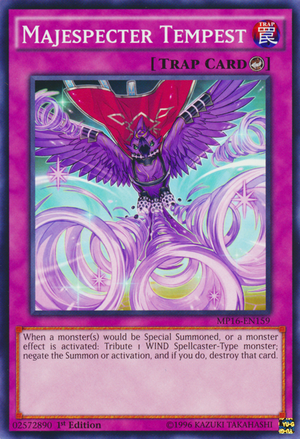 English sets
Worldwide
Search categories
Other languages
Language
Name
Lore
French

Ouragan Majesspectre

Lorsqu'un ou plusieurs monstres vont être Invoqués Spécialement, ou qu'un effet de monstre est activé : Sacrifiez 1 monstre VENT de Type Magicien ; annulez l'Invocation ou l'activation, et si vous le faites, détruisez la carte.

German

Majespenster-Gewitter

Wenn ein oder mehr Monster als Spezialbeschwörung beschworen würden oder ein Monstereffekt aktiviert wird: Biete 1 WIND Monster vom Typ Hexer als Tribut an; annulliere die Beschwörung oder Aktivierung und falls du dies tust, zerstöre die Karte.

Italian

Tempesta Maestospettro

Quando uno o più mostri stanno per essere Evocati Specialmente, o viene attivato l'effetto di un mostro: offri come Tributo 1 mostro VENTO di Tipo Incantatore; annulla l'Evocazione o l'attivazione e, se lo fai, distruggi quella carta.

Portuguese

Tempestade Majespectro

Quando um ou mais monstros seriam Invocados por Invocação-Especial ou um efeito de monstro for ativado: ofereça como Tributo 1 monstro de VENTO do Tipo Mago; negue a Invocação ou ativação e, se isso acontecer, destrua esse card.

Spanish

Tempestad Majespectro

Cuando uno o más monstruos fueran a ser Invocados de Modo Especial, o es activado un efecto de monstruo: Sacrifica 1 monstruo de VIENTO de Tipo Lanzador de Conjuros; niega la Invocación o activación y, si lo haces, destruye esa carta.

Japanese

マジェスペクター・テンペスト

①:自分フィールドの魔法使い族・風属性モンスター1体をリリースして以下の効果を発動できる。
●モンスターの効果が発動した時に発動できる。その発動を無効にし破壊する。
●自分または相手がモンスターを特殊召喚する際に発動できる。その特殊召喚を無効にし、そのモンスターを破壊する。

Majesupekutā Tenpesuto
Korean

마제스펙터 템피스트

① : 자신 필드의 마법사족 / 바람 속성 몬스터 1장을 릴리스하고, 이하의 효과를 발동할 수 있다.
● 몬스터의 효과가 발동했을 때에 발동할 수 있다. 그 효과를 무효로 하고 파괴한다.
● 자신 또는 상대가 몬스터를 특수 소환할 시에 발동할 수 있다. 그 특수 소환을 무효로 하고, 그 몬스터를 파괴한다.
Sets in other languages
French
German
Italian
Portuguese
Spanish
Japanese
Korean