It is with heavy hearts that we mourn the passing of our game's creator, Kazuki Takahashi.
Mermail Abyssnerei
Japanese

水精鱗-ネレイアビス

Base

水精鱗-ネレイアビス

Kana

マーメイル-ネレイアビス

Rōmaji

Māmeiru - Nereiabisu

Translated

Mermail - Nereiabyss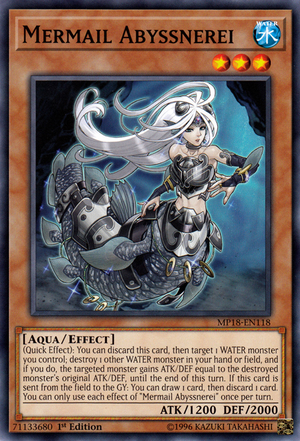 Card type
Monster
Attribute
WATER
Types
Aqua / Effect
Level
3
ATK / DEF
1200 / 2000
Password
71133680
Effect types

Status
English sets
Worldwide
Search categories
Other languages
Language
Name
Lore
French

Sirènemure Néréidabysses

(Effet Rapide): vous pouvez défausser cette carte, puis ciblez 1 monstre EAU que vous contrôlez ; détruisez 1 autre monstre EAU dans votre main ou sur votre Terrain, et si vous le faites, le monstre ciblé gagne une ATK/DEF égales à l'ATK/DEF d'origine du monstre détruit jusqu'à la fin de ce tour. Si cette carte est envoyée depuis le Terrain au Cimetière : vous pouvez piochez 1 carte, puis défaussez 1 carte. Vous ne pouvez utiliser chaque effet de "Sirènemure Néréidabysses" qu'une fois par tour.

German

Nixenrüstung Abyssnerei

(Schnelleffekt): Du kannst diese Karte abwerfen und dann 1 WASSER Monster wählen, das du kontrollierst; zerstöre 1 anderes WASSER Monster in deiner Hand oder auf deiner Spielfeldseite und falls du dies tust, erhält das als Ziel gewählte Monster bis zum Ende dieses Spielzugs ATK/DEF in Höhe der Grund-ATK/-DEF des zerstörten Monsters. Falls diese Karte vom Spielfeld auf den Friedhof gelegt wird: Du kannst 1 Karte ziehen, dann wirf 1 Karte ab. Du kannst jeden Effekt von "Nixenrüstung Abyssnerei" nur einmal pro Spielzug verwenden.

Italian

Sirenide Abyssnereide

(Effetto Rapido): puoi scartare questa carta, poi scegliere come bersaglio 1 mostro ACQUA che controlli; distruggi 1 altro mostro ACQUA nella tua mano o Terreno e, se lo fai, il mostro scelto come bersaglio guadagna ATK/DEF pari agli ATK/DEF originali del mostro distrutto, fino alla fine di questo turno. Se questa carta viene mandata dal Terreno al Cimitero: puoi pescare 1 carta, poi scartare 1 carta. Puoi utilizzare ogni effetto di "Sirenide Abyssnereide" una sola volta per turno.

Portuguese

Sirena Abisnereida

(Efeito Rápido): você pode descartar este card e, depois, escolher 1 monstro de ÁGUA que você controla; destrua 1 outro monstro de ÁGUA na sua mão ou no campo e, se isso acontecer, até o final deste turno, o monstro escolhido como alvo ganha ATK/DEF igual ao ATK/DEF originais do monstro destruído. Se este card for enviado do campo para o Cemitério: você pode comprar 1 card e, depois, descartar 1 card. Você pode usar cada efeito de "Sirena Abisnereida" uma vez por turno.

Spanish

Sirenarmada Abisnereida

(Efecto Rápido): puedes descartar esta carta, y después seleccionar 1 monstruo de AGUA que controles; destruye otro monstruo de AGUA en tu mano o Campo y, si lo haces, hasta el final de este turno el monstruo seleccionado gana ATK/DEF igual al ATK/DEF original del monstruo destruido. Si esta carta es mandada del Campo al Cementerio: puedes robar 1 carta, y después descartar 1 carta. Sólo puedes usar cada efecto de "Sirenarmada Abisnereida" una vez por turno.

Japanese
水精鱗-ネレイアビス

このカード名の①②の効果はそれぞれ1ターンに1度しか使用できない。①:このカードを手札から捨て、自分フィールドの水属性モンスター1体を対象として発動できる。そのモンスター以外の自分の手札・フィールドの水属性モンスター1体を選んで破壊し、対象のモンスターの攻撃力・守備力はターン終了時まで、この効果で破壊したモンスターの元々の数値分アップする。この効果は相手ターンでも発動できる。②:このカードがフィールドから墓地へ送られた場合に発動できる。自分はデッキから1枚ドローし、その後手札を1枚選んで捨てる。

Māmeiru - Nereiabisu
Mermail - Nereiabyss
Korean

머메일-네레이어비스

이 카드명의 ①②의 효과는 1턴에 1번밖에 사용할 수 없다. ① : 이 카드를 패에서 버리고, 자신 필드의 물 속성 몬스터 1장을 대상으로 하여 발동할 수 있다. 그 몬스터 이외의 자신의 패 / 필드의 물 속성 몬스터 1장을 골라 파괴하고, 대상 몬스터의 공격력 / 수비력은 턴 종료시까지, 이 효과로 파괴한 몬스터의 원래의 수치만큼 올린다. 이 효과는 상대 턴에도 발동할 수 있다. ② : 이 카드가 필드에서 묘지로 보내졌을 경우에 발동할 수 있다. 자신은 덱에서 1장 드로우하고, 그 후 패를 1장 골라 버린다.
Sets in other languages
French
German
Italian
Portuguese
Spanish
Japanese
Korean