It is with heavy hearts that we mourn the passing of our game's creator, Kazuki Takahashi.
Mokey Mokey
Japanese

もけもけ

Rōmaji

Mokemoke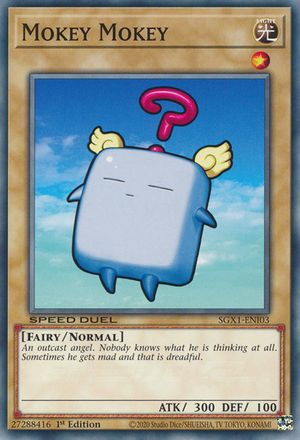 English sets
Worldwide
North America
Search categories
Other languages
Language
Name
Lore
French

Mokey Mokey

Un ange déchu. Personne ne sait ce qu'il pense. Il lui arrive parfois d'être pris de folie, et le résultat est atroce.

German

Mokey Mokey

Ein gefallener Engel. Niemand weiß, was genau er denkt. Manchmal wird er böse, dann passieren fürchterliche Dinge.

Italian

Mokey Mokey

Un angelo esiliato. Nessuno sa che cosa stia pensando. A volte impazzisce e questo è terribile.

Portuguese

Mokey Mokey

Um anjo expulso. Ninguém sabe de todo o que ele está a pensar. Por vezes ele irrita-se e isso é terrível.

Spanish

Mokey Mokey

Un ángel desterrado. Nadie sabe en que está pensando. A veces se enfada y es algo terrible.

Japanese

もけもけ

何を考えているのかさっぱりわからない天使のはみだし者。たまに怒ると怖い。

Mokemoke
Korean

모케모케

무슨 생각을 하고 있는 건지 도무지 알 수 없는 천사계의 이단아. 가끔씩 화가 나면 무섭다.
Sets in other languages
French
German
Italian
Portuguese
Spanish
Japanese
Korean
Asian-English
In other media
Video games
Lores and sets