It is with heavy hearts that we mourn the passing of our game's creator, Kazuki Takahashi.
Musical Sumo Dice Games
Japanese

席取-六双丸

Base

席取-六双丸

Kana

せきとり-むそうまる

Rōmaji

Sekitori - Musōmaru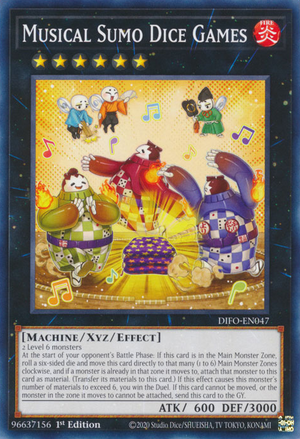 Card type
Monster
Attribute
FIRE
Types
Machine / Xyz / Effect
Rank
6
ATK / DEF
600 / 3000
Password
96637156
Effect types

Status

2 Level 6 monsters
At the start of your opponent's Battle Phase: If this card is in the Main Monster Zone, roll a six-sided die and move this card directly to that many (1 to 6) Main Monster Zones clockwise, and if a monster is already in that zone it moves to, attach that monster to this card as material. (Transfer its materials to this card.) If this effect causes this monster's number of materials to exceed 6, you win the Duel. If this card cannot be moved, or the monster in the zone it moves to cannot be attached, send this card to the GY.
English sets
Worldwide
Search categories
Other languages
Language
Name
Lore
French

Jeux de Dé Sumo Musical

2 monstres de Niveau 6
Au début de la Battle Phase de votre adversaire : si cette carte est dans la Zone Monstre Main, lancez un dé à six faces et déplacez cette carte directement d'autant de Zones Monstre Main (1 à 6) dans le sens des aiguilles d'une montre, et si un monstre est déjà dans la zone dans laquelle elle est déplacée, attachez le monstre à cette carte comme Matériel. (Transférez ses Matériels à cette carte.) Si cet effet fait que le nombre de Matériels de ce monstre est supérieur à 6, vous gagnez le Duel. Si cette carte ne peut pas être déplacée ou que le monstre dans la zone dans laquelle elle est déplacée ne peut pas être attaché, envoyez cette carte au Cimetière.

German

Musik-Sumo Würfelspiele

2 Monster der Stufe 6
Am Beginn der Battle Phase deines Gegners: Falls sich diese Karte in der Main-Monsterzone befindet, wirf einen sechsseitigen Würfel und bewege diese Karte direkt so viele (1 bis 6) Main-Monsterzonen im Uhrzeigersinn und falls in jener Zone, in die sie bewegt wird, bereits ein Monster liegt, hänge jenes Monster als Material an diese Karte an. (Transferiere sein Material an diese Karte.) Falls dieser Effekt bewirkt, dass die Anzahl des Materials dieses Monsters 6 überschreitet, gewinnst du das Duell. Falls diese Karte nicht bewegt werden kann oder das Monster in der Zone, in die sie bewegt wird, nicht angehängt werden kann, lege diese Karte auf den Friedhof.

Italian

Giochi di Dadi Sumo Musicale

2 mostri di Livello 6
All'inizio della Battle Phase del tuo avversario: se questa carta è nella Zona Mostri Main, tira un dado a sei facce e sposta questa carta direttamente di quel numero (da 1 a 6) di Zone Mostri Main in senso orario e, se in quella zona in cui si sposta c'è già un mostro, attacca quel mostro a questa carta come materiale. (Trasferisci i suoi materiali su questa carta.) Se questo effetto fa sì che il numero di materiali di questo mostro sia superiore a 6, vinci il Duello. Se questa carta non può essere spostata, o se il mostro nella zona in cui si sposta non può essere attaccato, manda questa carta al Cimitero.

Portuguese

Jogos de Dados Sumô Musical

2 monstros de Nível 6
No começo da Fase de Batalha do seu oponente: se este card estiver na Zona de Monstros Principal, lance um dado de seis faces e mova este card diretamente esse número (1 a 6) de Zonas de Monstros Principais no sentido horário e, se já houver um monstro nessa zona para a qual ele se moveu, associe esse monstro a este card como matéria. (Transfira as matérias dele para este card.) Se este efeito fizer com que o número de matérias deste monstro exceda 6, você vence o Duelo. Se este card não puder ser movido, ou o monstro na zona para a qual ele se moveu não puder ser associado, envie este card para o Cemitério.

Spanish

Sumo Musical Juegos de Dados

2 monstruos de Nivel 6
Al comienzo de la Battle Phase de tu adversario: si esta carta está en la Zona de Monstruos Principal, lanza un dado de seis caras y mueve esta carta directamente a ese número de Zonas de Monstruos Principales (de 1 a 6) en el sentido de las agujas del reloj y, si un monstruo ya estaba en esa zona a la que se mueve, acopla ese monstruo a esta carta como material. (Transfiere sus materiales a esta carta). Si este efecto causa que el número de materiales de este monstruo sea mayor que 6, ganas el Duelo. Si esta carta no puede ser movida, o el monstruo en la zona a la que se mueve no puede ser acoplado, manda esta carta al Cementerio.

Japanese
席取-六双丸

レベル6モンスター×2
①:相手バトルフェイズ開始時に発動する。サイコロを1回振る。お互いのメインモンスターゾーンをこのカードから見て時計回りに1つ先から1~6とし、メインモンスターゾーンのこのカードを出た目のゾーンに移動する。移動先にモンスターが存在する場合、それをこの下に重ねてX素材とする(X素材を持つモンスターの場合にはそれらも全て重ねる)。このX素材が6つを超えた時、自分はデュエルに勝利する。移動できない場合、または移動先のモンスターをX素材にできない場合、このカードを墓地へ送る。

Sekitori - Musōmaru
Korean

자리뺏기-육쌍환

레벨 6 몬스터 × 2
①: 상대 배틀 페이즈 개시시에 발동한다. 주사위를 1회 던진다. 서로의 메인 몬스터 존을 이 카드의 시계 방향으로 1개 앞부터 1~6 으로 하고, 메인 몬스터 존의 이 카드를 나온 눈의 존으로 이동한다. 이동한 곳에 몬스터가 존재할 경우, 그것을 이 아래에 겹쳐 엑시즈 소재로 한다(엑시즈 소재를 가지는 몬스터일 경우에는 그 카드들도 전부 겹친다). 이 엑시즈 소재가 6개를 넘었을 때, 자신은 듀얼에서 승리한다. 이동할 수 없을 경우, 또는 이동한 곳의 몬스터를 엑시즈 소재로 할 수 없을 경우, 이 카드를 묘지로 보낸다.

Jaribbaetgi - Yukssanghwan
Sets in other languages
French
German
Italian
Portuguese
Spanish
Japanese
Korean