Ninjitsu Art of Duplication
Ninjitsu Art of Duplication
Japanese

忍法 分身の術

Base

忍法 分身の術

Kana

にんぽう ぶんしんのじゅつ

Rōmaji

Ninpō Bunshin no Jutsu

Translated

Ninjitsu - Technique of Duplication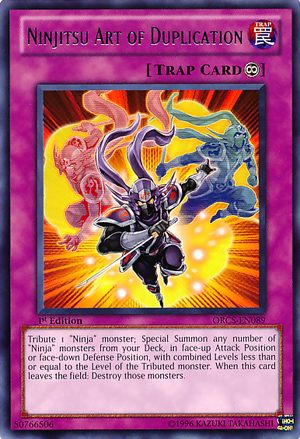 English sets
Worldwide
Search categories
Other languages
Language
Name
Lore
French

Art Ninjitsu de la Duplication

Sacrifiez 1 monstre "Ninja" ; Invoquez Spécialement un nombre de monstres "Ninja" depuis votre Deck, en Position d'Attaque face recto ou en Position de Défense face verso, dont le total des Niveaux est inférieur ou égal au Niveau du monstre Sacrifié. Lorsque cette carte quitte le Terrain : détruisez les monstres.

German

Ninjitsu-Kunst der Verdoppelung

Biete 1 "Ninja"-Monster als Tribut an; beschwöre eine beliebige Anzahl "Ninja"-Monster, deren gemeinsame Stufe kleiner oder gleich der Stufe des als Tribut angebotenen Monsters ist, als Spezialbeschwörung von deinem Deck in die offene Angriffsposition oder die verdeckte Verteidigungsposition. Wenn diese Karte das Spielfeld verlässt: Zerstöre die Monster.

Italian

Arte Ninjitsu della Duplicazione

Offri come Tributo 1 mostro "Ninja"; Evoca Specialmente un qualsiasi numero di mostri "Ninja" dal tuo Deck, scoperti in Posizione di Attacco o coperti in Posizione di Difesa, la cui somma dei Livelli sia pari o inferiore al Livello del mostro offerto come Tributo. Quando questa carta lascia il Terreno: distruggi quei mostri.

Spanish

Ninjitsu Arte de la Duplicación

Sacrifica 1 monstruo "Ninja"; Invoca de Modo Especial, desde tu Deck, cualquier número de monstruos "Ninja" en Posición de Ataque boca arriba o en Posición de Defensa boca abajo, y cuyos Niveles combinados sean iguales o menores que el Nivel del monstruo Sacrificado. Cuando esta carta deja el Campo: destruye esos monstruos.

Japanese
忍法 分身の術

①:自分フィールドの「忍者」モンスター1体をリリースしてこのカードを発動できる。レベルの合計がリリースしたモンスターのレベル以下になるように、デッキから「忍者」モンスターを任意の数だけ選び、それぞれ表側攻撃表示または裏側守備表示で特殊召喚する。このカードがフィールドから離れた時にそのモンスターは全て破壊される。

Ninpō Bunshin no Jutsu
Ninjitsu - Technique of Duplication

Activate this card by Tributing 1 "Ninja" monster; Special Summon any number of "Ninja" monsters from your Deck, in face-up Attack Position or face-down Defense Position, with combined Levels less than or equal to the Level of the Tributed monster. When this card leaves the field, destroy those monsters.

Korean

인법 분신술

자신 필드 위의 "첩자"라는 이름이 붙은 몬스터 1장을 릴리스하고 발동할 수 있다. 레벨의 합계가 릴리스한 몬스터의 레벨 이하가 되도록 덱에서 "첩자"라는 이름이 붙은 몬스터를 임의의 수만큼 앞면 공격 표시 또는 뒷면 수비 표시로 특수 소환한다. 이 카드가 필드 위에서 벗어났을 때, 그 몬스터를 전부 파괴한다.
Sets in other languages
French
German
Italian
Spanish
Japanese
Korean
In other media