| | |
| --- | --- |
| | Help support Yugipedia by using our Chrome extension, which redirects links to the old Wikia/Fandom site to Yugipedia, ensuring you see the most up-to-date information. If you have any issues or find any bugs, be sure to let us know on Discord! |
One Step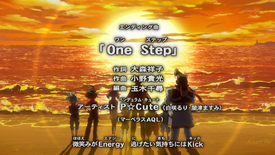 "One Step" (One Step Wan Suteppu) is the first Japanese ending theme of the Yu-Gi-Oh! ARC-V anime, performed by P☆Cute (闇津ますみ・白咲るり) (Pendulum☆Cute (Anzu Masumi × Shirosaki Ruri)). It debuted on April 6, 2014, and aired during episodes 1 to 30. It was replaced in episode 31 by "Future fighter!"
Recording Credits
[
edit
]
Performed by: Pendulum☆Cute (P☆Cute) (Shirosaki Ruri (CV) Rin Aizawa x Anzu Masumi (CV) Arisa Kiyoto) (白咲るり・闇津ますみ)
Lyrics by: Shoko Oomori (大森祥子)
Composed by: Takamitsu Ono (小野貴光)
Arranged by: Chihiro Tamaki (玉木千尋)
Record Label: Marvelous AQL(マーベラスAQL)
Lyrics (TV Size)
[
edit
]
今 胸おどる夢Catch 零れる涙はRelease
踏み出すよ 初めてのフィールド 奇跡に逢うためのFabulous One Step

気づいたんだ 強さは与えられるものじゃない
ひとつずつ そう 掴み取るんだ
ならすぐ動かなくちゃ じっとしてなんていらんない
壁が 逆風が 逝く手阻んでも
゛勇気゛って切り札 ドローして一歩前へ
信じる 勝利の展開

誰も挑戦中My way ためされているDuelist
つらい瞬間こそ Smile、 Jump、 Fight & Step Up!
微笑みがEnergy 逃げたい気持ちにはKick
飛び込むよ 新たしいフィールド 未来へと続く Shiny One Step
一歩。。。たった一歩でいい それがBig Chance!!
Ima mune odoru yume Catch koboreru namida wa Release
Fumidasu yo hajimete no fiirudo kiseki ni au tame no Fabulous One Step

Kidzuitanda tsuyosa wa ataerareru mono janai
Hitotsu zutsu sou tsukamitorunda
Nara sugu ugokanakucha jitto shite nante irannai
Kabe ga kaze ga yuku tehaban demo
"Yuuki" tte kirifuda doroo shite ippo mae e
Shinjiru shouri no sutoorii

Daremo chousenchuu My Way tamesareteiru Duelist
Tsurai shunkan koso Smile, Jump, Fight & Step Up!
Hohoemi ga Energy nigetai kimochi ni wa Kick
Tobikomu yo atarashii fiirudo mirai e to tsudzuku Shiny One Step
Ippo... tatta ippo de ii sore ga Big Chance!!
Catch the dream dancing in my heart Release my falling tears
I'll step out on to my first field To meet my miracle Fabulous One Step

I realized that strength can't be given
It's something I have to grab myself
In that case, I have to keep moving I can't stay still
Even if walls and headwinds block my way
I'll draw my trump card called "courage" to take a step forward
I believe in my story of victory

Everyone during battle is My Way Duelists are being tested
When times are tough, that's when you Smile, Jump, Fight & Step Up!
Your smile is your Energy Kick away your feelings of running away
Jump into the new field Shiny One Step that leads to the future
One step... Just one step is fine That's your Big Chance!!
Characters
[
edit
]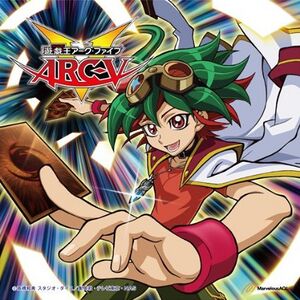 The single containing One Step, named "One Step/お楽しみはこれから!" was released on June 11, 2014 and contains the following tracks:
01. One Step
02. The real fun has just begun! (お楽しみはこれから! Otanoshimi wa Korekara!)
03. One Step (Original Karaoke) (One Step (オリジナル・カラオケ))
04. The real fun has just begun! (Original Karaoke) (お楽しみはこれから! (オリジナル・カラオケ))
The single's B-side, "お楽しみはこれから!" ("Otanoshimi wa Kore Kara!") has more references to "Yu-Gi-Oh! ARC-V" in its lyrics than "One Step", such as "Pendulum", "Action Duel", "Entertainment Duel", "Card", "Winning Card", "Field", "Turn"; even the title itself is Yuya Sakaki's catchprase ("The real fun has just begun!"). Despite this, it didn't make any appearance in the anime, nor it was used as an insert song. The same happened with "BRAVE BELIEVERS", B-side of the single of the second ending, "Future fighter!": despite it being Yuya Sakaki's character song, it was never featured in any episode of the show.