It is with heavy hearts that we mourn the passing of our game's creator, Kazuki Takahashi.
PSY-Framelord Zeta
Japanese

PSYフレームロード・Ζ

Base

PSYフレームロード・Ζ

Kana

サイフレームロード・ゼータ

Rōmaji

Saifurēmu Rōdo Zēta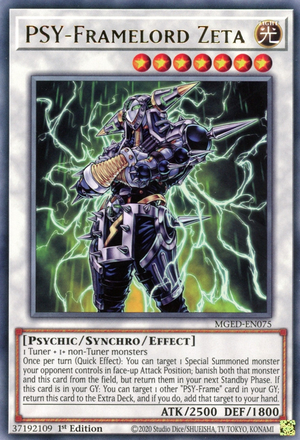 Card type
Monster
Attribute
LIGHT
Types
Psychic / Synchro / Effect
Level
7
ATK / DEF
2500 / 1800
Password
37192109
Effect types

Status
English sets
Worldwide
Search categories
Other languages
Language
Name
Lore
French

Seigneur Structure-PSY Zêta

1 Syntoniseur + 1+ monstre non-Syntoniseur
Une fois par tour (Effet Rapide) : vous pouvez cibler 1 monstre Invoqué Spécialement contrôlé par votre adversaire en Position d'Attaque face recto ; bannissez le monstre ainsi que cette carte depuis le Terrain, mais renvoyez-les durant votre prochaine Standby Phase. Si cette carte est dans votre Cimetière : vous pouvez cibler 1 autre carte "Structure-PSY" dans votre Cimetière ; renvoyez cette carte à l'Extra Deck, et si vous le faites, ajoutez la cible à votre main.

German

PSI-Hüllenlord Zeta

1 Empfänger + 1+ Nicht-Empfänger-Monster
Einmal pro Spielzug (Schnelleffekt): Du kannst 1 als Spezialbeschwörung beschworenes Monster in offener Angriffsposition wählen, das dein Gegner kontrolliert; verbanne sowohl das Monster als auch diese Karte vom Spielfeld, aber lege sie in deiner nächsten Standby Phase zurück. Falls sich diese Karte in deinem Friedhof befindet: Du kannst 1 andere "PSI-Hülle"-Karte in deinem Friedhof wählen; lege diese Karte ins Extra Deck zurück und falls du dies tust, füge das gewählte Ziel deiner Hand hinzu.

Italian

PSI-Strutturasignore Zeta

1 Tuner + 1+ mostri non-Tuner
Una volta per turno (Effetto Rapido): puoi scegliere come bersaglio 1 mostro Evocato Specialmente controllato dal tuo avversario scoperto in Posizione di Attacco; bandisci sia quel mostro che questa carta dal Terreno, ma falli ritornare nella tua prossima Standby Phase. Se questa carta è nel tuo Cimitero: puoi scegliere come bersaglio 1 altra carta "PSI-Struttura" nel tuo Cimitero; fai ritornare questa carta nell'Extra Deck e, se lo fai, aggiungi quel bersaglio alla tua mano.

Portuguese

PSÍ-Armação Senhor Zeta

1 Regulador + 1+ monstros não-Reguladores
Uma vez por turno (Efeito Rápido): você pode escolher 1 monstro Invocado por Invocação-Especial que seu oponente controla com a face para cima em Posição de Ataque; bana tanto esse monstro quanto este card no campo, mas devolva-os na sua próxima Fase de Apoio. Se este card estiver no seu Cemitério: você pode escolher 1 outro card "PSÍ-Armação" no seu Cemitério; devolva este card para o Deck Adicional e, se isso acontecer, adicione o alvo à sua mão.

Spanish

Señor Armazón-PSÍ Zeta

1 Cantante + 1+ monstruos que no sean Cantantes
Una vez por turno (Efecto Rápido): puedes seleccionar 1 monstruo Invocado de Modo Especial que controle tu adversario en Posición de Ataque boca arriba; destierra del Campo ese monstruo y esta carta, pero devuélvelos en tu próxima Standby Phase. Si esta carta está en tu Cementerio: puedes seleccionar otra carta "Armazón-PSÍ" en tu Cementerio; devuelve esta carta al Deck Extra y, si lo haces, añade ese objetivo a tu mano.

Japanese
PSYフレームロード・Ζ

チューナー+チューナー以外のモンスター1体以上
①:1ターンに1度、相手フィールドの特殊召喚された表側攻撃表示モンスター1体を対象として発動できる。そのモンスターとフィールドのこのカードを次の自分スタンバイフェイズまで除外する。この効果は相手ターンでも発動できる。②:このカードが墓地に存在する場合、このカード以外の自分の墓地の「PSYフレーム」カード1枚を対象として発動できる。このカードをエクストラデッキに戻し、対象のカードを手札に加える。

Saifurēmu Rōdo Zēta
Korean
PSY프레임로드 Z

튜너 + 튜너 이외의 몬스터 1장 이상
① : 1턴에 1번, 상대 필드의 특수 소환된 앞면 공격 표시 몬스터 1장을 대상으로 하고 발동할 수 있다. 그 몬스터와 필드의 이 카드를 다음 자신 스텐바이 페이즈까지 제외한다. 이 효과는 상대 턴에도 발동할 수 있다. ② : 이 카드가 묘지로 보내졌을 경우, 이 카드 이외의 자신의 묘지의 "PSY(싸이)프레임" 카드 1장을 대상으로 하고 발동할 수 있다. 이 카드를 엑스트라 덱에 되돌리고, 대상의 카드를 패에 넣는다.
Sets in other languages
French
German
Italian
Portuguese
Spanish
Japanese
Korean
In other media